I woke up this morning and, like so many of my friends, was devastated seeing the news. The video of George Floyd heartlessly killed by those police officers shook me to the core, and I felt so helpless and useless. Posting outraged comments and memes on social media just didn't feel effective in terms creating the change I want to see in the world, though I strongly encourage everyone to post away and make their voices heard.
Then I remembered that my skill is to tell stories, and I decided the best thing that I can do in this moment is to write a piece directing New Yorkers and tourists to resources where they can educate themselves about the black experience in America.
I live in Harlem, rich with black history, black cultural institutions, and black owned businesses. My goal with this blog is to encourage people to learn the history, visit these cultural institutions, and be enthusiastic patrons of these businesses. Hopefully, this can be one small step in the very long journey towards lifting this nation up to where it should be in terms of equality. Begin with empathy…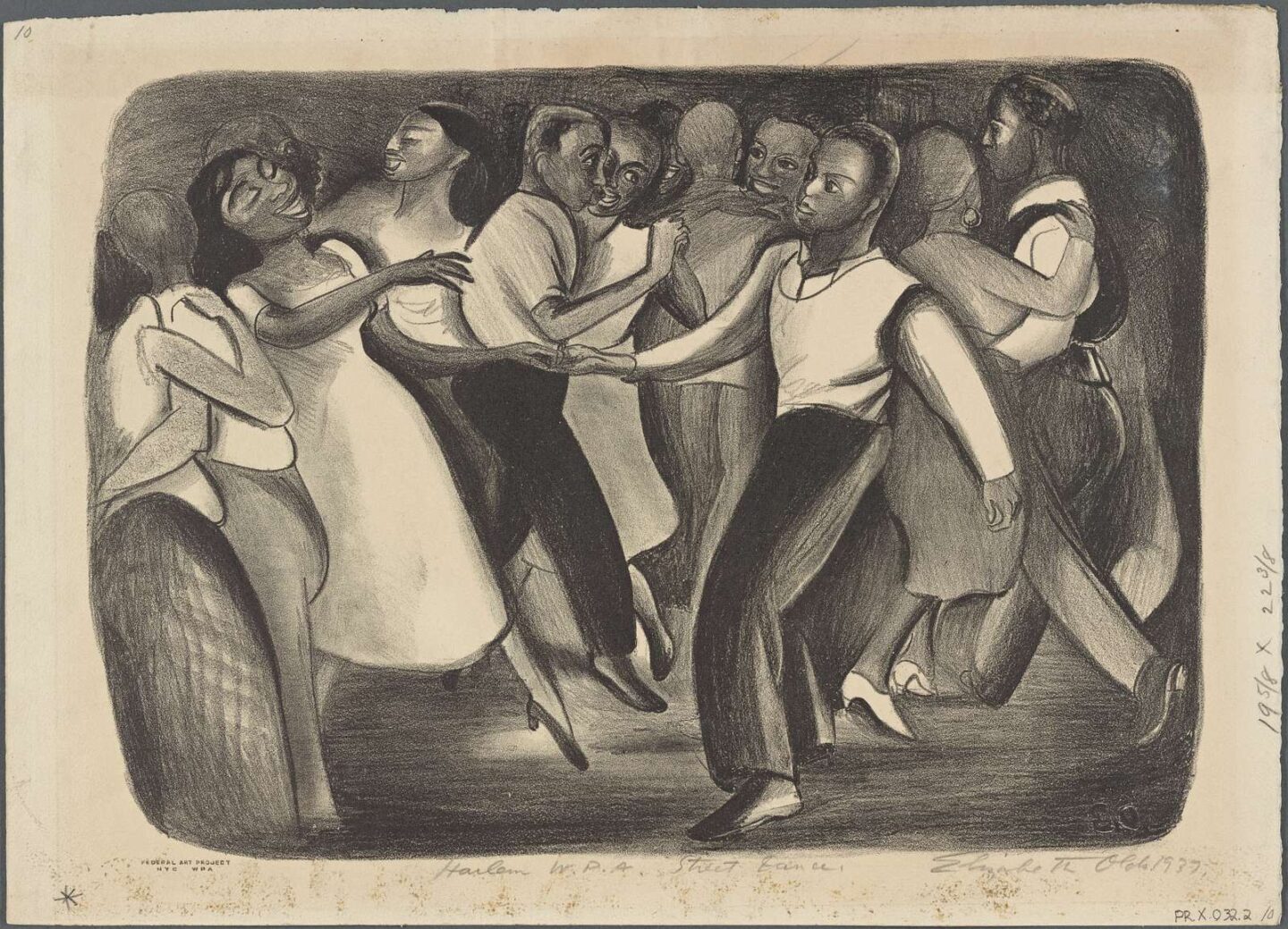 Usually, it would be wise to keep this peppy New York City blog far away from politics, but in this case, I feel a responsibility to uplift the community where I have made my home, and that has been incredibly welcoming to me and my boyfriend. I encourage anyone reading this to share their favorite Harlem cultural institutions, businesses, and stories in the comments. It would be wonderful for this to be a positive place to share knowledge and educate ourselves.
TAKE A TOUR
One of the trickiest tours I give is Harlem History. This tours feels like a tremendous responsibility, because the history is so important to teach and to teach well.
It also often feels a little strange for me, a white girl, to share the rich history of Harlem. As such, I often defer these tours to other guides and companies who I feel are better suited to educate their guests. Regardless of the difficulty of being the right voice to tell the right story, I'm in love with Harlem.
Right now, I want to promote two wonderful Harlem tours that I have taken, and strongly encourage you to book as soon as you are able. Whether you are local, or visiting from Australia, these tours will feed your soul in all the best ways.
The first tour I recommend, is given by an incredible guide named Lady Altovise Cook. Taking her Harlem tour was life-changing for me. Taking it would be an important and profound experience for anyone and everyone who sets foot in New York City. She covers very tricky and unpleasant times in America with class, grace, and an open heart. She is one of the most engaging tour guides I have ever met, and, since most of my friends are tour guides, that is saying a lot. During her tour she sings, she recites poetry, she analyzes beautiful street art, she shows you the best Harlem restaurants, jazz clubs, speakeasies, bookstores, and hat shops, all while immersing you the profound history and celebrated culture of Harlem. You will learn about Harlem's role in the Underground Railroad, the incredible accomplishments of Adam Clayton Powell, Martin Luther King, Frederick Douglass Junior, and Malcolm X, as well as the impressive lives of Sojourner Truth, Billie Holliday, Madame C.J. Walker, Cab Calloway, and more. If you're really lucky, she'll tell you her favorite place in Harlem to get chicken and waffles!
Harlem Heritage Tours also offers immersive walking and bus tours, and each of their guides were born, raised, and currently live, in Harlem. I took their Harlem Gospel Walking Tour, and was incredibly grateful to their guide, who taught us about the history, traditions, and etiquette of the Baptist Church. Because of this guide, we could all respectfully enjoy, observe, and participate in a Gospel service. If you have not visited a Baptist Church before, I strongly recommend you visit with a sense of reverence, and with an experienced guide. Remember, this is a time of worship for the members of the congregation. A guide will help you learn and experience the service while being respectful to those attending Church.
Taking a tour is the best way to experience and learn about Harlem. However, within Harlem, there are institutions for you to visit that will help you understand the black experience within Harlem, within New York City, within New York State, and within the entire United States. Given the current state of the world, I felt it was important to share these institutions with you so you can visit, and educate yourself, as well as support these invaluable institutions. Also, check and see if these institutions are offering their our guided tours during your visit. This will grant you an even more in-depth insight into what the institutions have to offer and what they mean to the community.
SCHOMBURG CENTER FOR RESEARCH IN BLACK CULTURE
The Schomburg Center for Research in Black Culture is one of the world's leading cultural institutions devoted to the research, preservation, and exhibition of materials focused on African American African Diaspora, and African experiences.
This branch of the NYPL is named for Arturo Schomburg, who was a Puerto Rican of African and German descent. When he was in grade school, his teachers told him that black people had no history, heroes, or accomplishments. Needless to say, his teachers were wrong, and Schomburg was determined to prove it.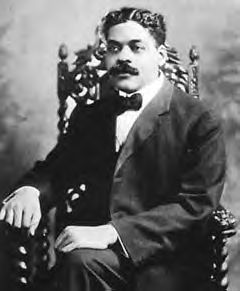 Schomburg went on to become a teacher, and co-founded the Negro Society of Historical Research, which brought together African, West Indian, and Afro-American scholars. The mission statement of this organization read: "to instruct the race and to inspire love and veneration for its men and women of mark." Schomburg declared: "We need a collection or list of books written by our own men and women…. We need the historian and philosopher to give us, with trenchant pen, the story of our forefathers and let our soul and body, with phosphorescent light, brighten the chasm that separates us."
In 1924, Schomburg, who had been acquiring an extensive collection of African-American literature throughout his life, decided that he wanted his books to be available to the Harlem public. At the urging of branch librarian Ernestine Rose, The Carnegie Foundation paid $10,000 for the collection to be donated to the 135th Street Branch of the New York Public Library, and appointed "Schomburg Collection of Negro Literature and Art."
Today, the Schomburg Center for Research in Black Culture is home to what many would consider the rarest and the most important collection of Afrocentric artifacts of any library in the United States. In addition to books, the Schomburg Center now hosts divisions for "Art and Artifacts," "Photographs and Print," and "Moving Image and Recorded Sound." They also offer public programming that advances knowledge of the black experience by hosting special events, bringing in guest speakers, presenting works of theatre, offering educational programs for pre-k through PhD, and providing a huge digital collection consisting of livestream events, podcasts, oral histories, and online exhibitions that are available 24/7 to internet users worldwide.
The public programming happens in the Langston Hughes Auditorium, named for the famous poet, who once made his home in Harlem. I first learned of Langston Hughes when I read his poem Dreams in Middle School, and, unfortunately, it would be nearly two more decades before I first read his beautiful poetry about Harlem and the black experience. One of these poems, The Negro Speaks of Rivers, inspired a site specific work of art called a cosmogram placed in the Schomburg Center in front of the Langston Hughes Auditorium. This beautiful cosmogram, according to the NYPL website, "features song lines, texts, and literary signs paying ancestral tribute in the of African ritual ground markings, "weaving a web of connections between people of diverse cultures and background, the past and present." The lines of the cosmogram connect the places where Hughes and Schomburg were born (Missouri and Puerto Rico) to Harlem. Underneath this breathtaking cosmogram are the ashes of Langston Hughes.
The Negro Speaks of Rivers
I've known rivers:
I've known rivers ancient as the world and older than the flow of human blood in human veins.
My soul has grown deep like the rivers.
I bathed in the Euphrates when dawns were young.
I built my hut near the Congo and it lulled me to sleep.
I looked upon the Nile and raised the pyramids above it.
I heard the singing of the Mississippi when Abe Lincoln went down to New Orleans, and I've seen its muddy bosom turn all golden in the sunset.
I've known rivers:
Ancient, dusky rivers.
My soul has grown deep like the rivers.
STUDIO MUSEUM IN HARLEM
In the 1960s, it became obvious that Harlem did not have a museum where local black artists could work and display their work. The Studio Museum in Harlem was born to make creating art and seeing art an everyday experience for the residents of Harlem.
The museum aimed to give local artists a space to create and to show their work. This led to the Studio Museum in Harlem's Artist-in-Residence program, now in its 40th year! Each year, this residency chooses three talented emerging artists, working in any medium, for an 11 month studio residency. These are artists are given a free studio space in which they can work, and a stipend so that they can create without worrying about putting food on the table. At the end of each residency, the artists' work is displayed in the museum.
The Studio Museum in Harlem is also home to the extensive photo archives of James VanDerZee. VanDerZee was a leading photographer during the Harlem Renaissance, and photographed everyone from Marcus Garvey, to Bill "Bojangles" Robinson. His work was even featured at the Metropolitan Museum of Art as part of an exhibition called "Harlem on my Mind."
The Studio Museum of Harlem also puts on public art exhibitions, such as their current Wayfinding exhibition by Chloe Bass in St. Nicholas Park.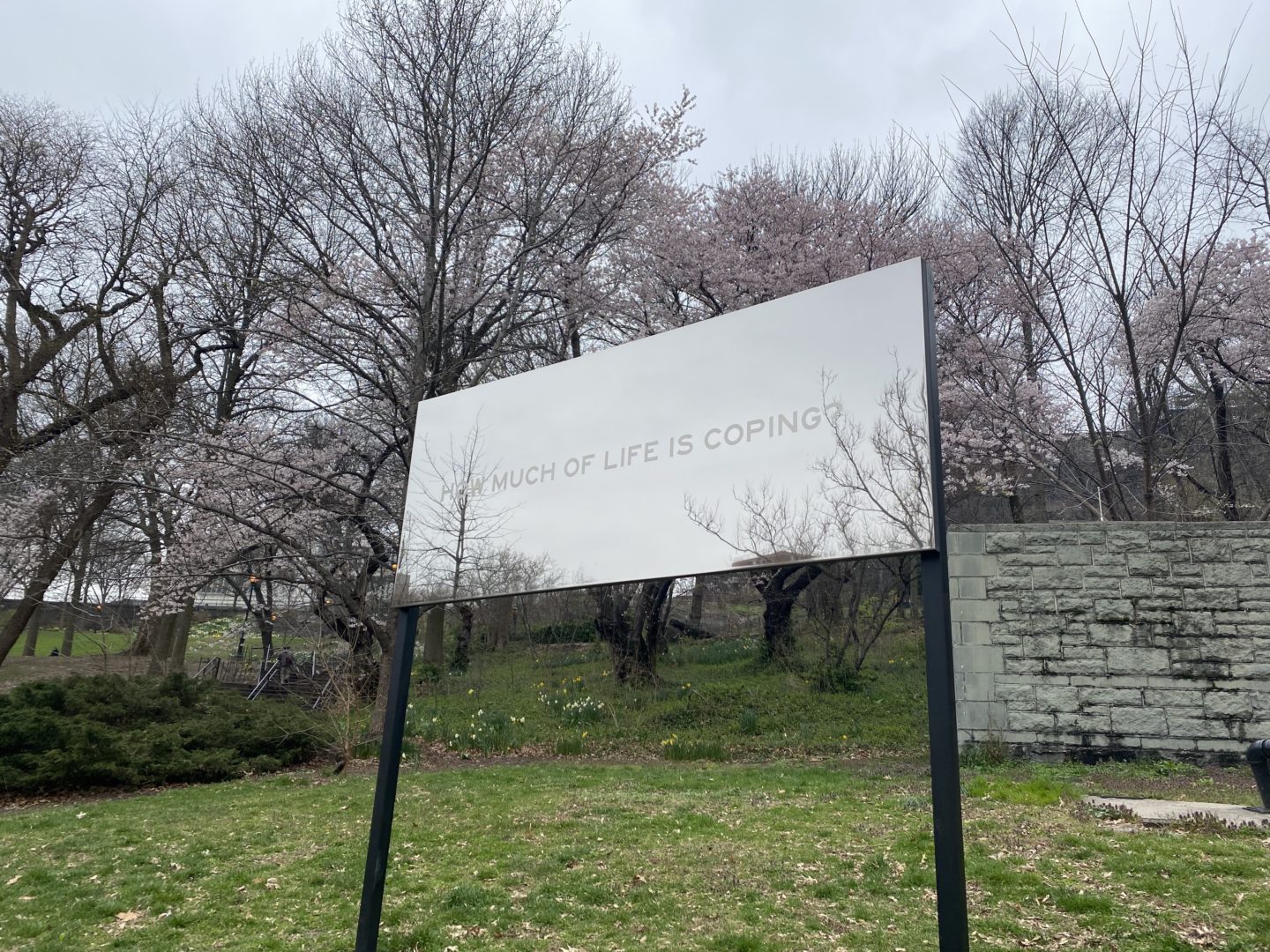 David and I walk past this exhibit very frequently on our daily walks, and it seems eerily poignant. Wayfinding poses three central questions, which I believe can be applied to every major issue currently in the news: How much of care is patience? How much of life is coping? How much of love is attention?
THE APOLLO THEATRE
Locals and tourists alike visit the Apollo Theatre for the vibrant live performances of the world's most well-known performers and speakers.
On the rare occasions I do give Harlem tours, I always start by asking the question: True or False, the Apollo was always a venue where black audiences could watch their favorite performers on stage.
Most people believe the answer to this question is obviously true. They are mistaken. The venue actually started out as a burlesque theatre, and African-American patrons were not allowed to attend. It wasn't until 1934, when the theatre shifted its programming from burlesque to variety reviews, that the local black community was allowed as audience members!
The very first black audiences in the Apollo were treated to performances of the most influential talents of the time. The Apollo hosted what would become a very famous program called Amateur Night at the Apollo (think the very first American Idol). In it's very first year, the program gave birth to the career of Ella Fitzgerald! The legend is that Ella was originally scheduled to dance on stage, but was so intimidated by a dance duo called the Edwards Sisters who performed right before her, that she decided to sing instead! Her voice dazzled the audience and won first prize! She would go on the become the First Lady of Song and the Queen of Jazz! Imagine being in the audience for that performance!
Other performers who have graced the stage of the Apollo include: Billie Holliday, Lena Horne, Dinah Washington, Sammy Davis, Jr., Sarah Vaughn, Josephine Baker, Dionne Warwick, James Brown, Bill Bailey, Miles Davis, John Coltrane, Thelonius Monk, the Isley Brothers, Jimi Hendrix, B.B. King, Aretha Franklin, Bob Marley, Diana Ross, the Jackson 5, and in 2007, presidential candidate Barack Obama hosted a campaign fundraiser at the Apollo.
Music, Dance, and the Spoken word preserve aspects of the human experience. The performers at the Apollo have revolutionized the black experience, as well as preserved its history through their art. I encourage you to experience a performance at the Apollo, but also to truly understand it, you must take their tour. If you're really lucky, Billy Mitchell, who is virtually a living museum of Apollo history, will come out and say hello. If you extra lucky, you will get to touch the real "Tree of Hope," but I'll leave that for your tour guide to tell you about!
SUPPORT LOCAL BUSINESSES
Harlem is home to many local business treasures. Being a patron of the shops, restaurants, and clubs will help preserve them in the community, as well as help you learn more about the every-day life in Harlem. I wanted to list a few of my favorites local businesses for you to visit.
Soul Food Resturants.
A word about soul food: I was told on a tour that soul food is a testament to the African-American woman's talent and creativity in the kitchen. Back in the days of legalized slavery, the white slave owner would take the best cuts of meat for themselves, and leave the slaves with things like chicken feet, pig ears, and the under-appreciated lobster. The slave women would spend hours cooking elaborate meals for her master, then go home and have to feed their family with the undesirable cuts. Yet, using her masterful skills, she made the best-tasting food you have ever devoured out of this chaff! Today, soul food restaurants can use whatever cut of meat they desire, (provided everything is up to NYC's very high health and safety codes!) and some chefs like Marcus Samuelsson at the Red Rooster put their own unique creative twists on the classic recipes, but there is pure magic in classic, traditional, soul food. Three of my favorite soul food restaurants in Harlem are:
Desserts
Each of these shops puts a spin on classic flavors that links their products to Harlem or Harlem's African history. Feel free to talk to the owners about their flavors, they will joyfully discuss their culinary process! My boyfriend and I just discovered Sugar Hill Creamery during Quarantine, and we now go about twice every week. Their ice cream is incredible and worth the trip to Harlem, just to taste it!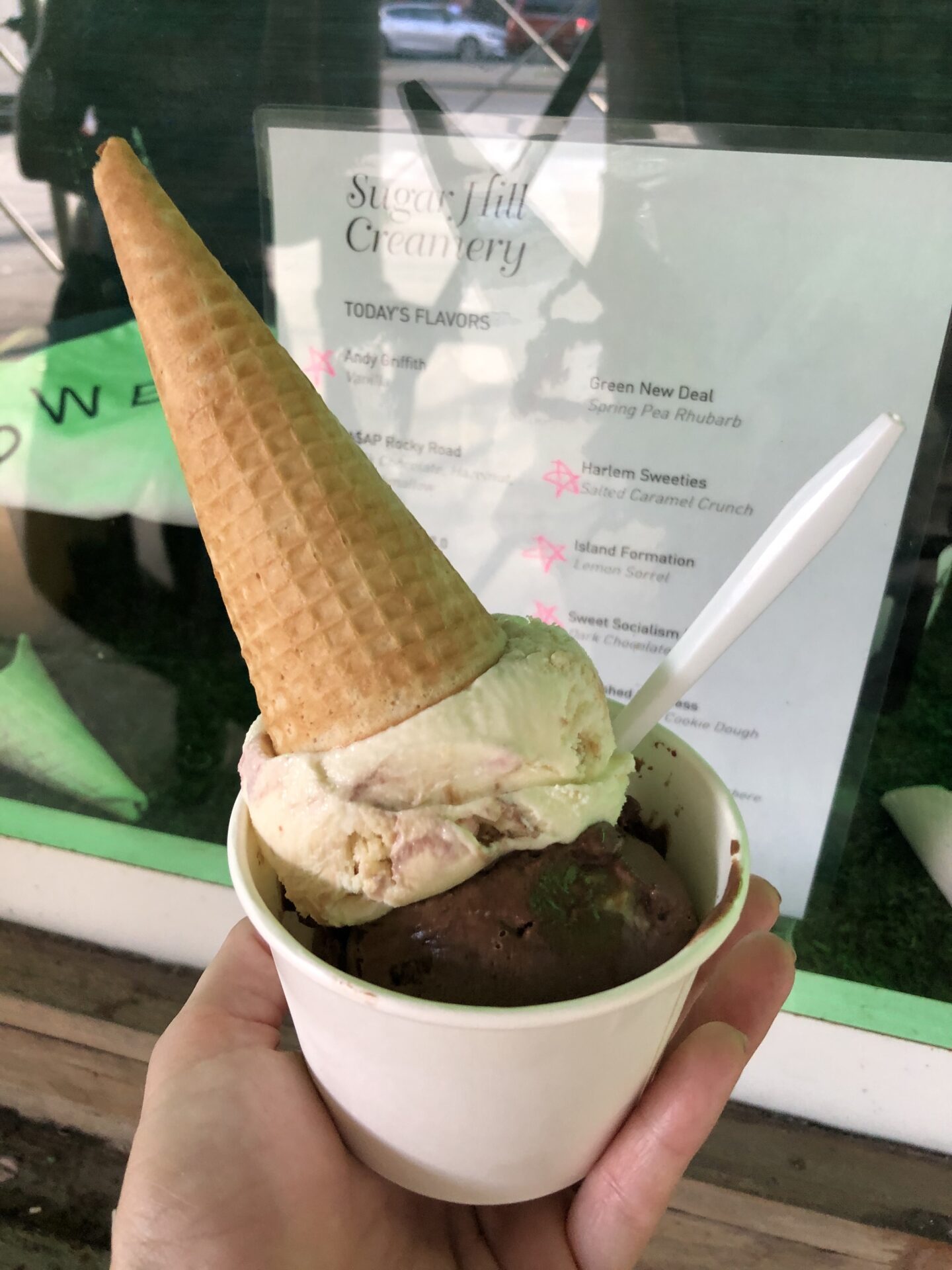 Night Life
Since the Harlem Renaissance, music has played an important role in the neighborhood's history, and has been a primary reason why people from all over the world want to visit! If you want the best live jazz in New York City, you want to be in Harlem!
I also encourage you to check out wherever Rakiem Walker is performing. He is a local saxophonist who makes his own saxophones! I actually met him while he was playing in Central Park! This is one talented and incredibly kind human!
Theatre and Dance
One of the best ways to help create the world we want to see, is to portray that world in the arts. These Harlem theatre companies promote the work of black directors, designers, stage managers, technicians, actors, and playwrights. Venture north of NYC's Theatre District to support these vibrant voices. You will get dazzling thought-provoking theatre, and help producers know that these are the talents we want to see on the giant commercial stages.
Shopping
Harlemites know fashion! The best-dressed New Yorkers are often the ladies of Harlem on their way to church each Sunday morning. Hats play a very important role in the neighborhood's style, so make sure you check out a haberdashery while visiting!
MORE
Still hungry for more? I was extremely impressed by this blog entry by Adventurous Kate called 124 Things to Do in Harlem. One of the most impressive elements of her guide, especially for my purpose writing this blog entry, is that she indicates businesses that are black-owned, and explains why it is so important to support these businesses. She explains:
Because for decades, the city divested in Harlem and it was nearly impossible for black people to get business loans. Combine this with the economic hardships of generational poverty, and Harlem's business growth was stagnant.
In the past decade, Harlem has gentrified rapidly — some neighborhoods much faster than others. As a result, rents have risen sharply, longtime businesses can't afford to stay, and high-end coffeeshops and bars are moving in to target an increasingly white and wealthy clientele.
While these businesses have shuttered, longtime Harlem residents who can't afford their rent have been forced to move further out — to cheaper neighborhoods that are less safe and where public transportation is less prevalent, making their lives harder. Others have found themselves homeless or unable to get mental healthcare, making them susceptible to substance abuse and addiction.
So what can you do about this? You can be mindful about the businesses you visit in Harlem.
CONCLUSION
Come visit Harlem because it is awesome. It is fun, it is delicious, and there is really great shopping! However, you should also visit to educate yourself about the black experience. Visit the cultural institutions and support the local businesses. Take a tour and learn about the people who walked the streets of Harlem. These were the pathfinders who would pave the way for the Civil Rights movement. These were people who were dealt a tough hand, and refused to accept the status quo. They worked hard, took chances, and in some cases, even risked their lives for their right to pursue the American dream. Taking tours will bring these stories to life and help educate you so that you can be the very best ally you can be in the fight for equality. Most importantly, educate yourself and learn about the black experience in America.