Self-isolating truly made me realize how much I love experiencing NYC restaurants. It might be the thing I miss the most about "normal life." After shedding many tears over my inability to acquire groceries, either because my usual go-to, FreshDirect, has no available delivery times, or because the shelves of my local grocery store have been ransacked, I decided that I'm more of a restaurant girl, anyhow.
Since sitting down in a restaurant, dressed to the nines, is currently not possible, I decided to explore my order-in/take-out options. I have discovered some true gems that I want to share with you.
Heads up: I live in Harlem so most of order-in/take-out options are in Harlem, but if you scroll to the bottom, I have suggestions for other neighborhoods and boroughs as well. Also, Schmackary's ships NATIONWIDE, so no matter where you are, you can still take this very sweet and special bite of the Big Apple!
Charles Pan Fried Chicken
My budget was running a bit low, so I seriously just looked for the least expensive meal I could on DoorDash. For under $11, at Charles Pan Fried Chicken, I could get two pieces of chicken, and two sides. I was sold. It also helped that, in the past, several tour guide colleagues had recommended Charles Pan Fried Chicken to me. They usually know good food!
In less than thirty minutes, my "DoorDasher" arrived with the best comfort food David and I have ever tasted. Words cannot possibly describe how delicious this food was. David literally started sobbing on the sofa, claiming that he had never tasted chicken that was so delicious. To reiterate, this chicken was so delicious that it made a grown man weep. You can't get a better review than that.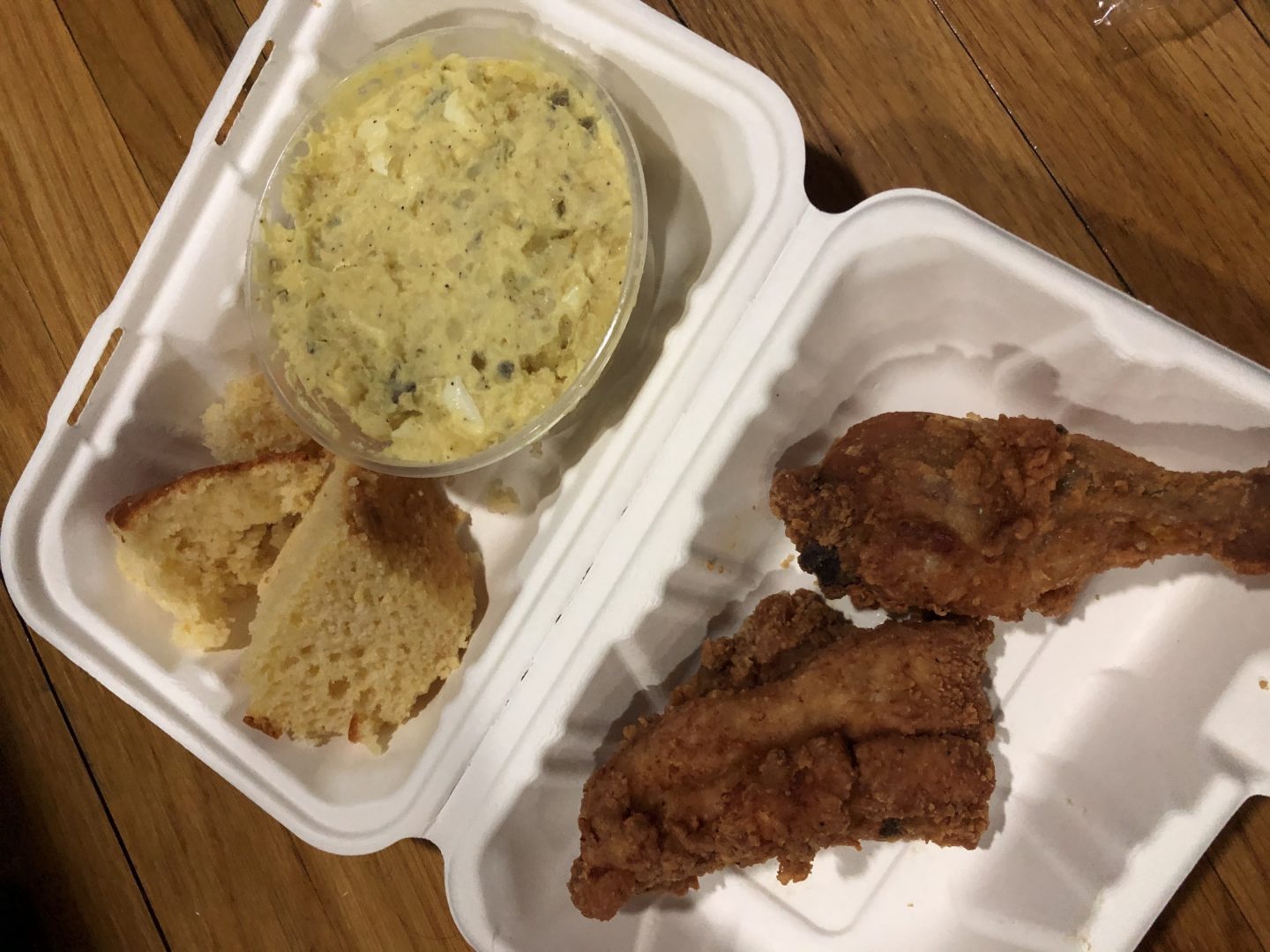 We're fantasizing about working through our groceries and then basically ordering Charles Pan Fried Chicken every other day.
If you want to learn more about Charles Pan Fried Chicken, check out this article.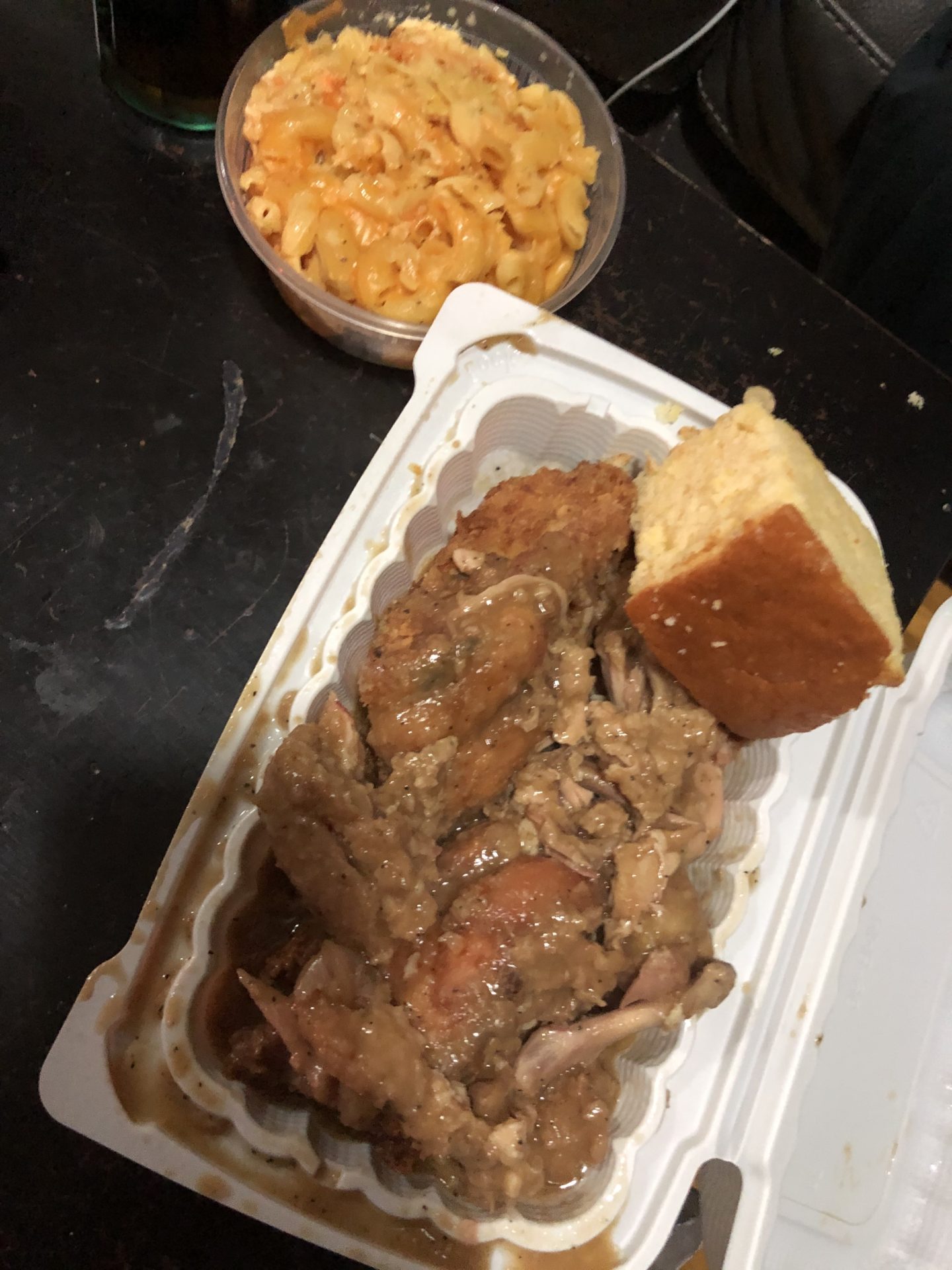 Harlem Public
David and I have already ordered from Harlem Public three times. The first time, I ordered the most delicious cocktail I had ever tasted (Spanky's Bourbon, for the record). It has since been rotated off the menu, but they still have a dazzling array of rotating cocktails, and, on Easter, I ordered Jell-O Shots which came in plastic Easter Eggs! I usually order a burger, and David usually orders poutine with bacon. We have been consistently impressed by their friendliness, quality, and speed.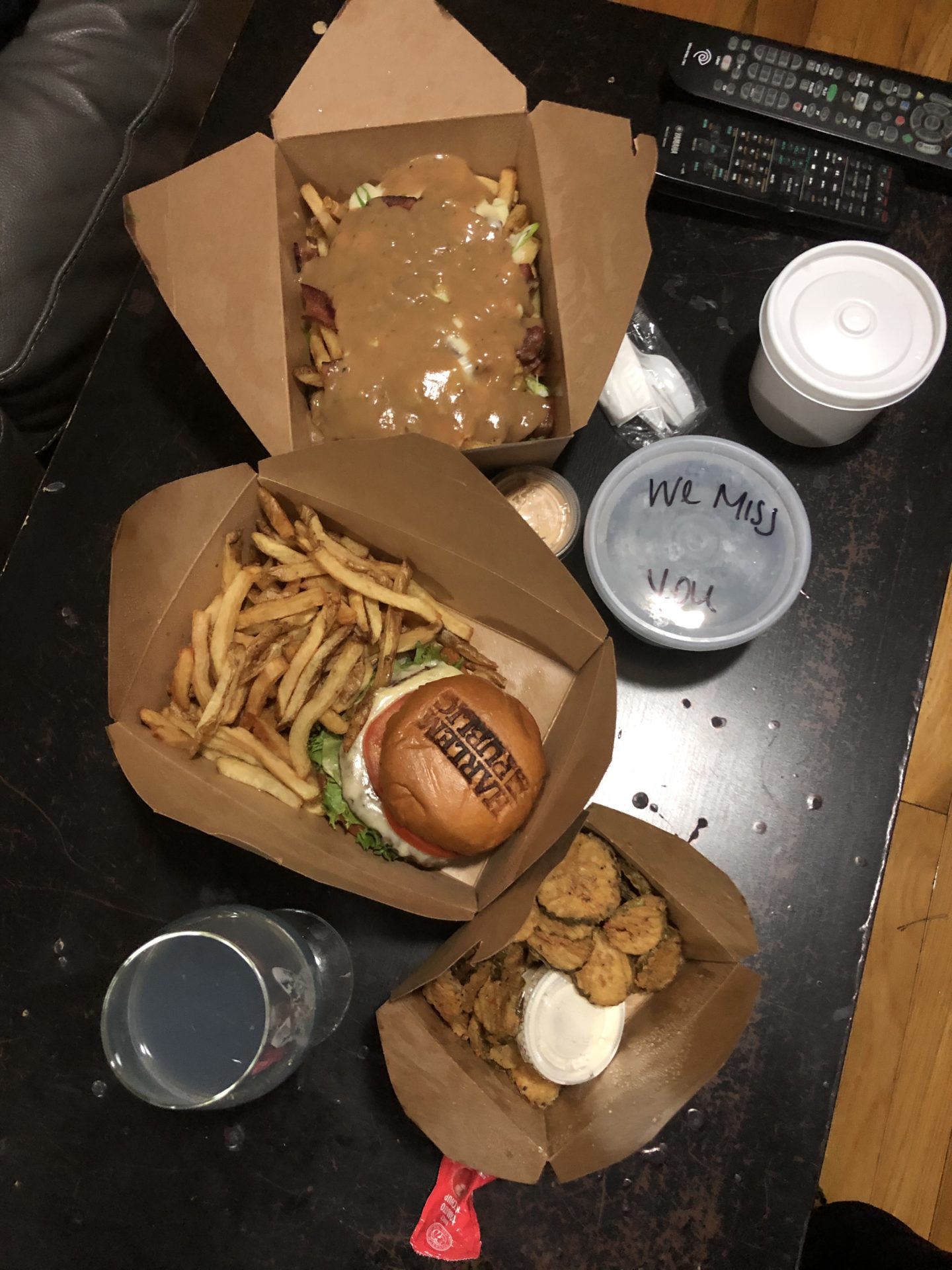 Brekkie Bagels
I had never heard of Brekkie Bagels before. I was craving an everything bagel. We live in New York City, where usually fresh bagels are abundant, and even taken for granted. A month without a fresh bagel was doing a number on me. I looked on Door Dash for a place that would deliver a bagel to my address and found Brekkie Bagels. About 15 minutes after placing my order, the DoorDasher arrived with two giant bagels and schmear. David and I were in heaven.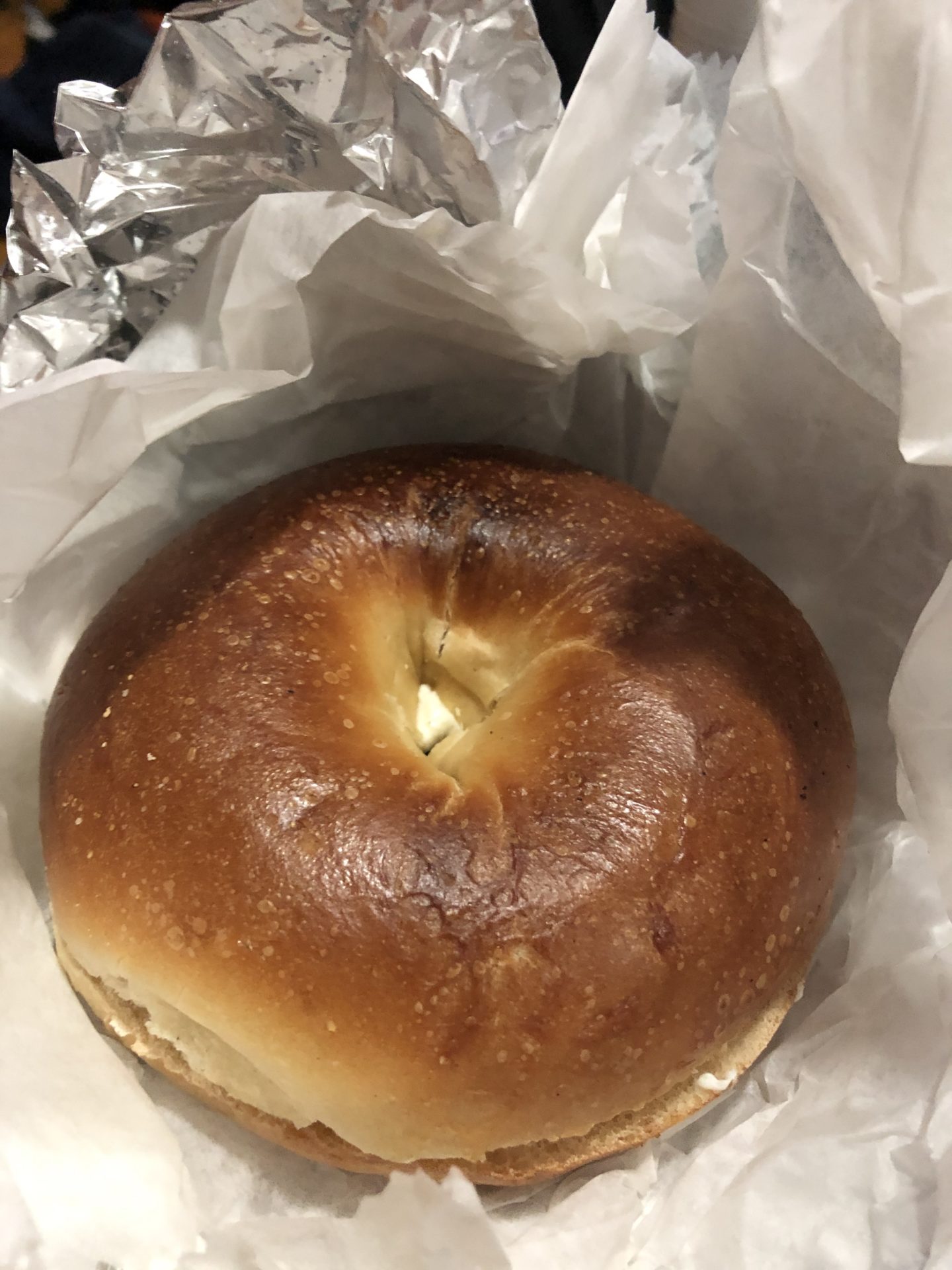 LoLo's Seafood Shack
It is safe to say that I am a seafood snob. I'm originally from Florida. My boyfriend is originally from Maine. My mom is originally from Maryland. David and I ordered pick-up from LoLo's Seafood Shack and were incredibly impressed. I ordered the crab cake sandwich. It came in a deep fried bun. Normally I'm not the biggest fan of deep fried things (I know, I'm weird) but this was spectacular! David ordered Coconut Fried Shrimp and was in heaven eating them. He also claimed the fries were some of the best he ever had. Sadly, they were out of the crabby dip when we went, which only means we must return to try it. We have no photographs of the food because it was so delicious we just had to stuff it in our faces as quickly as possible.
Fumo
We have been long-time fans of Fumo. They have some of the most delicious pizza around. Our favorite two pizzas are the "A La Vodka," which comes topped with creamy pink sauce, fresh Mozzarella, and scallions, and the Parma Pizza, which comes topped with prosciutto, arugula, parmigiano, fontina, and truffle oil. Eliza, my boyfriend's daughter, is usually partial to the "Roni," which comes topped with pepperoni, sausage, hot cherry peppers, and fresh Mozzarella. Fumo has always been quick, friendly, tasty.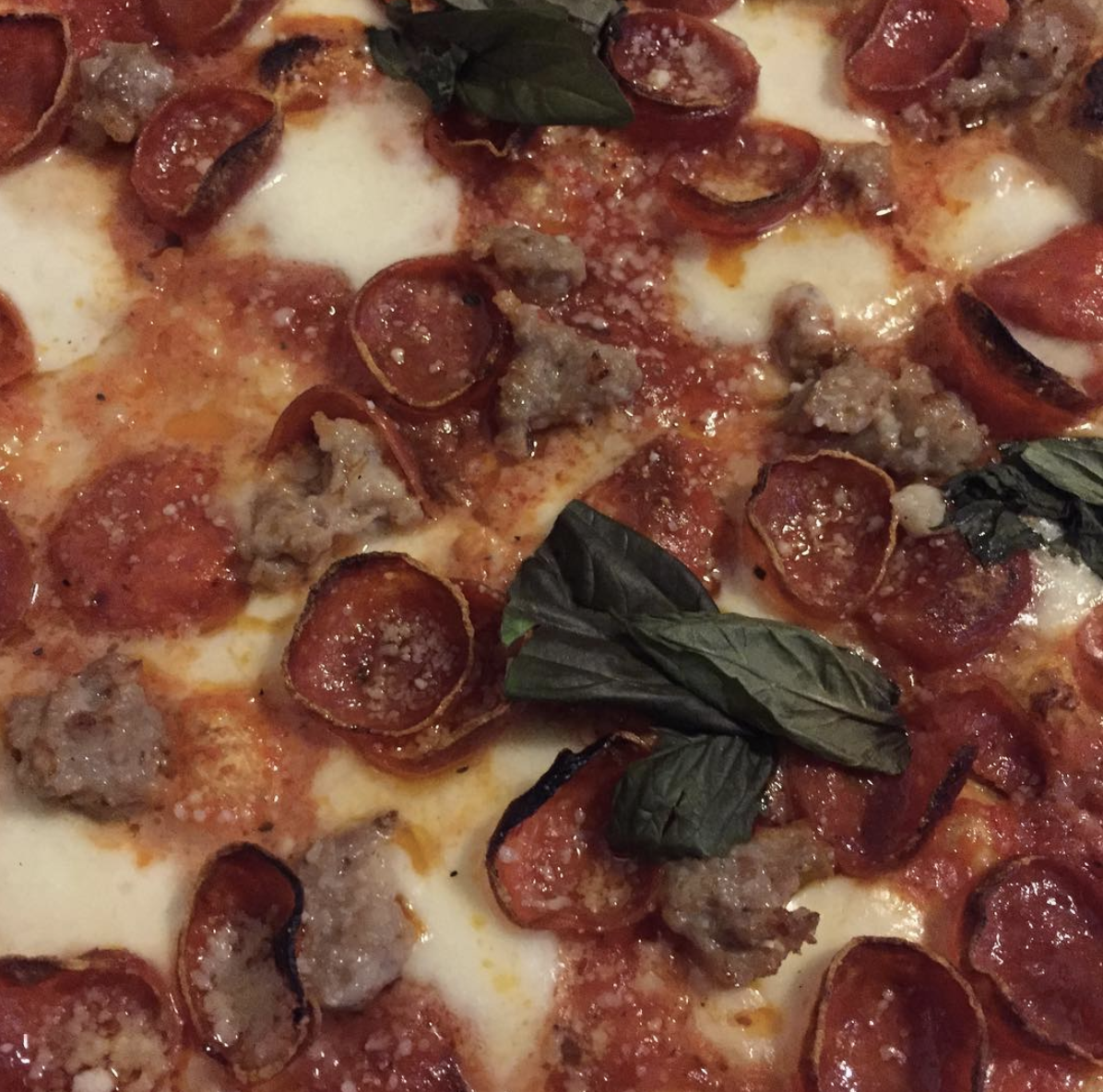 Vincent's Meat Market
This is a butcher shop in the Bronx. We originally ordered some of their products through Mercato, and, long story short, Mercato was terrible, but Vincent's was amazing. Vincent's ended up staying open an extra hour and delivering our food themselves after Mercato never showed! We ordered beef pinwheels to cook for Easter, and they were delicious! Vincent's is located on Arthur Avenue, which is widely regarded by New Yorkers as the "real" Little Italy. If you want fresh delicious meat, I highly suggest you order from them, but order directly through their website and skip Mercato.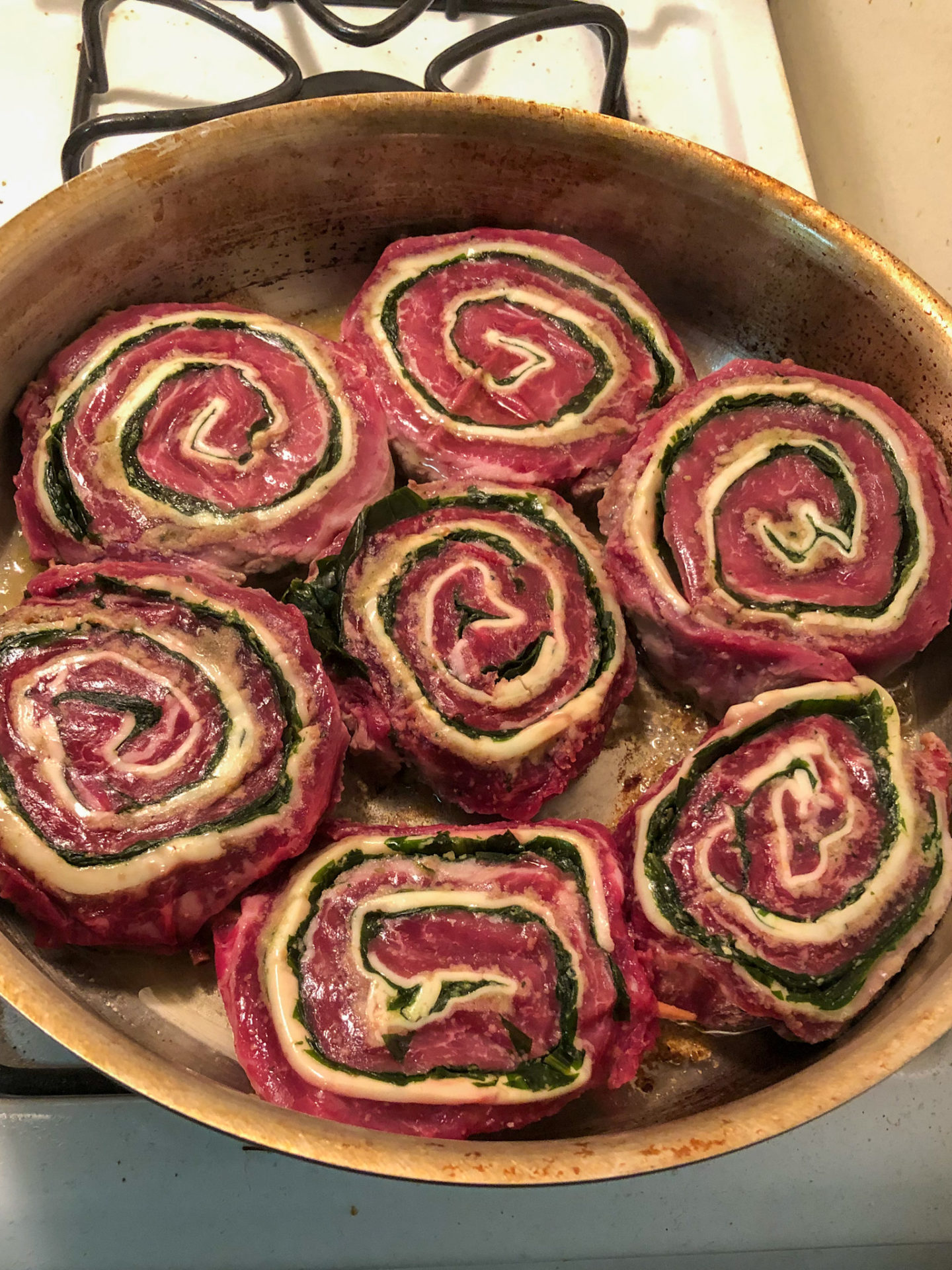 The Harlem Grange
I have yet to order take-out or delivery from the Grange. It is a little on the pricier side, so I'm waiting for a special occasion. I have eaten in the restaurant, and it was really fabulous. They also offer really cute cocktails in juice bottles, which I look forward to trying!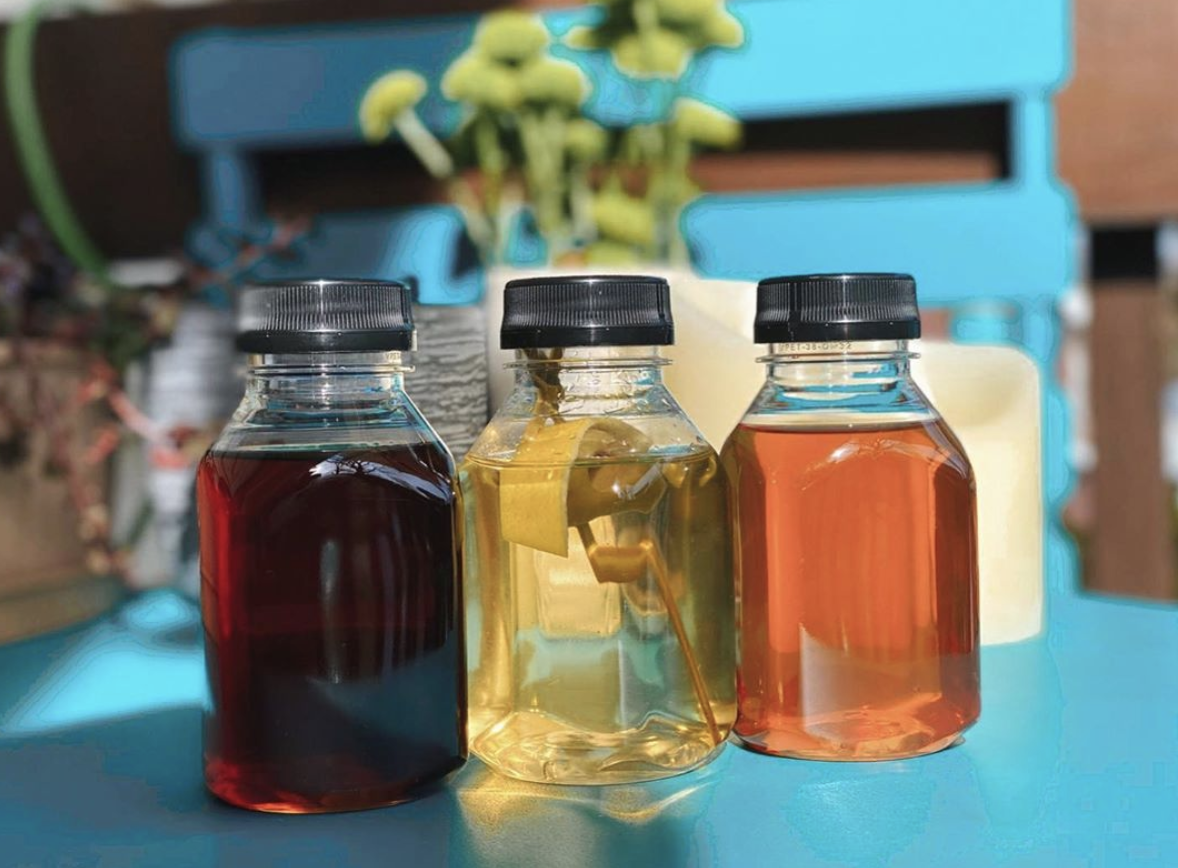 Schmackary's
David and I walked from Harlem to Midtown, practicing proper social distancing, and covering our faces. It was an epic crazy walk that took us five hours there and back. We did it because we had to deliver food to a friend's mom. To reward ourselves, we stopped by Schmackary's for their contact-free pick-up service. I have mentioned Schmackary's many times in past blog entries, but that is because I love them so much. These are arguably the best cookies in NYC, (and they are as much of a Broadway darling, as any of NYC's amazing stars of the stage!)
They are alive and well during this pandemic, and, even better new, they ship NATIONWIDE! So, if you are self-isolating outside of NYC, you can still experience the Big Apple from home by ordering Schmackary's!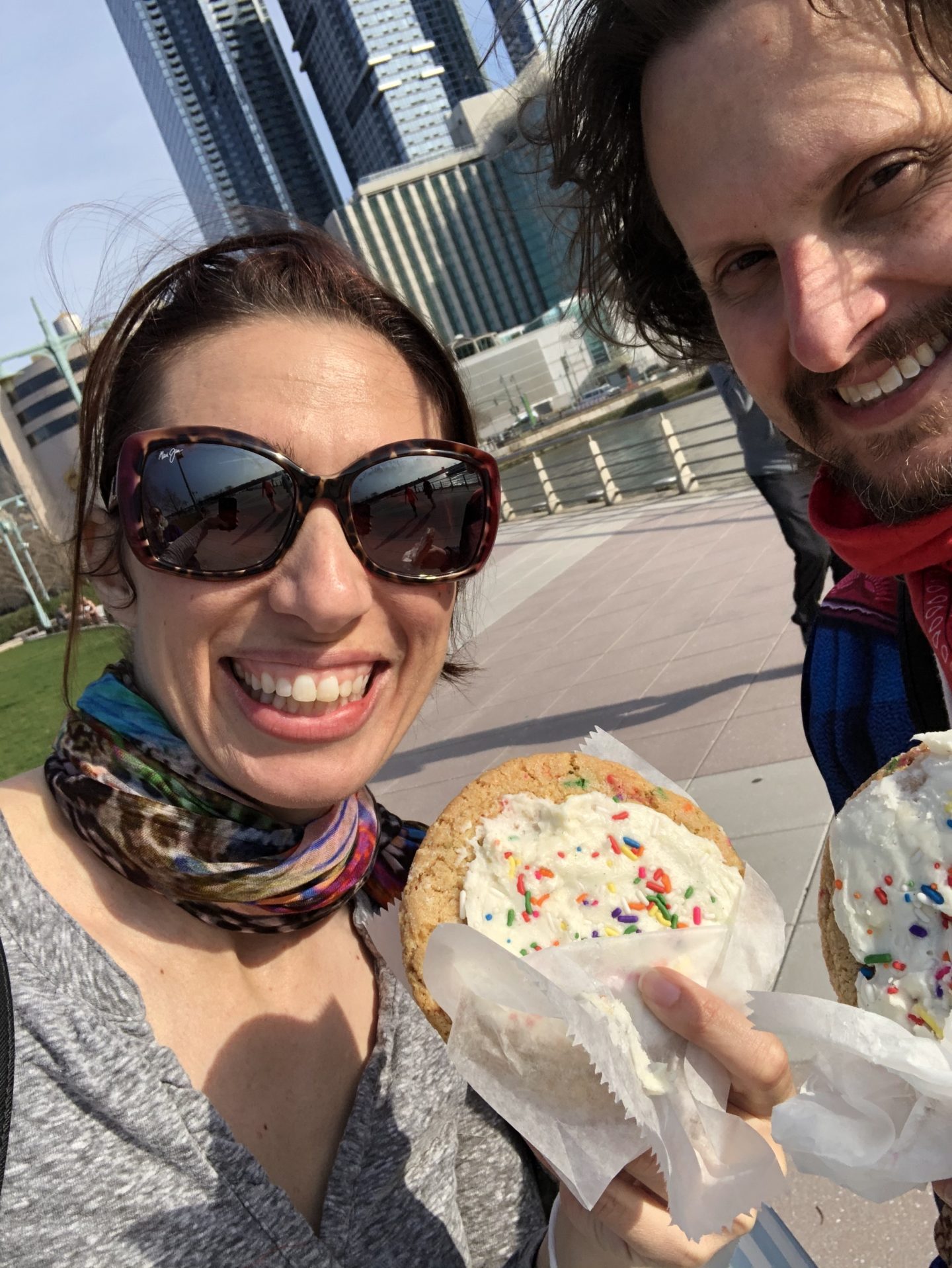 Find Local Restaurant's Near You.
Harlem – Uptown Grand Central
Originally, David and I were at a bit of a loss about where to order from, in Harlem. Our usual go-to Indian place temporarily closed for the pandemic. Domino's is going strong, but that wasn't hitting the spot. So I went on-line looking for other options in our neighborhood. I discovered a website called Uptown Grand Central.
This site has been a game change for us. We discovered so many restaurants we never knew existed, including a place called Solace Bar & Grill that has a Lobster Mac and Cheese option.
If you live in Harlem, please feel free to peruse this site and support local businesses.
Theatre District – Playill.com
Playbill.com wrote on a guide to how you can support local restaurants during Covid-19. This article includes an impressive list of favorite pre-theatre restaurants you can order from!
Queens – Queens Together
If you live in Queens, check out Queens Together which lists over 250 different restaurants that are currently offering pick-up or delivery. Queens has always been known for its vibrant diversity, and now is a great time to taste the cuisines of different cultures from the comfort of your own living room.
Staten Island – Borough President
The Staten Island Borough President has put together, and is constantly updating, this list of restaurants offering delivery or pick-up.
General Information
The Thrillist put together a guide of how you can support local restaurants during this time, and outlines the best practices for ordering.
If you're still having trouble finding options in your neighborhood, The Daily News put together this article that touches on each borough.
Conclusion
Ordering from local restaurants is a great way to continue to experience the Big Apple from home. Bonus, you also know that by doing so, you are supporting a small local business in need. This helps to keep NYC the beautiful, diverse, bustling city that we know and love.
A quick google search for "your neighborhood + restaurants + Covid-19" should help direct you to a list of restaurants that are serving your community.
If your google search comes up short, use Seamless, GrubHub, DoorDash, or UberEats as inspiration. Just remember, it is always better for the restaurant if you order directly from the restaurant. Use the apps to peruse menus and the like, but contact the restaurant directly to order when possible.
Also, make sure you tip your delivery person who is braving the outdoors and human contact so that you don't have to.
Also, check out these face masks that David and I bought from Glorious Pasties on Etsy. If you're ordering pick-up, make sure you wear a mask while walking around!