It's easy to get the winter blues in New York City. The cold air, the gloomy clouds, the harsh winds, and the short days, can all make you want to just hole up and hibernate! Yet, New York City also has ample ways for you beat the doldrums and experience the city in a whole new way. Here is how.
GET FABULOUS DEALS
Since January and February typically see the least tourists in NYC, the city tries to drum up business by offering great deals!
Restaurant Week
One of my favorite January/February experiences is Restaurant Week. This is when our fancy restaurants offer a two course prix-fixe lunch for $26 and a three course prix-fixe dinner for $42. This might be more than you typically spent on lunch or dinner, but when you consider some of these restaurants have a prix-fixe of well over $150 a person, Restaurant Week is an incredible deal!
NYC Must See Week
Many of our attractions and museums are much emptier than usual in January and February, so they offer 2 for 1 tickets. You must purchase these through NYCGO.com. NYCGO.com will have a list of all the attractions participating. In 2020 they have tickets for attractions ranging from the Empire State Building to Escape Rooms. If you are a local, this is a great opportunity to be a tourist in your own city.
Broadway Week and Off-Broadway Week
Broadway shows and Off-Broadway shows can be expensive, but you can get 2 for 1 tickets to some of the hottest tickets during Broadway and Off-Broadway week! Similar to Must See Week, tickets must be purchased through the NYCGO.com website.
FOOD AND DRINK
Winter Cocktails
AYZA is a wine and chocolate bar with incredible mulled wine and a heated patio where you can comfortably sip and dine in climate controlled bliss.
EATALY SERRA ALPINA has a rooftop terrace that is Winter Wonderland themed. It is also enclosed, so you can still enjoy the open skies while staying toasty and warm.
MAGIC HOUR is a rooftop terrace where it is always summer. They recently revealed a giant pink flower wall that is perfect for social media photographs and helping you pretend all the world is in bloom.
CITY WINERY debuted igloos near Rockefeller Center. They are heated and full service, so you can sip bubbly in the North Plaza while staying cozy.
ANTLER has one of the best hot toddys in town, a rustic feel, and a warm welcoming environment to boot.
Fondue
I LOVE fondue. Gooey, melty, warm cheese fondue is one of the most perfect foods ever. New York City has a plethora of fabulous fondue restaurants. Three of my favorites are Kashkeval Garden, Mont Blanc 52, and Taureau.
Take a Cooking Class
The cold always makes me want to stay indoors and nest, so this is the perfect time of year to take a cooking class and level up your culinary skills. Try Sur La Table for hearty winter meals or Milk Bar for impressive desserts. While it's not technically cooking, you can also always attend a cheese tasting at French Cheese Board.
SPAS
What better way to beat the cold than with rooms dedicated specifically to heat, as well as rest and relaxation. Try Russian and Turkish Baths, Aire, and Spa Castle.
INDOOR NATURE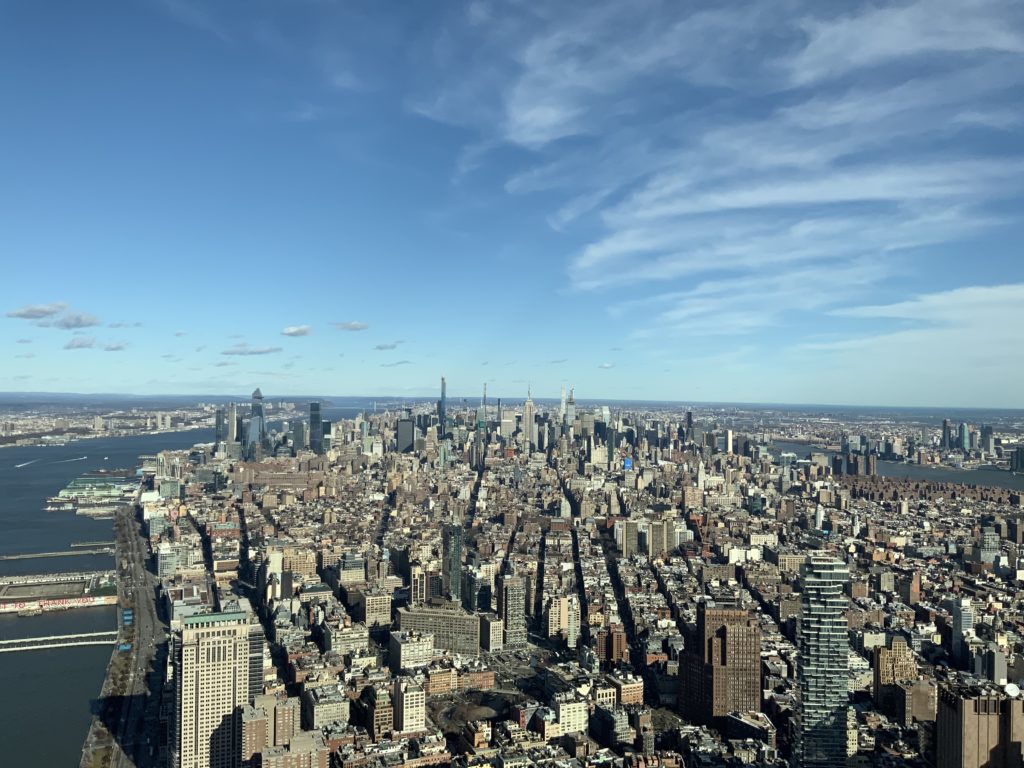 One of the most challenging aspects of winter for me is the lack of nature. I am Floridian by birth, so I want to see green leaves and blue skies 365 days a year. Fortunately, other New Yorkers share this need and have created havens with our concrete jungle. There are my favorites.
NYBG Haupt Conservatory is a Victorian glass greenhouse that is home to some of the most stellar flora in the five boroughs. You can walk around in warmth surrounded by exotic flowers and breathing in fragrant air which revitalizes your senses!
Butterfly Conservatory at AMNH is a location where you can surround yourself with natures most beautiful creations, butterflies, and feel as though you are on a tropical island.
Ford Foundation Atrium is a subtropical atrium in the heart of Midtown East. The Ford Foundation Atrium is the perfect place to grab a glimpse of green!
One World Observatory is a fully enclosed observation deck which allows you to spend hours gazing down from the top of the world. I love how you can also bask in the sunlight and stud the clouds. Try to aim your visit for sunset for incredible photos of the skyline! I always set up a time-lapse video for wonderful sunset memories.