Hello friends.
In my down time, I've been attending on-line social media conferences, and one of them suggest that documenting this specific time in history in whatever ways we can is very valuable.
As such, I wanted to document a bit of David's and my headspace, as well as what we are doing to keep busy, sane, and safe.
Experiencing New York City at the moment is tough. As of this morning, there have been more than 63,000 confirmed cases of Covid-19 in NYC. We have had several colleagues, both in theatre and tour guiding, pass away this week due to Covid-19. These were colleagues who, two weeks ago, where healthy and grappling with figuring out the unemployment website and mourning the loss of St. Patrick's Day celebrations. It is serious here in New York City, and it is grim.
The government suggested we wear face masks whenever we are outside. This is a little challenging since there is no place that has a N95 mask in stock. However, we decided to support a local business and buy some masks from Glorious Pasties. After I bought myself a Captain Marvel Mask and David a Captain America mask, I learned The Hat Shop is also selling masks. For every mask you buy from The Hat Shop, one mask will be donated to a medical worker. You can support these small local business, protect your health, and help our hard-working medical workers. I am also in awe of the Broadway costumer, hair, and makeup artists who have transitioned from the glitz and glamour of the Great White Way to making medical masks for hospitals.
David and I have been loving the free Met Opera HD Broadcasts. We watched the Ring Cycle, Nixon in China, and Les Pecheurs de Perles. I'm looking forward to Parsifal next week. Every time we watch the opera, we make it a fancy date night, order in food, or cook a nice meal.
We have also been very impressed with how creative our friends have become. My friend Stephanie Maloney created a wonderful parody of Telephone Hour from BYE BYE BIRDIE. I'm thrilled she asked me to be in it as well! You can watch it here.
My aerialist friends do a weekly Zoom performance. You can learn more and watch it on Zoom by following their Instagram – Let Them Eat Cake. It is on the more burlesque side of things, so if scantily clad humans isn't your cup of tea, this will not be your top quarantine activity, but if you do enjoy burlesque, this will scratch the itch very nicely.
Lots of tour guides have been turning to online mediums. Turnstyle Tours offers Zoom lectures almost daily. They range in price from free to $5. I've attended a few and they are really good. My friend, mentor, and colleague Matthew Baker has been making video tours, similar to mine, that go into much more in depth detail on very specific topics. You can check him out and subscribe to his YouTube Channel.
David and I have been going on safely-distanced walks around the neighborhood. We discovered some really interesting public art in St. Nicholas Park. It's a site specific art installation by Chloe Bass called Wayfinding. According to Harlemonestop.com , "The monumental commission is situated in Harlem's St. Nicholas Park and features twenty-four site-specific sculptures that echo the structural and visual language of public wayfinding signage. The artist poses three central questions: How much of care is patience? How much of life is coping? How much of love is attention?"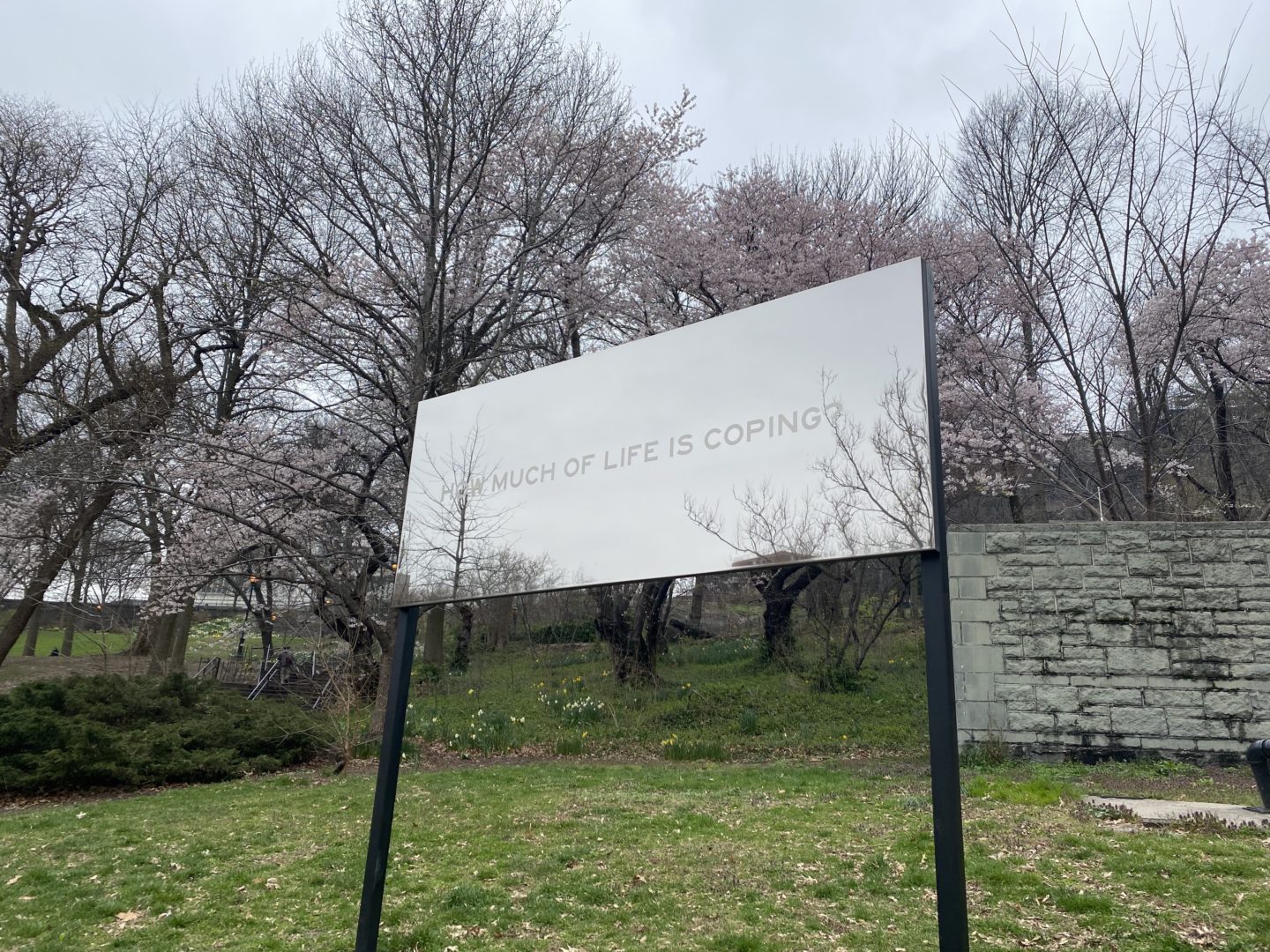 We didn't find all 24 pieces that make up this exhibit, but it seems as though we may have a few more weeks to accomplish this task. We also look forward to learning more about this young, native New Yorker, female artist who was commissioned by the Studio Museum in Harlem to create this beautiful piece.
We have also been trying to put as much good into the world as possible. At the moment, that good seems to be just staying in-doors and distanced as much as possible. It certainly feels weird to be saving the world by watching Netflix and eating raw cookie dough from a tub, but if that's what the world needs, then I'm happy to serve. That being said, for nearly a decade, I've been involved with an organization called Sing for Your Seniors. Seniors are one of the most vulnerable demographics during this pandemic, so all of the in-person Sing For Your Seniors usually does has been put on hold. Using ingenuity, they have created some virtual outreach programs that both David and I have participated in. One that I would like to share anyone who reads this blog is the Actors Fund "Write a Note to a Senior" program. It will literally take you two minutes, and will fill a senior center with joy. A few weeks ago I delivered meals to a senior living facility, and I heard so many conversations about how lonely all the seniors felt. They told me that they were scared to go outside for fear of catching Covid-19, and no one wanted to come and visit them since they were scared of infecting the seniors. A brief note to let our seniors know the world is still thinking about them would make a world of difference in their lives.
I hope you and all of your loved ones are healthy and safe and sane.
I have a fun video on Greenwich Village coming soon! Thank you for stopping by!