NYC Covid-19 resources and Covid-19 testing is fortunately abundant! NYC is a city of 8.5 million people living in 305 square miles. That number doesn't include tourists and commuters who enter the five boroughs every day. NYC was the first Covid-19 epicenter in the U.S. and the city learned quickly how to manage the pandemic's spread and keep its citizens safe. Today, you can take advantage of NYC's Covid-19 Resources, whether you live here, are a U.S. citizen, or are visiting from out of town.
Where to get a Covid-19 Test in NYC (PCR, Antigen, and Rapid.)
I create a quick YouTube short about where to get a Covid-19 Test in NYC (PCR, Antigen, and Rapid. Check it out!
The great news is that there are Covid-19 testing sites ALL OVER NYC! Most NYC Covid-19 testing sites are absolutely free, whether or not you are a New Yorker, visiting from out of state, visiting from abroad, or have insurance.
This strikes many people by surprise because in other states and countries getting a Covid-19 test is not so easy.
Many (if not most) of our Covid-19 testing sites are mobile testing sites. They offer PCR, Antigen, and Rapid tests. Some NYC Covid-19 test sites also offer antibody testing. You can get a PCR and a rapid test at the same time.
Many (if not most) of our Covid-19 testing sites offer free PCR results in 24 hours or less. During extremely busy times, this might go up to 48 hours.
My FAVORITE mobile test site is LabQ. They have over 55 sites in Manhattan alone! Check out their website for locations and hours.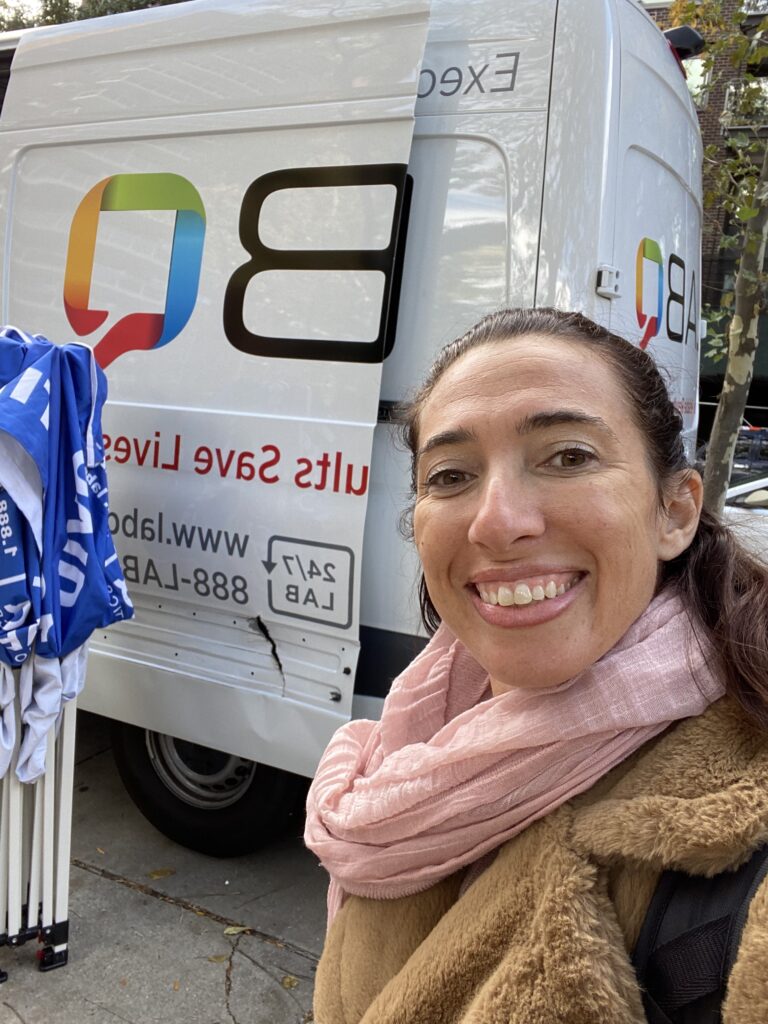 If you are using your test for travel, make sure to BRING YOUR PASSPORT. Tell the person administering the test that you need a Covid-19 test FOR TRAVEL and ask what information you need to provide. They will most likely show you where you need to input your travel information.
If you are EVER in doubt about what you need to travel, contact your airline. They will have the most accurate and up-to-date information. If your airline doesn't provide information, I have found DELTA to be a wonderful resource. Here is their travel guidelines website. Because restrictions change so fast, it has been my experience that airlines are the BEST resource. Certainly better than a random person on a Facebook forum. And if I were to write travel guidelines right now, by the time I hit publish here, the guidelines will have changed.
Want an alternative to a mobile Covid-19 test site? I have found City MD and other similar minute clinics to be efficient resources. However, if you can use a mobile site, that is better in general for the city. It will free the doctors at City MD up for patients being treated for non-Covid-19 related illnesses. Plus, mobile sites tend to be much faster too.
If you still can't find a Covid-19 testing site near you that meets your criteria, NYC has even MORE resources. NYC Health and Hospitals compiled this extremely comprehensive list. NY.Gov Lets you search Covid-19 testing sites by address and zip codes.
In short, the answer to "Where can you get a Covid-19 test in NYC" is EVERYWHERE. NYC believes in easy access to Covid-19 testing and testing frequently.
Do you need a Covid-19 Test to Enter NYC?
Whether or not you need a test Covid-19 Test to enter NYC depends on where you are traveling from.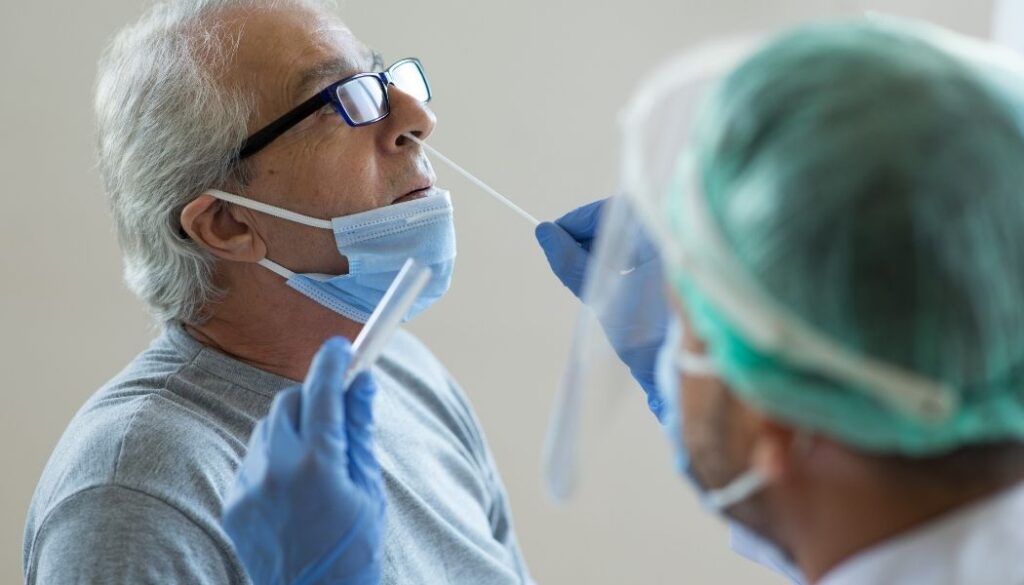 If you are traveling from abroad, you will most likely need a Covid-19 test AND proof of vaccination.
If in doubt, contact your airline.
If you can't get a hold of your airline, I like to use Delta's guidelines. They are always up-to-date and comprehensive.
If you are traveling within the U.S., you do not currently need a Covid-19 test or proof of vaccination to enter NYC.
It is recommended that you stay up-to-date on all NYC travel requirements at the official NY.Gov website. This is where you will find the official and most up-to-date guidelines.
What Happens if I Test Positive for Covid-19 in NYC?
Almost nothing seems more terrifying these days than testing positive for Covid-19. If you do test positive, NYC might be the best place to be.
NYC is equipped with truly comprehensive plans and resources to keep you and everyone else safe in the case of a positive Covid-19 test.
If you test positive, CALL 212-COVID-19
This is a hotline that will provide as much support as possible as you recover. This may include: a hotel room to isolate in, help getting food and groceries (with financial assistance if needed), emotional support, even someone to walk your dog if you need.
Most visitors and New Yorkers alike are unaware of this hotline. USE IT! It is there to help you, your loved ones, and the whole city.
Where to get a Covid-19 Vaccine in NYC
Vaccines are available all over NYC. They are free and most sites make the vaccine available to anyone, regardless of where they are visiting from.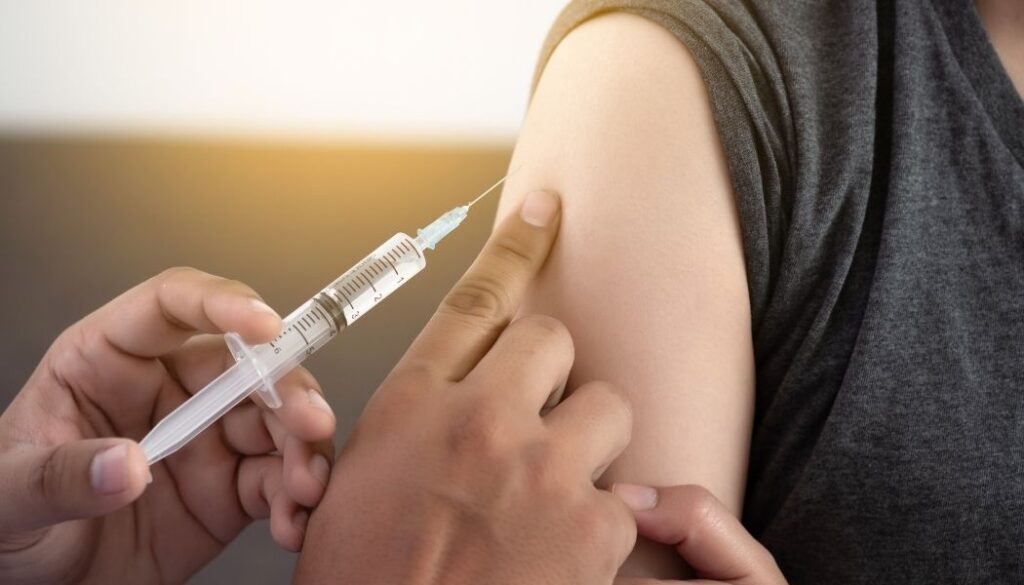 I got my vaccine (and my booster) at my local Duane Reade. I have found Duane Reade to be a bit more difficult to schedule appointments with if you do not live nearby.
For visitors, I suggest checking out the vaccination site at the American Museum of Natural History. What's cooler than getting vaccinated under the GIANT BLUE WHALE? And there are cool stickers to go along with it! Appointments are encouraged as walk-in appointments are very limited.
NYC.Gov has a Covid-19 vaccination finder. This site will help you find a location near you! You can even select the specific type of Covid-19 vaccine you'd like to search/receive. Pfizer, Moderna, or Johnson & Johnson. Super easy!
What in NYC Do You Need a Vaccine For?
What in NYC do you need a Covid-19 vaccine for? The easy answer is everything indoors. That's not completely true. Most shops do not require proof of vaccination. At least not at the time of this writing. They do encourage mask-wearing for all and require it for anyone who is not vaccinated.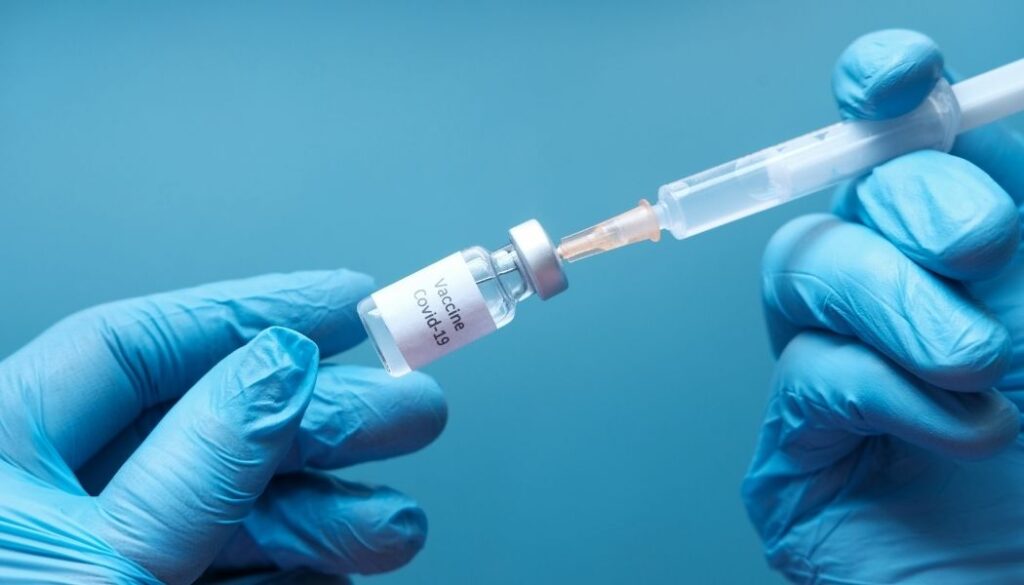 As with everything related to Covid-19, policies are changing quickly and constantly. The only way to have the most up-to-date information is through the official NYC.gov website. This site has all of the OFFICIAL and CURRENT NYC Covid-19 policies.
I would also suggest you check the website of each individual NYC attraction you plan on visiting. Often businesses will choose to have more stringent policies than those mandated by the city or state to keep their customers and employees safe. It's a little extra work to check every single website of each attraction you hope to see, but it's the only way you will have their most up-to-date policies. This includes restaurants, shows, museums, observation decks, tours, shops, skating rinks, movie theatres, sports facilities, sports venues, car services, and more.
It is STRONGLY recommend that you NOT visit NYC if you are NOT vaccinated.
If you are not FULLY VACCINATED against Covid-19, you will be EXTREMELY limited in what you can do in NYC.
If you are not FULLY VACCINATED and travel to NYC, you are putting your health at risk, and putting the health of those in NYC and those you travel with at risk.
If you DO travel to NYC and are not FULLY vaccinated against Covid-19, it is recommended (and required, though sadly not enforced in most places) that you wear your mask at all times and have proof of a negative Covid-19 that was taken in the last 72 hours.
What do I need for "Proof of Vaccination"
For proof of vaccination, you need a copy or photo of your vaccination card AND a valid ID.
So many forget that they need to show ID in addition to the vaccination card.
To crackdown on forged or fake vaccination cards, NYC required ID as well.
To make this super easy, NYC has two apps.
The first is called Excelsior. You can upload a copy of your vaccination card into the app.
My preferred app is NYC Covid Safe. Unlike Excelsior, anyone can use NYC Covid Safe, not just New Yorkers. You can upload a photo of your vaccination card AND your ID. This way you don't have to rummage through your bag for your ID! It's super easy! Strongly recommend!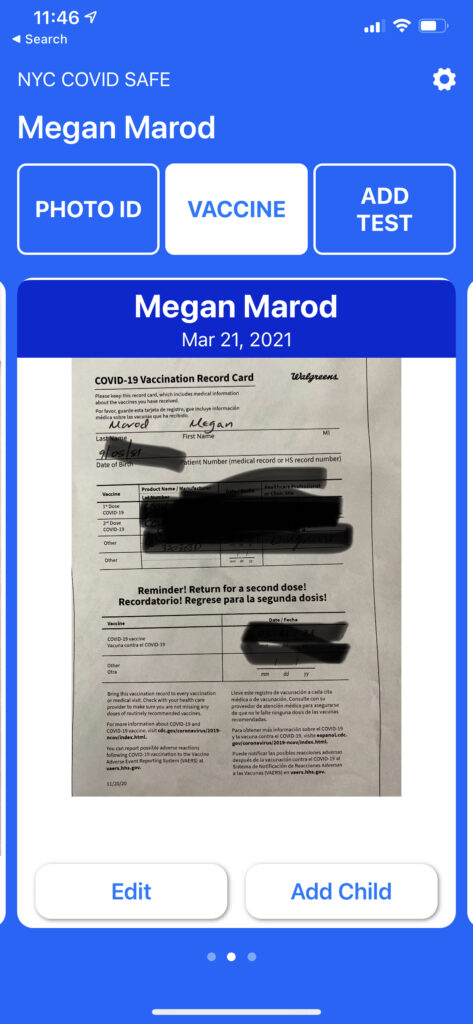 Covid-19 Travel Interruptions, Cancellations and Refunds
Also, make sure you check the websites of all the activities and attractions you plan to visit. Things are constantly changing. I wrote a blog entry a few days ago about awesome NYC New Year's Eve activities. Yesterday, the Prospect Park Fireworks were canceled due to Covid-19. So both the YouTube video and blog post are out of date a day after they were created. You MUST be diligent and keep updated on the actual official websites.

I also strongly recommend if you are buying tickets to anything that you buy directly from the vendor and not from a third party.
This means, DO NOT BUY from sites such as Viator or Get Your Guide.
The reason for this is that if anything is canceled, refunds are always from the point of purchase. If your point of sale is Viator or Get Your Guide, your refund may be delayed or worse, never come! If you buy directly from the attractions, refunds tend to come much more efficiently.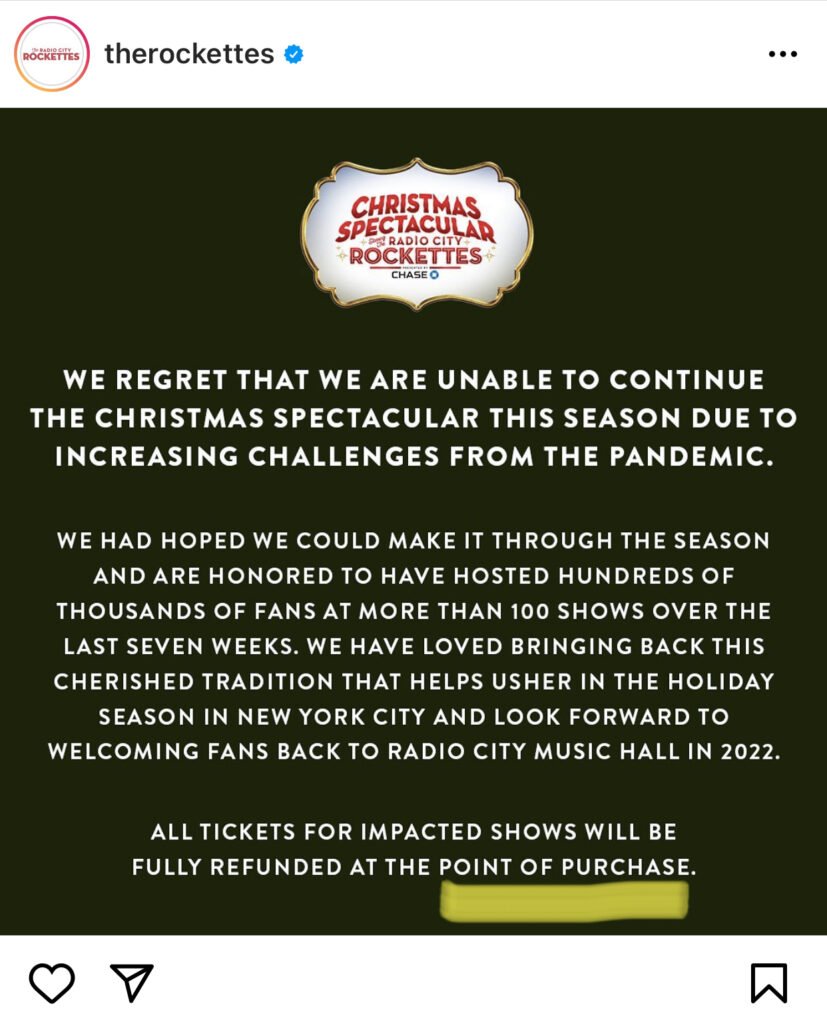 Get Your Guide and Viator might be great for searching for tours and attractions, ut buy DIRECTLY FROM THE ATTRACTION. This is your SAFEST BET for a refund should Covid-19 shut anything down. (And, to that end, make sure you know the attractions policy should there be any Covid-19 closures or travel interruptions. Some sites do not offer refunds, only rescheduling. This may factor into what you want to pre-buy or pre-book.
If you buy anything such as a City Pass or New York Pass, make sure you are crystal clear on their refund policy due to Covid-19 cancelations and travel interruptions.
Travel insurance is recommended, but only a few companies and plans offer coverage for Covid-19 travel interruptions and cancellations. Make sure you are clear on what your plan offers before buying.
Is NYC Safe to Visit?
As with all travel, there is risk involved when visiting NYC. NYC is a densely populated city with millions of visitors.
I'm a huge fan of travel, but only when done responsibly. Follow all Covid-19 guidelines without pushback.
Get tested frequently.
Make sure you are as vaccinated as your country allows.
Wear your mask where it is recommended.
Do as much outdoors as possible.
And be KIND. Everyone you interact with is putting their own health at risk so that you can create wonderful travel memories. Make sure you show them kindness in return! (And a tip is always appreciated where appropriate!)