I have a confession to make. I went shopping!
Normally, shopping trips are a fairly regular experience that don't warrant a guilty confession and blog entry, but these are not normal times. These are Covid-19 times. Leaving your tiny postage stamp sized apartment can strike fear into your heart. You hope that everyone you pass is smart enough to wear a mask, keep their distance, and, if they are feeling the slightest bit unwell, decide to stay at home. Yet, this is sadly not always the case, so the thought of going to a grocery store can be somewhat horrifying.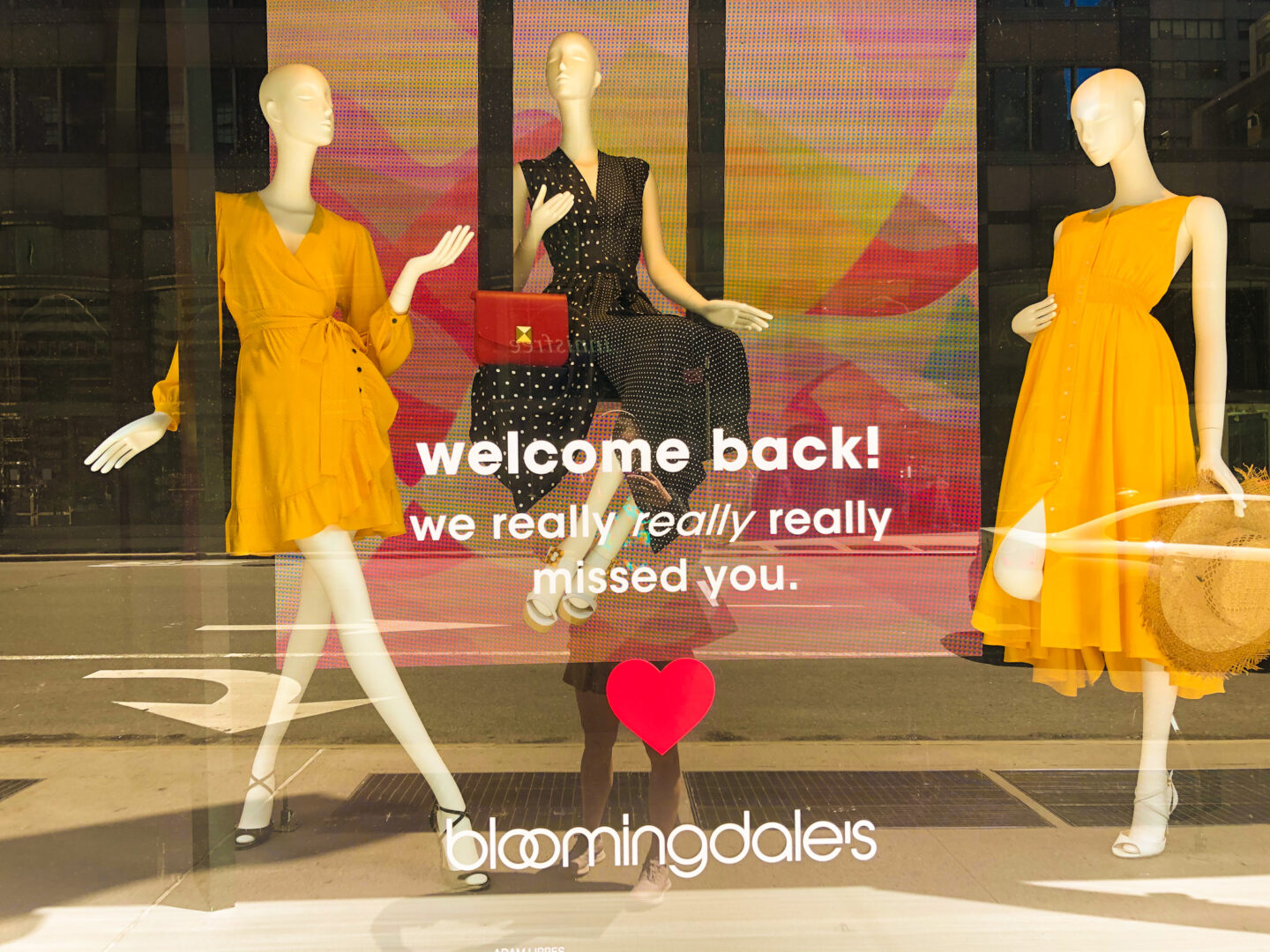 However, the day I went shopping was the start of phase 2, and, in theory, Andrew Cuomo felt it was safe to open up retail shopping. I researched what protocols various stores were implementing to keep their employees and customers safe, and they seemed more than sufficient, so I decided it was time to venture out and experience it for myself.
Riding the Subway
I decided to ride the subway to get to Bryant park. I've walked that distance and back several times during this quarantine, but it's rather exhausting, and I wanted to save energy to actually shop! It was my first subway ride since March 12th!
The subway was cleaner than I have ever seen it! Fortunately, I live at a subway terminal, so I got to witness the MTA workers cleaning off the seats, poles, walls, and windows, which gave me a lot of confidence. The subway was mostly empty, everyone seemed to be distancing, and wearing their masks.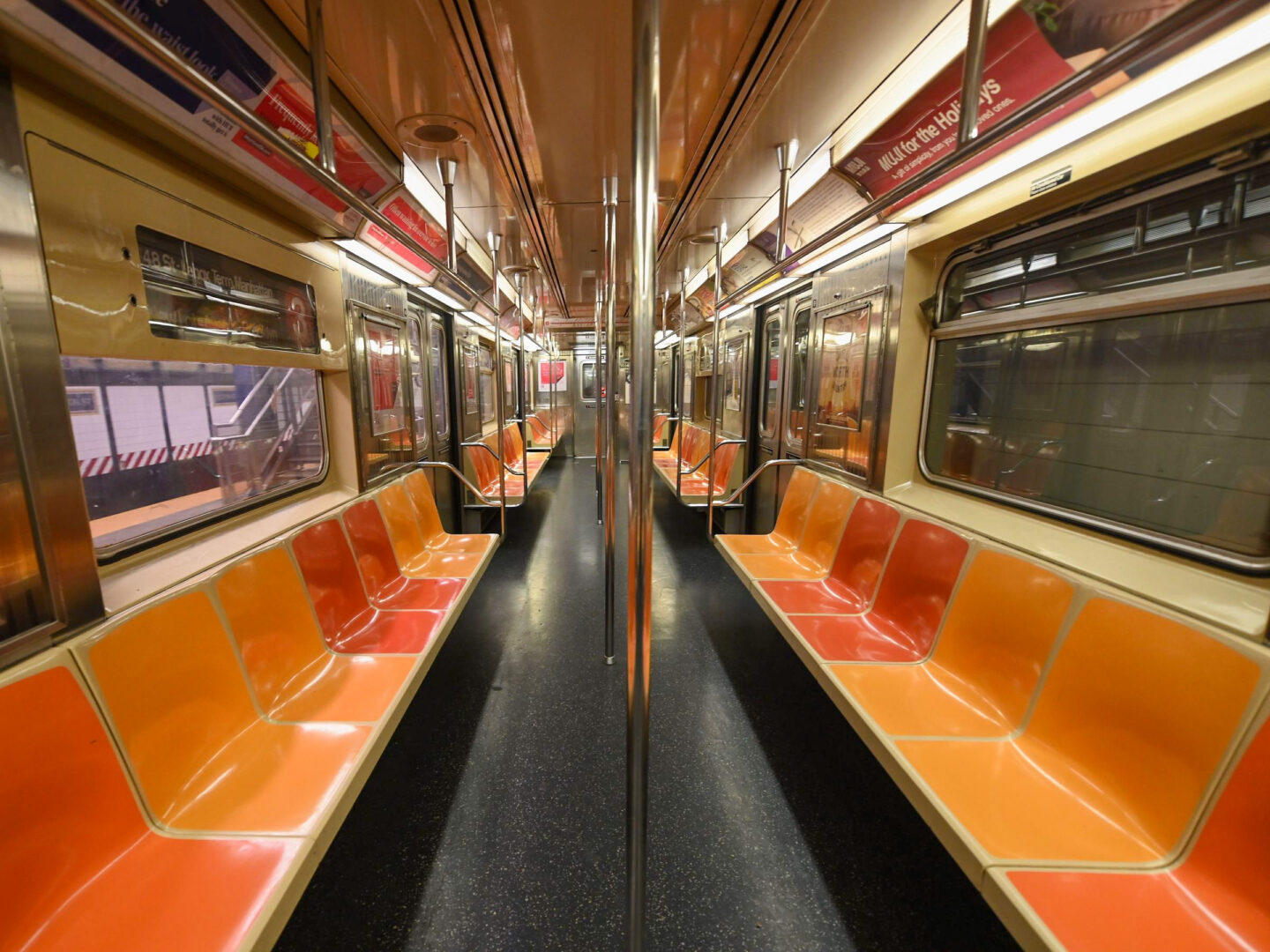 Alice and Olivia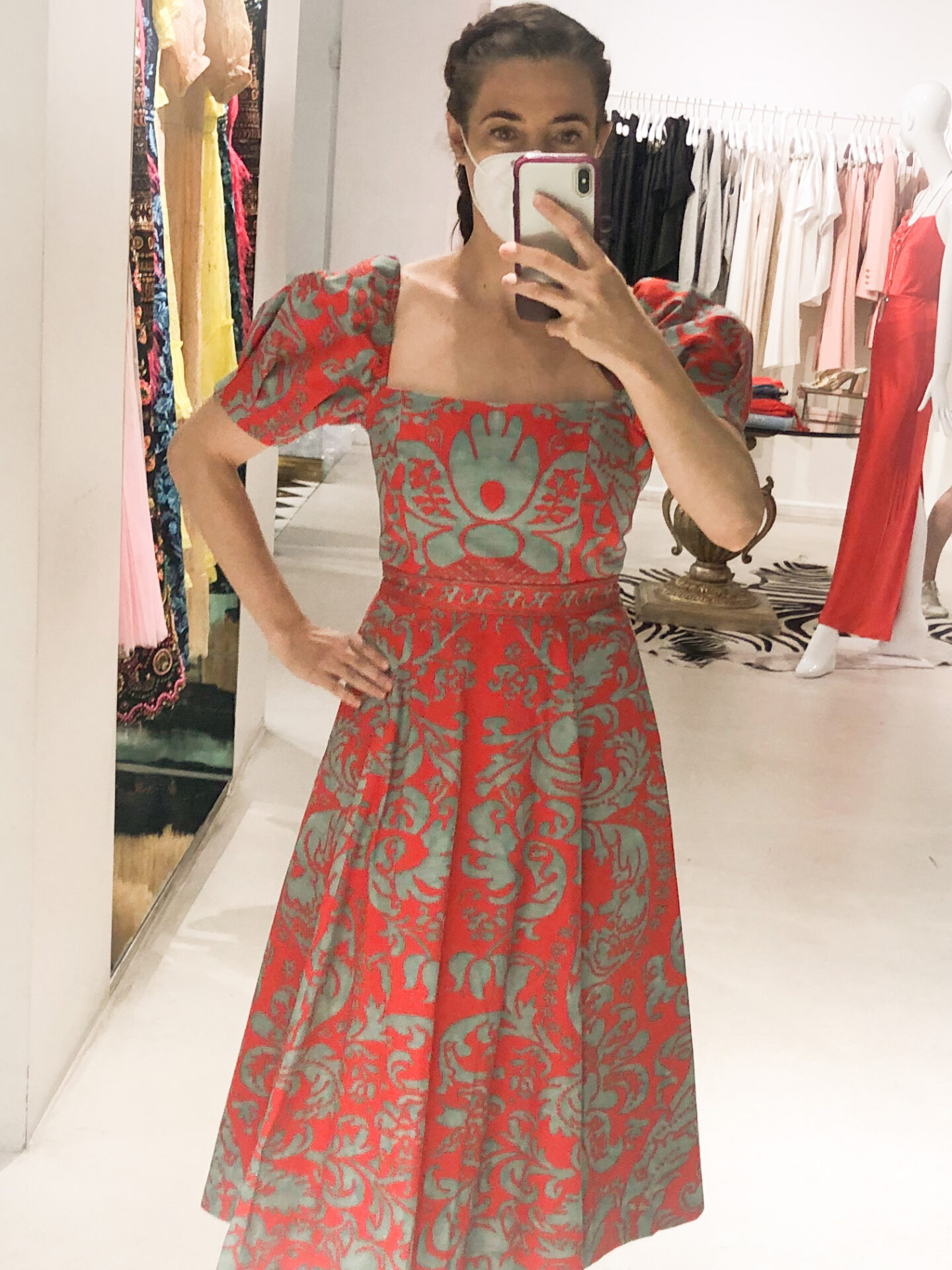 My first stop was the Alice and Olivia at Bryant Park. Since Alice and Olivia is a relatively small high-end boutique, and they were in the middle of their Warehouse Sale which offered ridiculously good prices on their items, it felt like a good place to start.
When I got to Bryant Park and approached Alice and Olivia, there was a sign on the door saying that I had to ring a bell to enter. This instilled confidence in their cleanliness, as no one would be entering the store without the sales representatives knowledge!
The selection was huge, and I was the only one in the store, so I got a lot of love and attention from the mask-wearing sales team. Every item of clothing I tried on was pulled from the backroom. I would find the item on the rack, and the sales team would pull a fresh one for me try. I don't know if they sanitized it or if anyone had tried it on before me, but I at least got the impression everything was clean. Alice and Olivia has always been one of my favorite brands. My friends joke that 99% of all clothing that I own is Alice and Olivia. Actually, that's not a joke. It is a fact. I own a lot of Alice and Olivia, however, this time I left the store empty handed. This is probably because I had already bought so many of my favorite pieces from this season on-line. Just FYI, if you're looking for an awesome find at Alice and Olivia – this dress is stunning.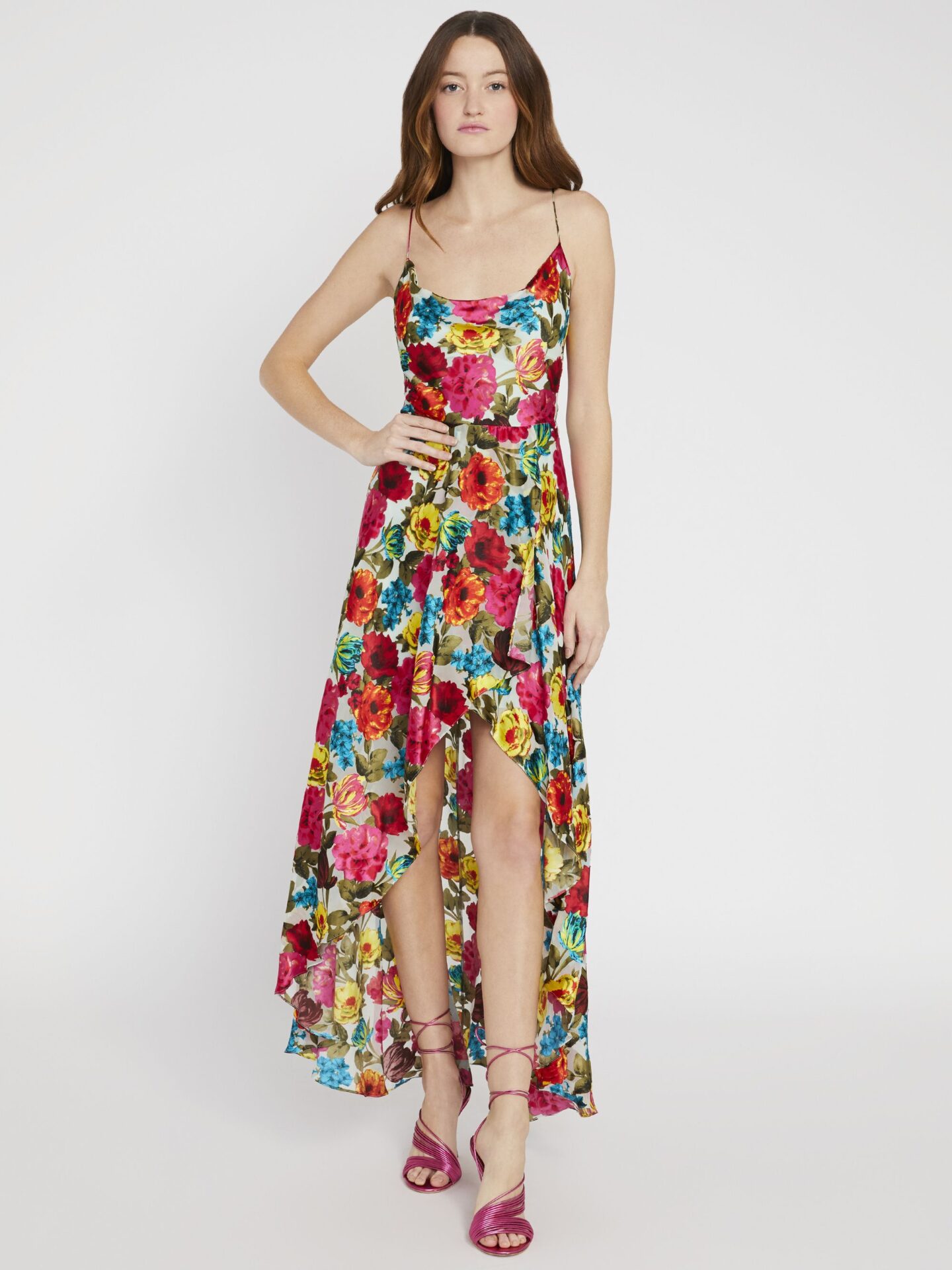 Saks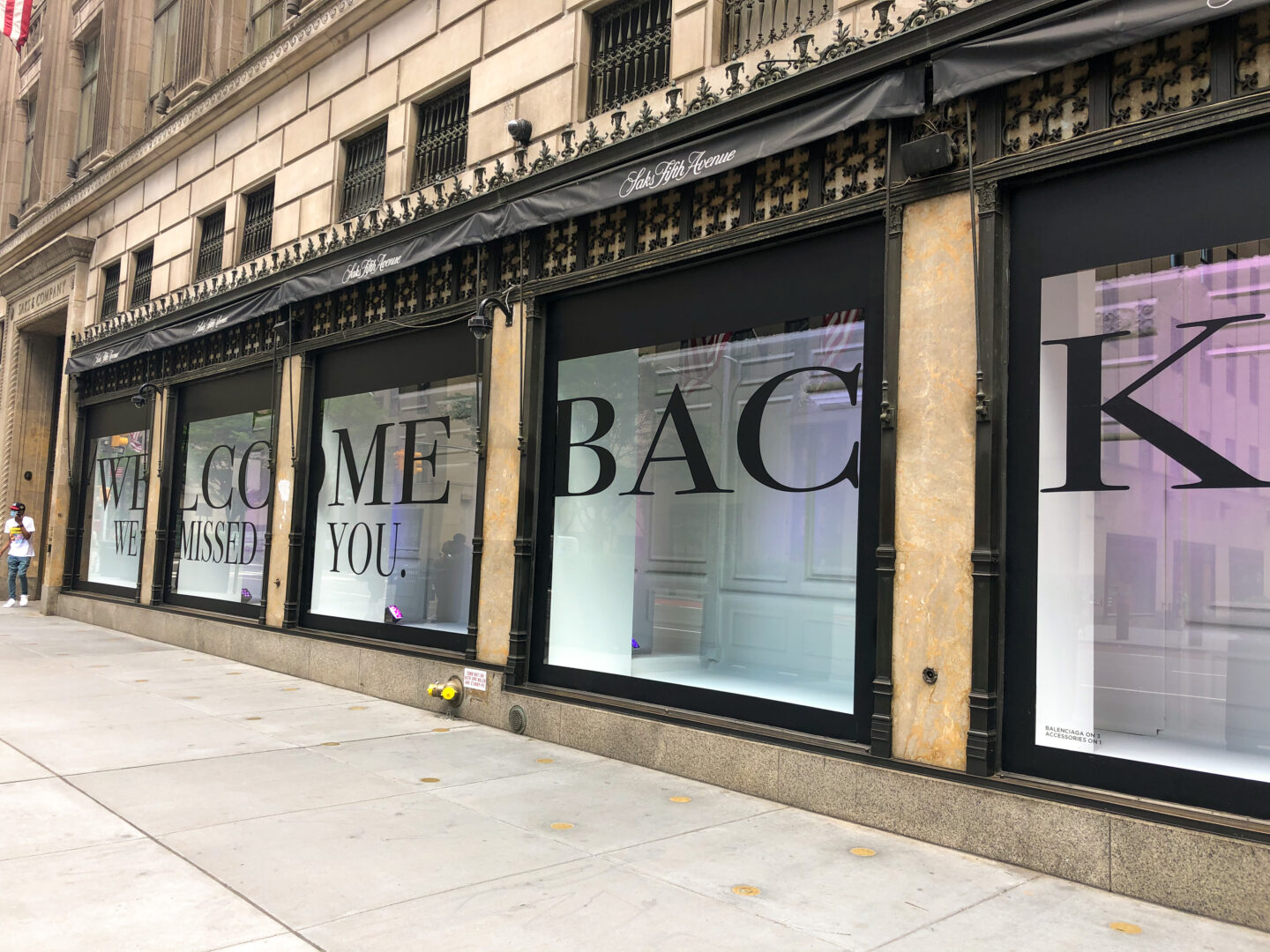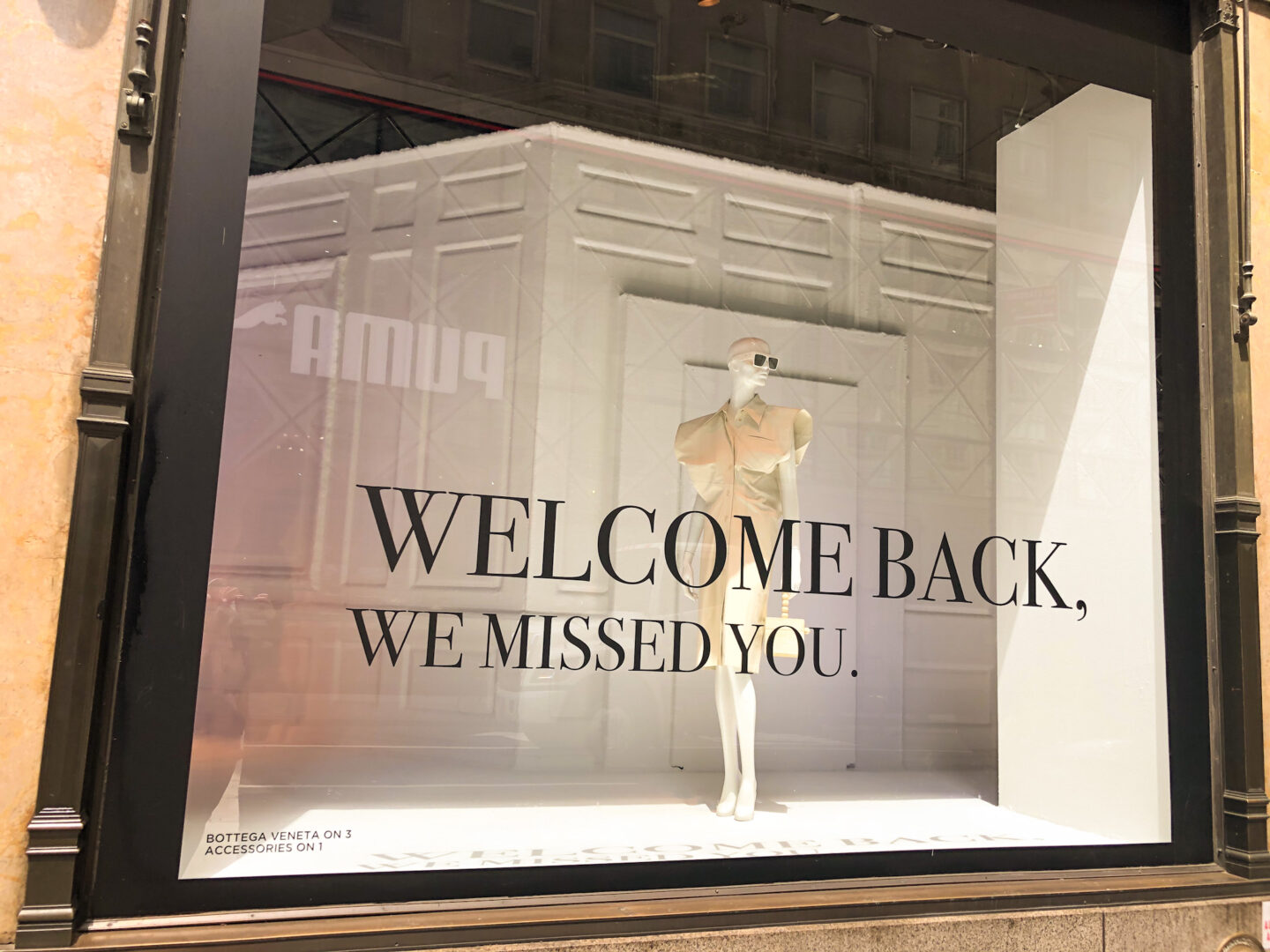 After leaving Alice and Olivia, I went to Saks Fifth Avenue. My mom had told me about the incredible sales, but I was hesitant to go to the store, because of Covid-19. My mom sent me an e-mail outlining all of the pre-cautions Saks was taking to ensure the safety of their employees and guests, so I decided to give it a try.
My heart pounded as I entered the behemoth department store. I was somewhat encouraged by their welcoming windows. In a weird way, there was a post-9/11 feel. The windows seemed to encourage me to be brave, go out, and engage in normal life. They greeted me with open arms saying "Saks Loves NYC" and "Welcome Back! We Missed You!" I almost cried, because it felt like greeting an old friend.
In the past, whenever I had a bad day, I used to go to Saks just to be surrounded by the beautiful clothes, which, to me, are each like mini-works of fine art. The amount of detail and craftsmanship that goes into the design and execution of the garments is intense. For anyone who believes that fashion is frivolous, I always like to point that the two most popular exhibits at in the Met Museum's history were both at the Costume Institute: Alexander McQueen: Savage Beauty and Heavenly Bodies: Fashion and the Catholic Imagination. So, for anyone who appreciates the art of the garment industry, I get you.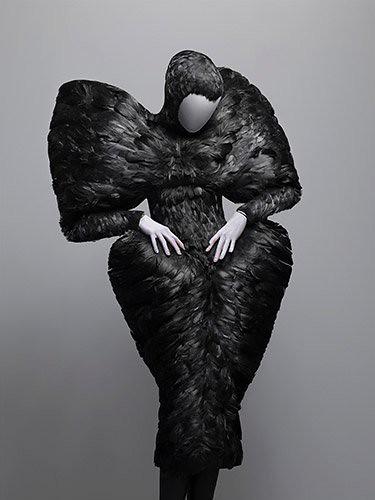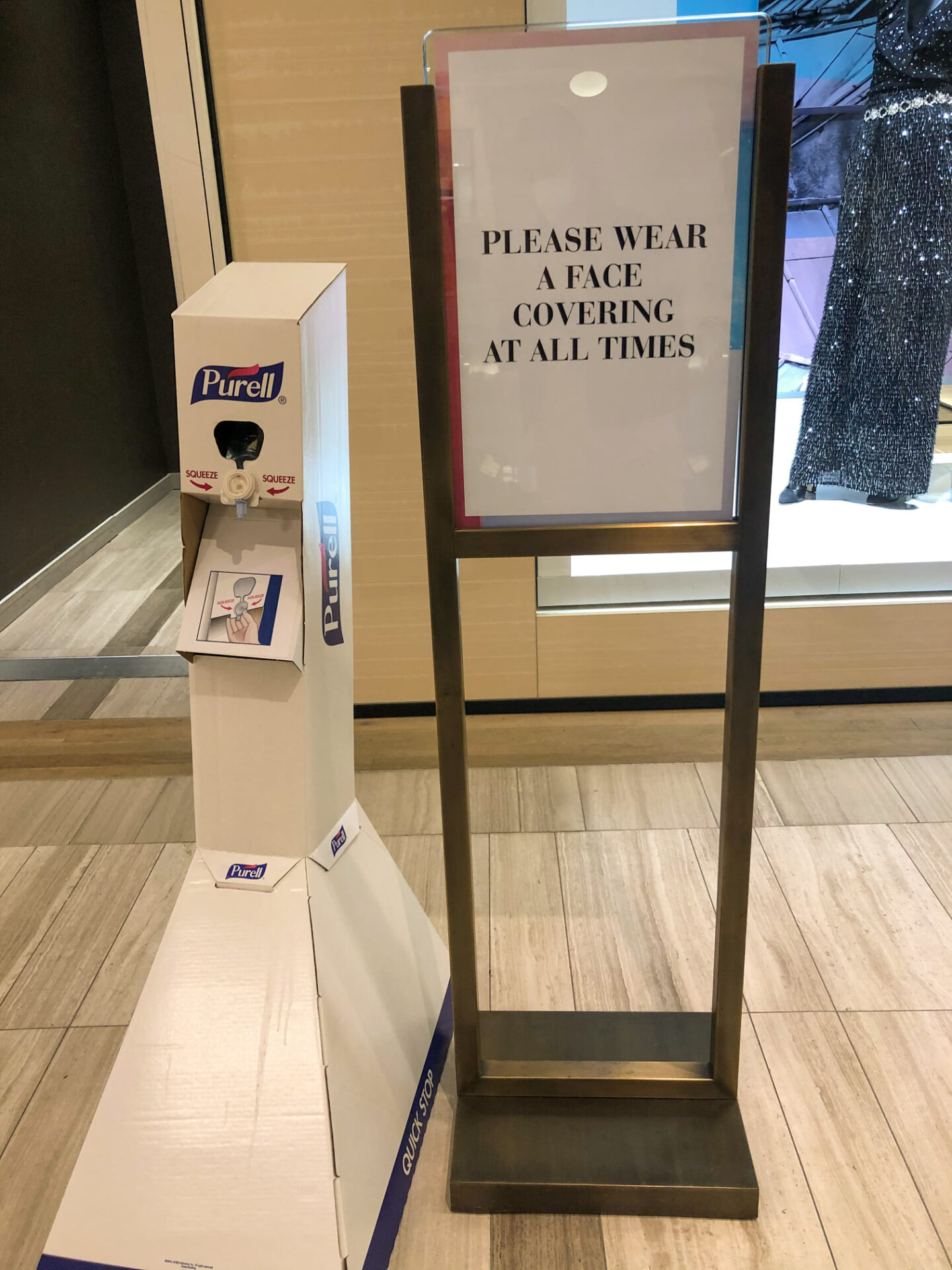 Once inside Saks, the first thing I noticed was a sign at the entrance designating which doors to use specifically for entering and which doors to use specifically for exiting, a first signal of the social distancing pre-cautions that were being taken. The second thing I noticed was hand sanitizer stations everywhere! And the third thing was, everyone, and I mean everyone, was being responsible and wearing masks! I felt so much better seeing all the masks!
Soapbox moment: in every country where mask wearing was taken seriously, Covid-19 was controlled and life returned to normal much more quickly than in the United States.  Korea was even able to up giant musicals up and running again.  SO WEAR YOUR MASK!  PLEASE!
My first stop in Saks was women's contemporary which had a ton of wonderful sale items, and only a small number of shoppers.  A really kind saleswoman named Wendy quickly noticed me and offered to start me a dressing room.  She was really attentive, without hovering, and mentioned that she had personally sanitized the dressing room before I went in.  She also took on the responsibility of making sure no one other than myself entered the dressing room as I walked around the store looking for more items to try on.  Her dedication was extremely impressive.
It is also worth mentioning that any clothes customers chose not to buy after trying on were not returned immediately to the sales floor.  They were put on a rack where they had time to air out a bit.  This all instilled a lot of confidence in me in Saks' safety measures.  It was apparent that the employees took the safety protocols very seriously.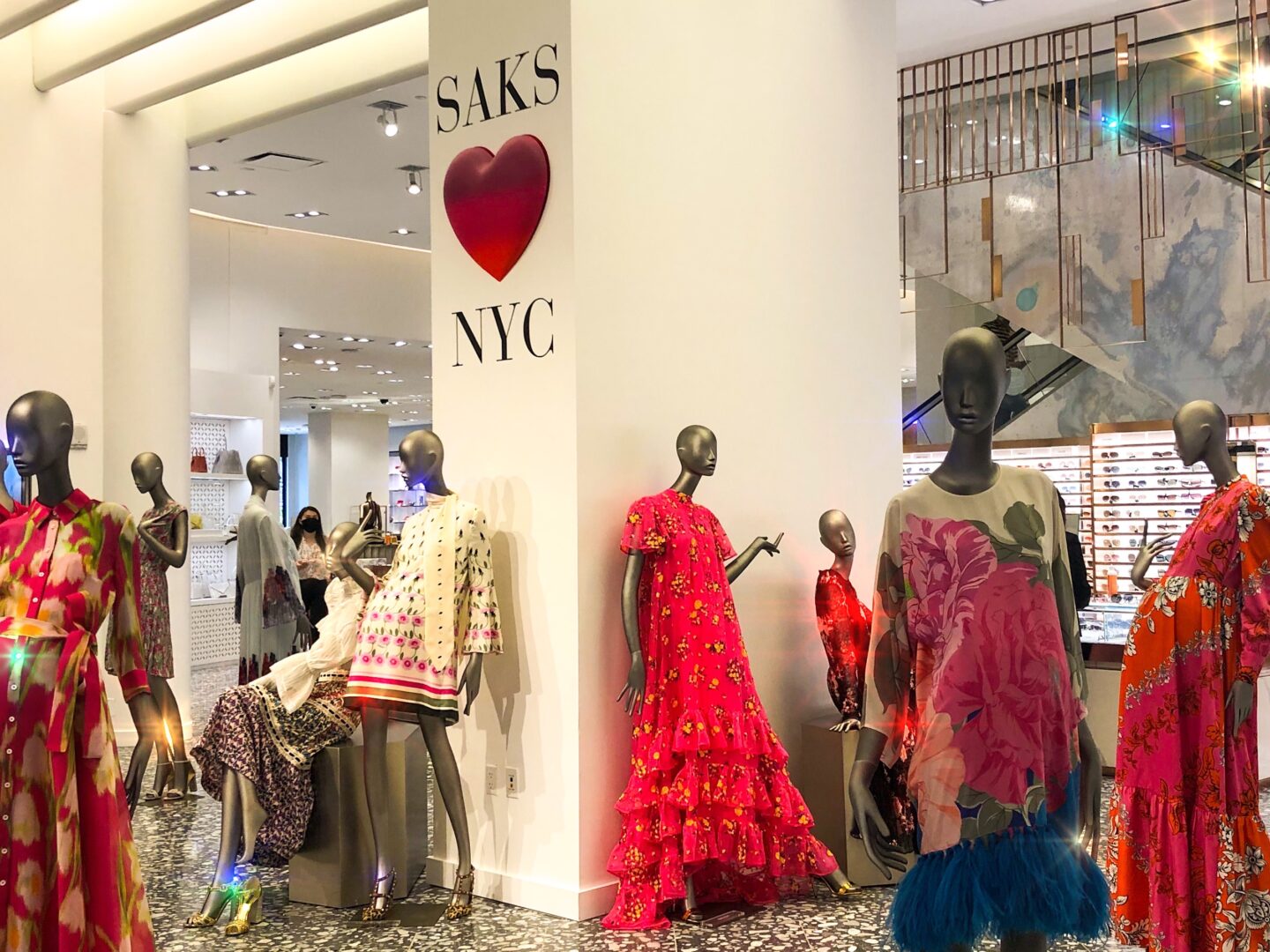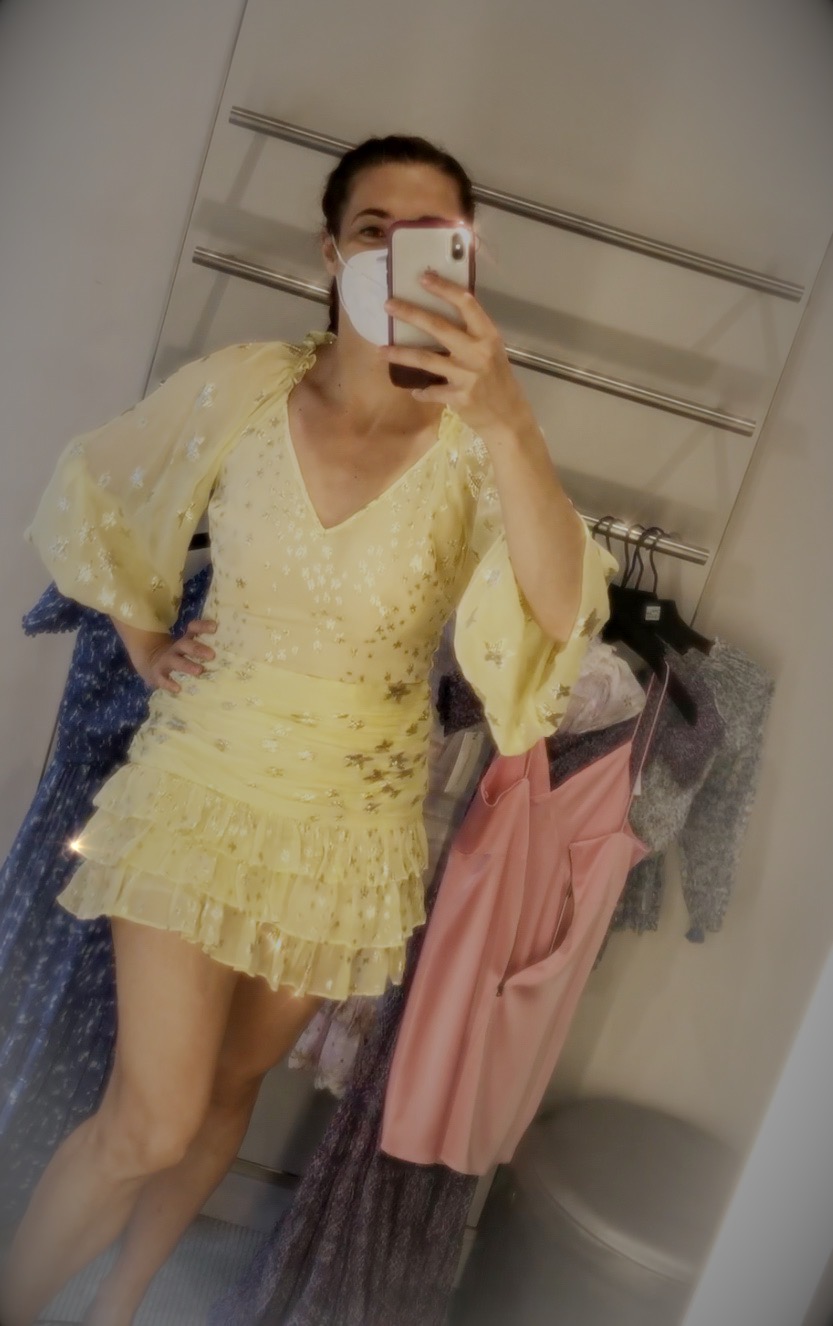 It should also be noted that the NYC Saks flagship store recently underwent a $250 million renovation, and what a difference it made! The dressing rooms I used were large with lots of natural light! This was an extremely nice touch in an era where fresh air comes highly recommended.
Thanks to how comfortable Wendy made me feel, and the giant selection of wonderfully reduced sale items, I ended up buying two dresses at ridiculously low prices, including one from the super trendy brand LoveShackFancy! Neither dress I purchased was available on-line, so it is worthwhile to note the selection in the store is even more extensive than when shopping on your computer.
Next, I ventured up to the shoe department, which I had never seen so empty! So many salespeople were around, eager to give me attention. I spotted a pair of fleece lined Jimmy Choo boots I had drooled over at Christmas time, but they were far too expensive. Now they were on the sale rack! This pair was completely sold-out on-line, but in the store they were fully present and beckoning me to buy them. The boots were about 1/3 the original price, plus an extra 20% off what! What a steal! After purchasing the Choos, it was time to leave before getting myself into more trouble!
Madison Avenue
On the way home, I decided to walk up Madison Avenue. Yes, I was carrying the newly purhcased Jimmy Choo boots on this stroll. The weather was beautiful, and Madison Avenue is one of the most magical places in New York City. It always makes me feel as though I am strolling down a romantic street in Paris.
In fact, whenever on Madison Avenue, I always stop at Laduree, the Parisian patisserie that invented the double-tier macaron! Each time I pass, it's my tradition to stop in and pick-up three macarons. As I bit into my rose flavored macaron, a strange sense of normalcy passed over me for the first time during the pandemic. During non-Covid-19 times, daily artisanal chocolate and baked good purchases are an everyday event, but I hadn't been able to get my hands on one since March 12th! Tears of joy welled up in my eyes. Harlem has amazing food, and I've been so lucky to get to enjoy it over the past four months, but this macaron made everything feel reset to before the shutdown.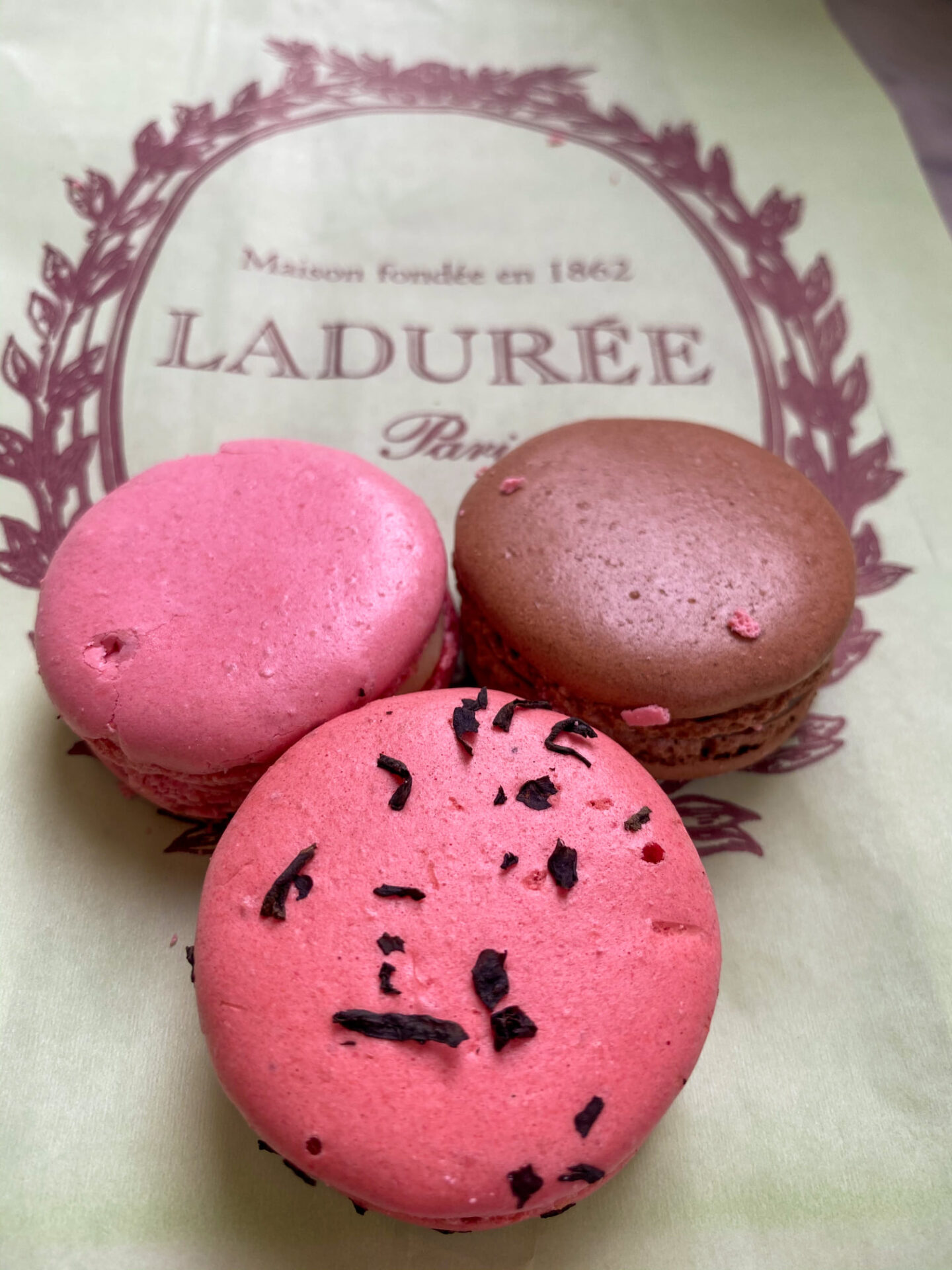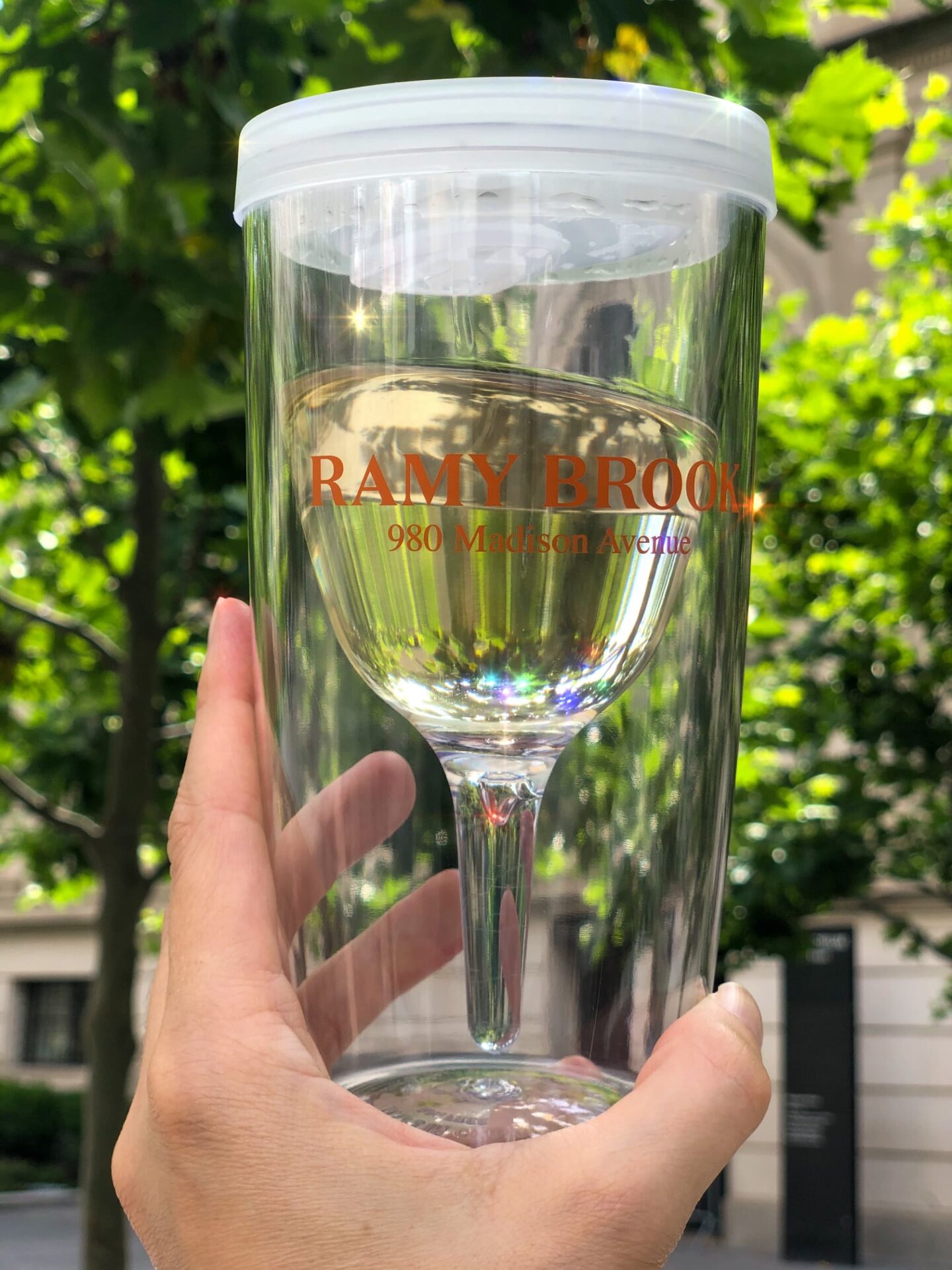 After my tiny indulgence, I stopped by some of my favorite Madison Avenue stores, including Ramy Brook. Ramy Brook has a giant selection of day-to-night dresses, many of which currently have sample-sale prices! Even better, when you shop at their Madison Avenue flagship, they give you wine! Yes! Wine! And serve it in a really awesome custom wine sippy cup, that you take with you when you leave!
The only store that seemed to have any crowds at all was Zimmermann, which had a twenty-minute wait for a dressing room. However, it was the start of their summer sale, which meant the prices and selection were as good as they get. If you love this brand, it's definitely worth waiting. I ended up leaving with a beautiful flowing green "picnic" dress. My champagne tastes really don't match my tap-water budget, but this seemed a day to celebrate.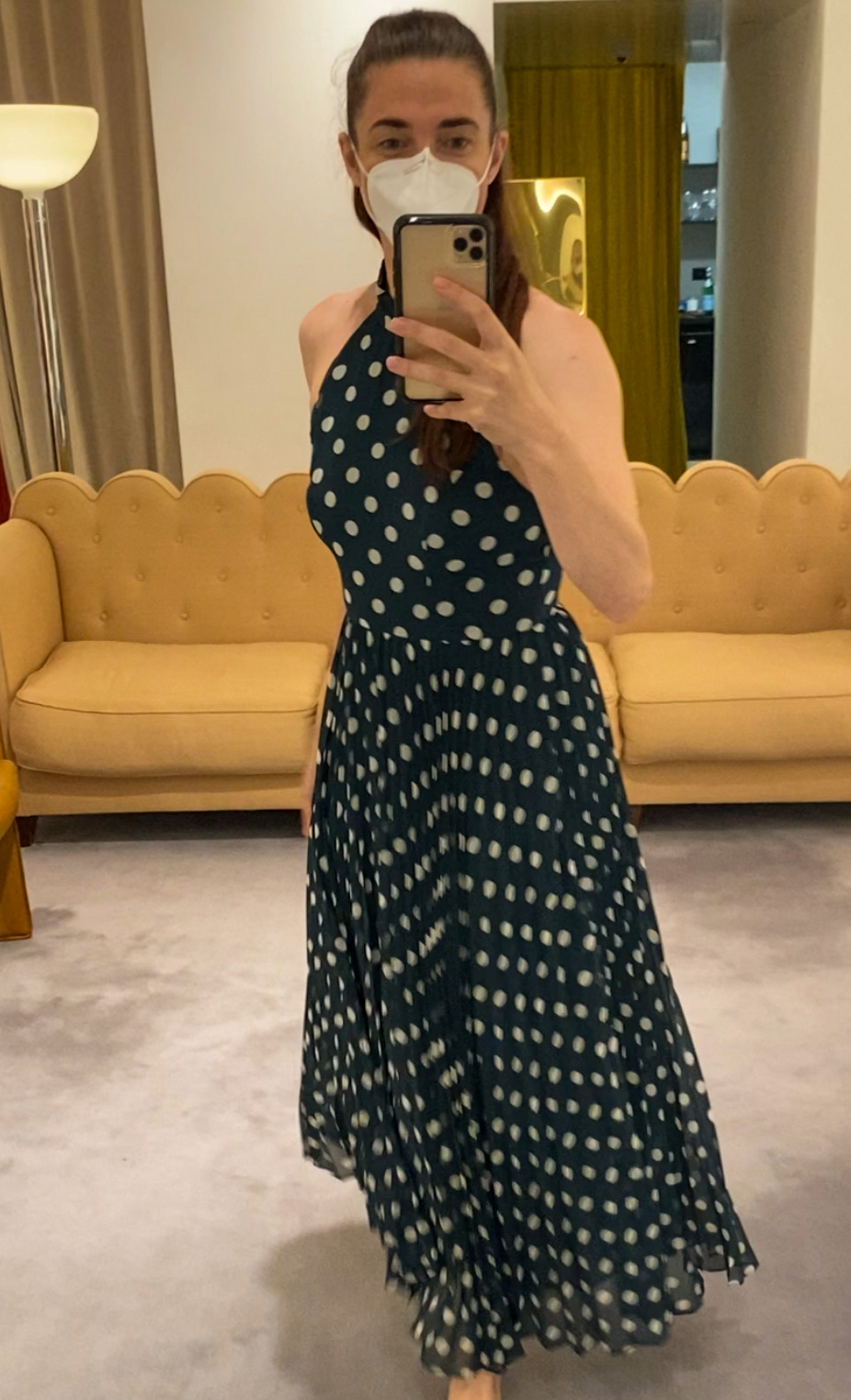 Conclusion
Overall, the indoor retail experience appeared to be safe and friendly. Stores were excited to welcome shoppers back. In flagships such as Bloomingdales, I saw cleaning crew constantly wiping and scrubbing down surfaces. Every person involved seemed eager to prove that in-person shopping can be safe and enjoyable. For those who, very understandably, feel uncomfortable with in-person shopping experiences, stores are offering so many creative options, from curb-side pick-up, to personal stylists who pick out selections based on your tastes, ship the items to you, then give you five days to select what you like, and send back the rest.
Fashion is an important part of our every-day lives, and even in quarantine, people still revel in a great deal, fun finds, and playful sparkles that allow them stand out in a Zoom meeting. Whether on-line or in-person, shopping can provide a brief respite from the world's stressors and Covid-19. In New York City, the stores are eager to welcome us all back! Just remember, wear your mask and follow all safety protocols!