Welcome to New York! It's a city FULL of tourist traps! Everyone says tourist traps are cheesy! Tourist traps are cheesy, and most are going to be crowded, but these NYC "tourist traps" are all integral facets of the Big Apple. To miss them is to miss some of New York City's most magnificent sites and coolest cultural attractions.
There is a reason these sites are so popular. They're fun! They also make New York City the vibrant and monumental metropolis we know and love today.
The truth is, locals also love going to these places. During quarantine, we have all begun to miss our favorite Times Square locations and joys of shopping on crowded Fifth Avenue. We are New Yorkers, so of course we will curse the crowds and complain about the lines, but, deep down, we still love our tourist traps.
TIMES SQUARE
While it's true, you should venture beyond Times Square during your trip, you also absolutely, positively, and without a doubt must experience Times Square!!!!!! Join the crazy characters that create the crowd, and bask in the electrifying billboards framing the "Crossroads of the World."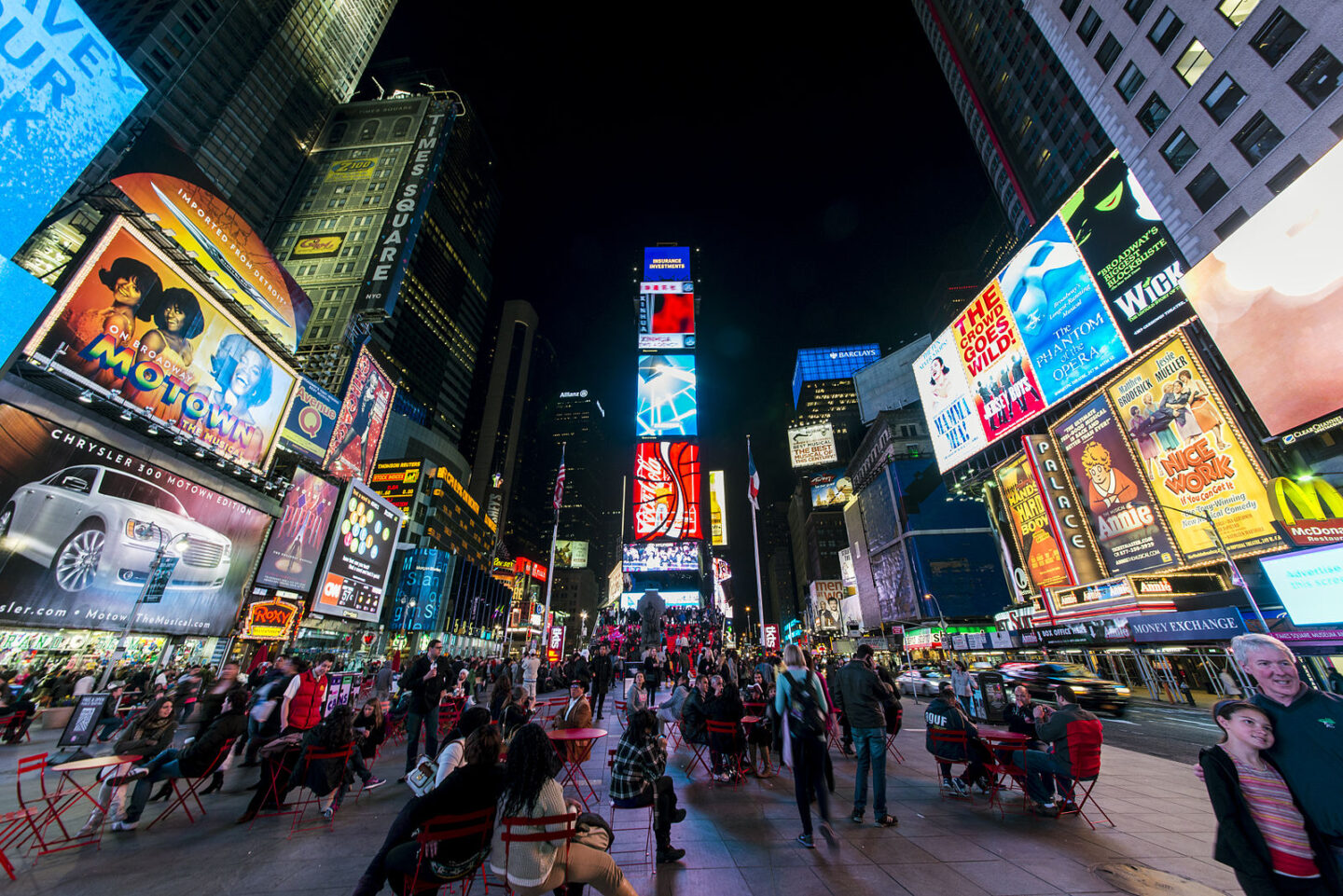 Times Square has some of the best restaurants, shops, museums, and of course, shows, in NYC. The very first entry I wrote for this blog was "What to do in Times Square." Check it out for inspiration! Seize the day and dive into Times Square.
For me, a perfect Times Square afternoon would be lunch on Restaurant Row or Ninth Avenue, followed by a Broadway matinee, then a stop at Junior's for cheesecake. Eat your cheesecake while sitting on the famous "red steps" above the TKTS booth. This happens to be the best place to people-watch and take photographs of Times Square. To finish off your evening, shop for souvenirs at Grand Slam! Did you even visit NYC if you don't buy an "I❤️ NYC" t-shirt, and selfie EVERYTHING!?!?!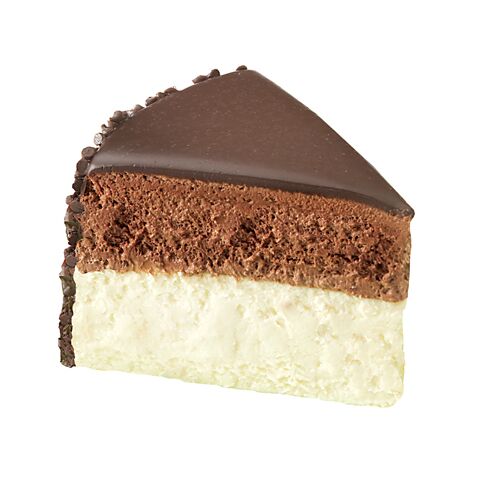 That being said, there are some more unpleasant "tourist traps" within Times Square. There will most likely be people dressed up as crazy characters ranging from Elmo to the Naked Cowboy. Because it's funny to see Iron Man walking towards you in the middle of Times Square, it might be tempting to try and take a photo with him. DO NOT DO THIS! DO NOT! And furthermore, DO NOT!…unless you are willing and prepared to give them money. The Elmo or Iron Man will want a tip, and they have been known to get violent when the tip is not as much as they had hoped.
Also, if a man tries to hand you a "free" CD. RUN AWAY! They always say these are free, then once you take the cd, the man handing it to you demands $40 and will chase you down the street. It's terrifying. This is NOT the way to get discovered in the music industry, so just say no to the CD guys!
VISIT AN OBSERVATION DECK
Whether you visit the Empire State Building, Top of the Rock, One World Observatory, or The Edge, you absolutely must view NYC from the top of a tall building. There is something so magical about looking at the city from above. And heck, if nothing else, it's cool just to say you did it!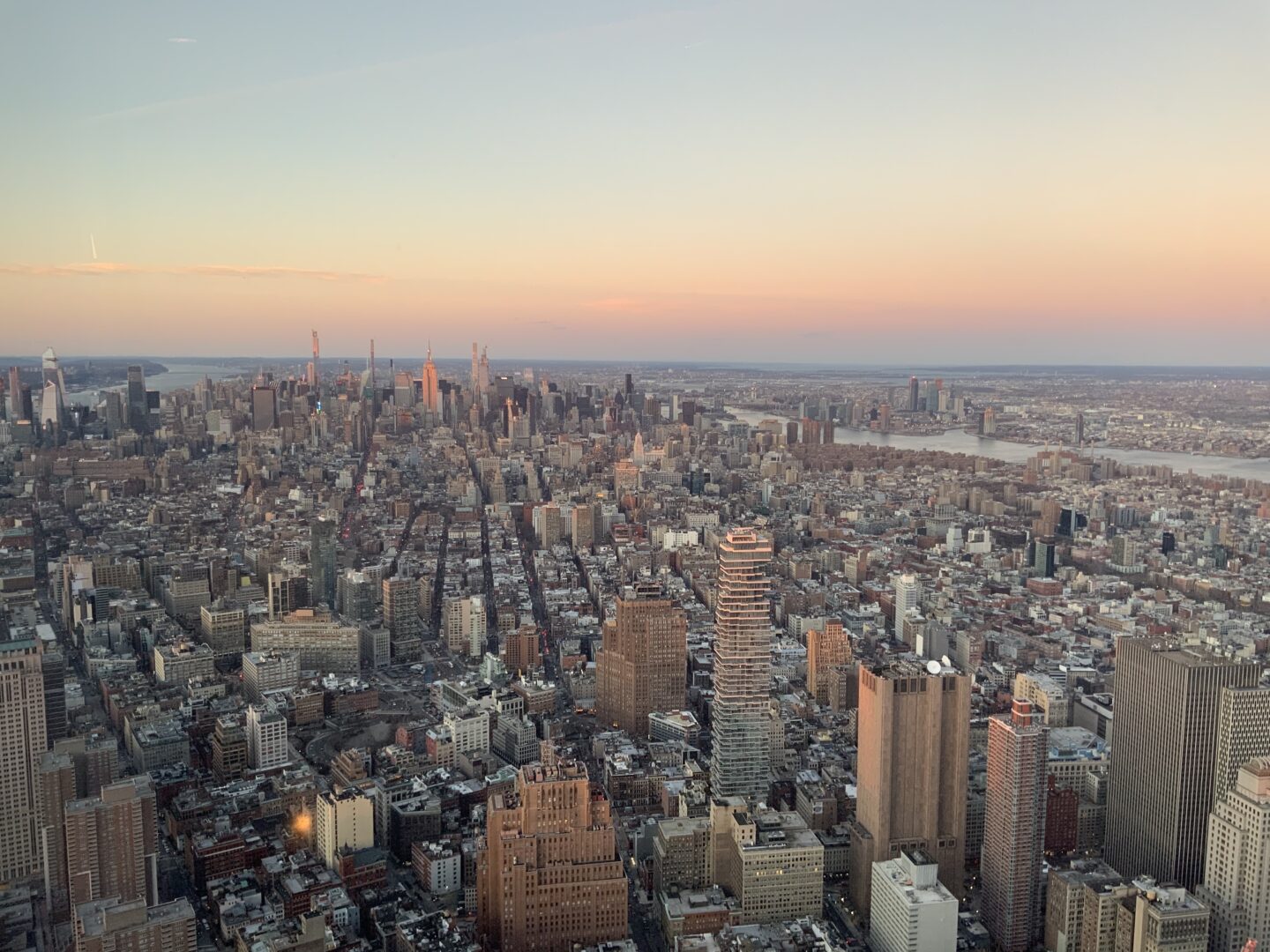 I have three favorite times to visit the Observatories.
Early Morning: The glow of the morning sunlight gives the skyscrapers a special sheen if you show up right when the observatories open. There will also be a serenity and freedom in showing up before the rest of the crowds.
Sunset: The radiant amber rays of sunset seen over the city skyline is a memory to treasure. The crowds will be bountiful at this time, but the photographs will make it worthwhile.
Late at Night: Glistening lights from a million tiny windows will dazzle and delight at night. This is the most romantic time to gaze down on the City that Never Sleeps.
Each of our observatories is located in an iconic building, rich in history and New York City charm. Rooftop bars and restaurants are fabulous, and you should definitely go to one, but nothing will compare to the observation decks on top of the Empire State Building, One World Observatory, Top of the Rock, and the Edge. There is a reason they are so popular.
Read my blog post to pick the perfect observatory for you! You can also take my virtual tour of One World Observatory.
THE STATUE OF LIBERTY
The Statue of Liberty is an absolute must-see when you come to NYC. Would you go to Paris and not see the Eiffel Tower?
I've seen kids squeal and dance around in delight at their first view of Lady Liberty! I've seen "I'm-so-over-it" teens whip out their phones and excitedly start taking photographs. I've seen bachelorette parties squeal with joy when the Statue first comes into view. I have seen grown men break down weeping at the Statue of Liberty's beauty and meaning. One man from India remembered when India gained its independence. He said leading up to the moment of Indian Independence, he and his friends had looked at photographs at the Statue of Liberty and dreamed what it would be like to be free of British rule. Seeing the actual statue was so powerful for him, he just broke down crying. This is a truly powerful site.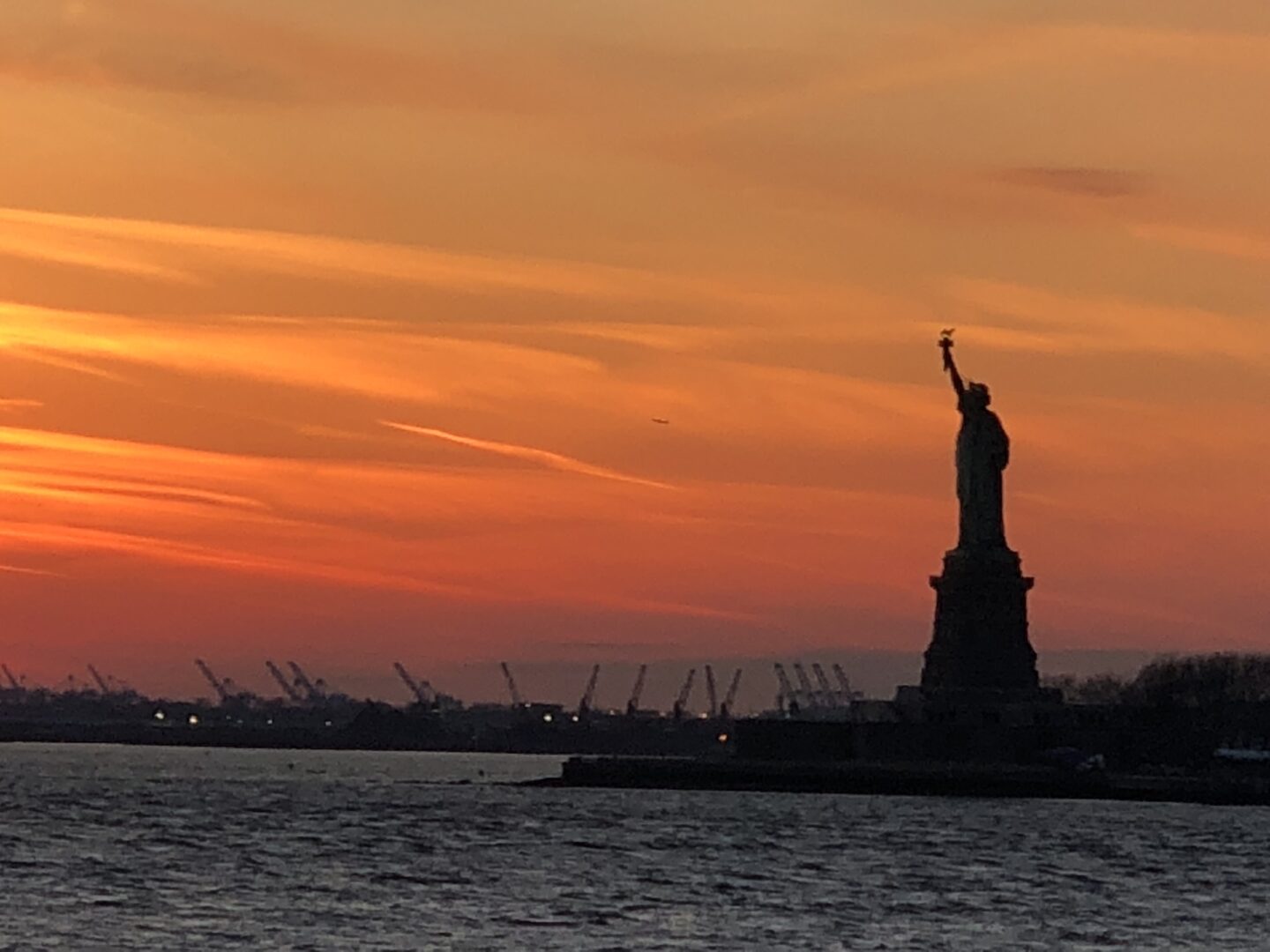 You can see the Statue of Liberty in many ways. My personal favorite way is by boat. I love taking an hour-long cruise, or even hopping onto the FREE Staten Island ferry, to get a beautiful view. For me personally, just getting near to Liberty Island on a boat is a more-than-satisfying experience. That being said, there is something truly special about walking on Liberty Island, and, if you're really lucky, snagging a ticket to the top of her pedestal or her crown. There is also a brand new beautiful museum on Liberty Island, where you can really delve into the history and meaning of the Statue of Liberty.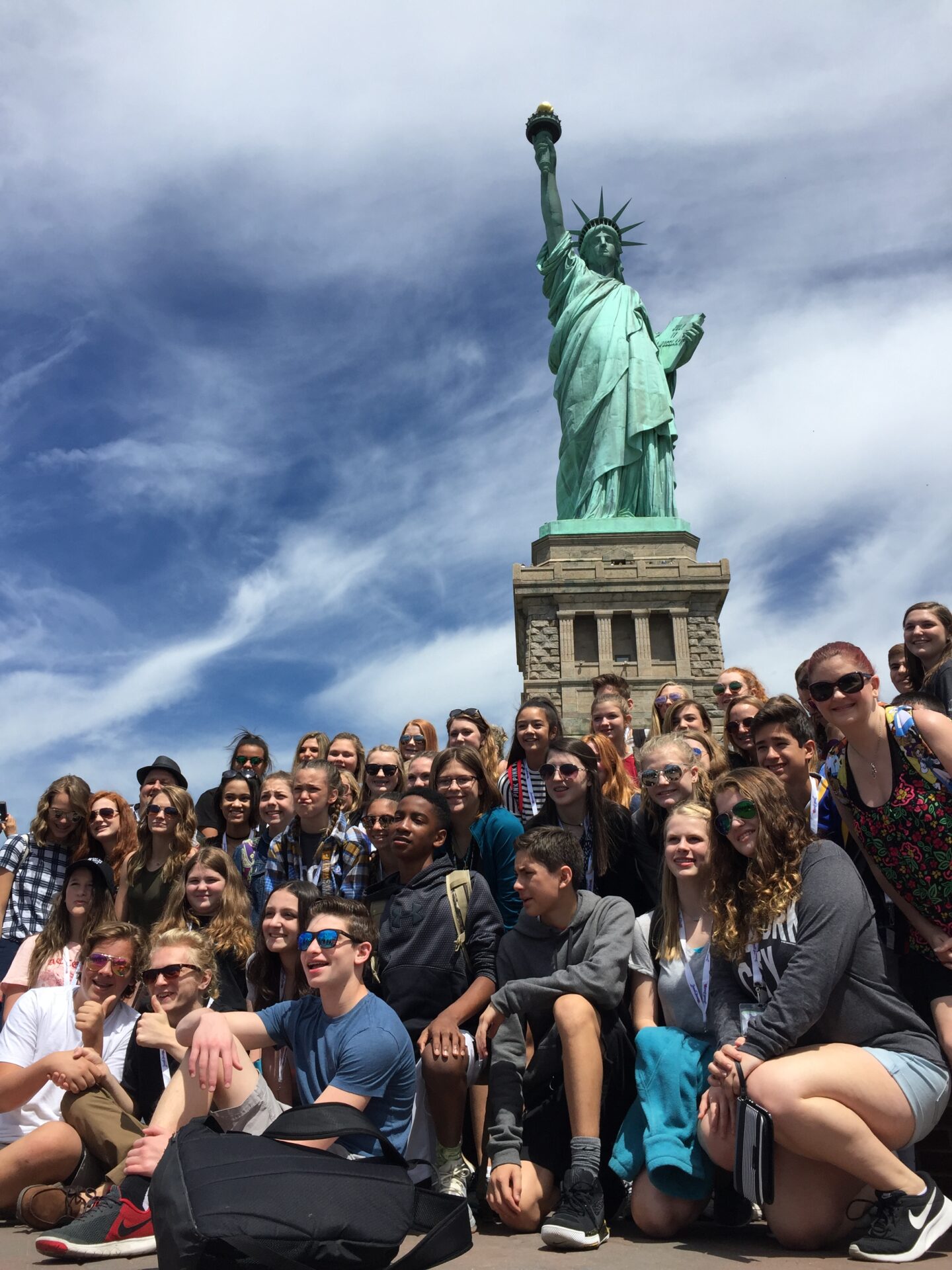 If you are in a hurry or a tight itinerary, take a quick peek at the Statue of Liberty from Battery Park or Wagner Park. Both parks are very close to Wall Street and the World Trade Center Site, so it fits perfectly with an afternoon in Lower Manhattan.
There is a tourist trap to be aware of when it comes to the Statue of Liberty. ALWAYS buy your ticket online from www.statuecruises.com or from the official ticket booths at Castle Clinton in Battery Park. NEVER buy your ticket from a third party ticket seller. If there is a man walking around wearing a Statue of Liberty hat who says he will sell you tickets to the Statue of Liberty, just say NO! Often they harass tourists (and locals alike), overcharge for tickets, and even sell counterfeit tickets! So, please, DO NOT BUY YOUR TICKET FROM A THIRD PARTY TICKET SELLER WALKING AROUND WEARING A STATUE OF LIBERTY HAT! JUST SAY NO!
ROCKEFELLER CENTER
At first, it might just seems like a food court and shopping mall, but trust me, there are so many super secrets hidden throughout the complex!
Dramatic ceiling murals, colossal sculptures, glistening gilded figurines, and pageants of stone, each tells a spellbinding story. You could spend hours just studying the artwork.
Of course, Rockefeller Center is also home to NBC studios, which means this is where everything from the Today Show to SNL are filmed. If you're a morning person, it will be thrilling to catch a taping of the Today Show at Today Show Plaza. For the television aficionado, take a tour of NBC studios! As cheesy as it sounds, I have also found people delight in shopping at the NBC studios gift shop.
Speaking of shopping, Rockefeller Center is where you will find the ONLY Nintendo store in the United States! People also delight at the F.A.O. Schwartz and Lego Store located within the complex.
There are also restaurants for pretty much every taste and budget. If you're looking for a really fancy night out on the town, make reservations at the Rainbow Room. If you just want a burger and milkshake, check out Bill's Bar and Burger.
Nothing can rival Rockefeller Center at Christmas Time. Sure, there are crowds…..but it's easy to see why people love it! There's an ice skating rink, the famous Rockefeller Center Christmas tree, and a perfect view of the light show on the façade of Saks Fifth Avenue. It is the perfect way to get into the holiday spirit!
Rockefeller Center is also right next to Radio City Music Hall, home to the Radio City Rockettes. They offer year-round tour of Radio City Music Hall. On each tour you will have the opportunity to meet a Rockette, as well as learn about some pretty backstage antics that have occurred during the venues 90-plus year history.
BROOKLYN BRIDGE
The Brooklyn Bridge is one of the most iconic of New York City Landmarks.
Crossing it offers some of the most stunning views in the city. On the nearly mile-long walk over the bridge, you will be able to see the Statue of Liberty, Empire State Building, Chrysler Building, One World Trade Center, the Municipal Building, as well as the bridge's own stunning architecture. It was important to the bridge's designer, John Roebling, to create a promenade over the bridge where pedestrians could walk and appreciate the beauty around them.
Thousands of people cross the bridge every day, taking photos and gazing at the sights. However, in 1883, when the bridge first opened, most people had never been up that high in their entire lives! It was before the days of planes, helicopters, skyscrapers, and even elevators. Imagine walking over the bridge and seeing birds swoop under your feet for the first time! People equated it to walking on the moon! This was also the first bridge to be lit using electrical light! Today, lightbulbs are no big deal, but imagine having never seen a light bulb before, and, suddenly, you are presented with a mile-long electrically illuminated path!
When walking over the Brooklyn Bridge, I love to imagine the magic the very first people to cross it must have experienced.
When walking over the bridge, I prefer to journey from Manhattan to Brooklyn. This is because, in Brooklyn, underneath the bridge, there is a wonderful pizzeria called Juliana's. When the weather is nice, I will order a pizza to go and eat it in nearby Brooklyn Bridge Park. You just can't beat delicious pizza with the best views of the Manhattan skyline in the world.
Brooklyn Heights, the neighborhood you end up in after crossing the bridge, is a really fabulous neighborhood to explore. I'm going to share my friend Michael Morgenthal's virtual Brooklyn tour for you to enjoy! You can also book a food tour of the neighborhood through Ray's Food and Walking Tours.
For more about the Brooklyn Bridge, please watch my virtual Brooklyn Bridge tour.
While wonderful, the Brooklyn Bridge can be crowded, and Brooklyn Heights has become extremely popular. If you want to be super hip and ahead of the curve, try waking over the Williamsburg Bridge! While the Williamsburg Bridge may lack the stunning Gothic Architecture of the Brooklyn Bridge, it connects two super cool neighborhoods: the Lower East Side in Manhattan and Williamsburg in Brooklyn.
Williamsburg has incredible restaurants and is brimming with unique boutiques and vintage clothing stores for those who love to shop! I strongly encourage you to book a tour of Williamsburg, as it has a fascinating history and is full of hidden nooks and crannies you won't want to miss! (Again, Ray's Food and Walking Tours is great!) Some hidden gems I especially enjoy are CatBird, Brooklyn Charm, and a magical restaurant called Cheeseboat that sells loaves of bread filled with warm gooey melted delicious cheese.
LITTLE ITALY AND CHINATOWN
Yes, it's true, that if you want an authentic Italian cultural experience today you should go to Arthur Avenue in the Bronx, there is no denying the rich history and long-standing institutions of Little Italy. Places like Ferrara's, a family owned bakery that has been serving up delicious pastries since 1892 and DiPalo's, which has been serving up savory meats and cheeses since 1925, are longstanding reminders of the Italian contributions to the neighborhood.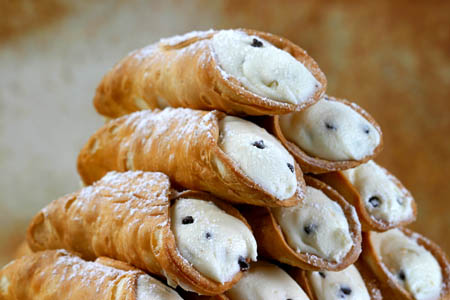 Little Italy sits in the middle of what we know today as Chinatown. Most people simply equate Chinatown with shopping knock-off designer handbags, but there are wonderful restaurants such as 99 Favor Taste, Joe's Shanghai, Mosco Street Dumplings, and Congee Village. After you eat, visit the neighborhood's cultural institutions such as the Mayahana Buddhist Temple and Museum of the Chinese in America.
The neighborhood often offers fun events ranging from The Feast of San Gennaro, the Chinese Lunar New Year, annual Lower East Side Pickle Day, and the Eggrolls , Eggcreams, and Empanadas Festival. The latter celebrates the similarities between the various immigrants cultures who have lived in the neighborhood.
There are generations of immigrant history to explore in both Little Italy and Chinatown. This neighborhoods are tightly connected to Dutch, German, Irish, Jewish, Italian, and Chinese immigrants, and has also been home to events ranging from Draft Riots to the bloody Gangster war that inspired The Gangs of New York. To learn more, I strongly recommend visiting the nearby Tenement Museum which allows you to actually walk in the footsteps of the immigrants who lived within the building's walls, and throughout the neighborhood.
Watch my virtual Little Italy Tour.
CENTRAL PARK
I'm a huge fan of Central Park, and am shocked how often it ends up on tourist trap lists. I never get tired of strolling through Strawberry Fields, or seeing the beauty of Bethesda Terrace. In the summertime, I love eating at the Loeb Boathouse and then renting a row boat to explore the lake.
With rocks to climb on, playgrounds to explore, and a zoo that always delights, Central Park is easily a great stop for kids! They will wonder at the sea lions at the Central Park Zoo, seeing the giant sculpture of Alice in Wonderland, and riding the famous Central Park Carousel.
Adults will enjoy street performers providing music through the park (feel free to tip them to show your appreciation), vendors selling paintings they made themselves, and sitting down for a picnic at Sheep Meadow, or brunch at Tavern on the Green.
I personally find horse and carriage rides to be a romantic way to explore the park. Both horse and carriage rides and pedicabs can be really great options for people who wish to explore the park, but may find walking difficult.
You can watch my virtual tour on my favorite way to spend one hour in Central Park.
There are also lots of tours offered by licensed New York City tour guides, covering various aspects of Central Park's history and geography. Jeremy Wilcox offers marvelous Central Park walking tours! One "bucket-list" tour I still really want to take is Wildman Steve Brill's foraging tour of Central Park. During this tour, you apparently learn about the edible plants in the park and then make a salad with them!
CONEY ISLAND
Coney Island is the quintessential New York City summer experience. You visit Coney Island to be transported into a crazy amusement park world, full of rides, food, crazy characters, and of course, a beach.
Coney Island is home to Luna Park. This amusement park is home to one of the oldest wooden rollercoasters in the United States, the Cyclone. Whenever I brings teens to Coney Island, they love the creaky old-fashioned thrill of this iconic 'coaster. Thrill-seekers also love the Thunderbolt, Slingshot, and of course, Deno's Wonder Wheel. The Midway is full of carnival games to play. Play and try to win a giant Teddy bear that you will then have the honor and challenge of carrying around all day, but it will look impressive in your Instagram photos, and isn't that all that matters?
There is also some pretty crazy entertainment at Coney Island. If whacky performances are your thing, you'll find everything from Burlesque, to the Coney Island Circus Sideshow. The New York Aquarium offers entertainment in the form of a really impressive sea lion show, and brand new shark exhibit! If you're more of a sports person, Coney Island is home to both the Gotham Girls Roller Derby team, and the Brooklyn Cyclones minor league baseball team. You could easily catch a show at the Circus Sideshow, head over and watch a baseball game, then catch a burlesque before you head back home!
Make sure you feed your inner foodie while out at Coney Island! Coney Island is home to the original Nathan's Famous Hot Dogs, which is home to annual Fourth of July Hot Hog Eating Contest. There is nothing more American than stuffing your face full of hot dogs. Nathan's has been on the same corner for over a hundred years, and is arguably the best hot dog in New York City.
Coney Island is also home to a lively boardwalk lined with bars and restaurants. Ruby's is classic dive bar with an endless supply of fried clams and cheap beer. If your tastes are little fancier, try Kitchen 21, which is five different restaurants located together in a beautiful landmarked building. The fare ranges from oysters, to classic gastropub food, to an experimental test kitchen! Of course, cocktails are available for sipping!
Just a short taxi ride away is L&B Spumoni Gardens, which has some of the best pizza in NYC! They are famous for their Sicilian style pizza, with a thick doughy crust. My mouth is watering just thinking about it! It's a long commute from Harlem, but I make a point to go at least once a year! Don't forget the Spumoni dessert!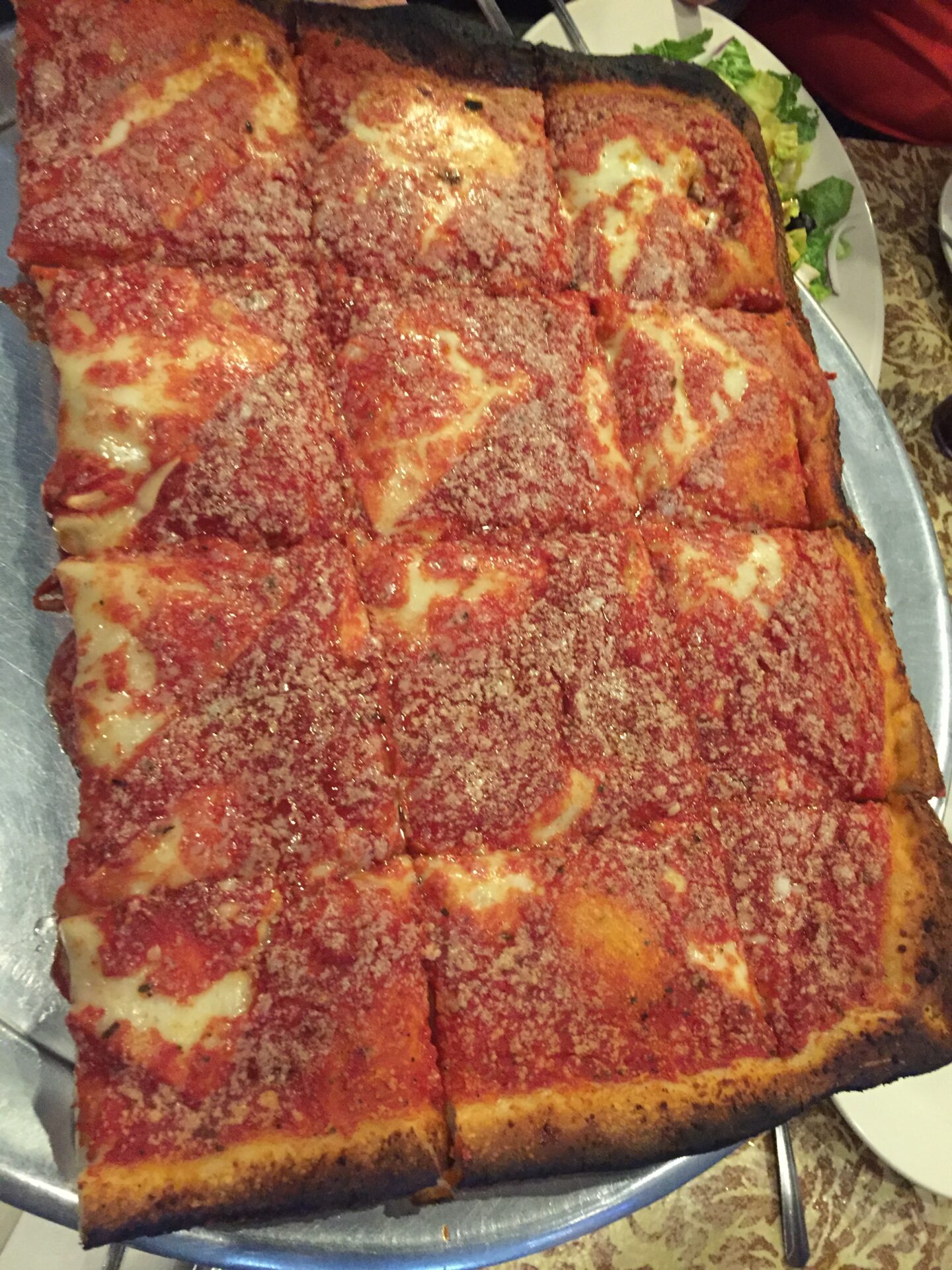 Being from Florida, I personally usually skip the beach, but on a hot summer's day, I recommend you do plunge in and cool off! I always forget that the main purpose of going out to Coney Island is for the ocean. You can also always lay out on the sand, work on that sun tan, or play beach volleyball!
If you plan ahead, you might be lucky enough to catch the annual Mermaid Parade, which will make your Coney Island experience even more memorable!
SHOPPING ON FIFTH AVENUE
If you love shopping, you MUST shop on Fifth Avenue! You'd actually be crazy not to! Get whisked away in the luxury of the Bergdorf Goodman, Saks Fifth Avenue, Tiffany & Co, Cartier, Harry Winston, and Gucci flagship stores! If that's your budget, GO FOR IT!
Just the architecture of these buildings is worth the trip to Fifth Avenue alone! Many used to be single family mansions belonging to 19th century millionaires. The interiors are impeccably decorated to make you feel like the upper eschalon of Manhattan's elite as you shop for a $10,000 coat.
While you can easily buy a $10,000 coat at a store such as Bergdorf Goodman, I should also mention Fifth Avenue is where you will find some of the best sales! Remember, I'm a girl with champagne tastes and a tap-water budget. I know how to buy designer clothes on sale. At the end of each season (usually January and July) the best prices outside of sample sales can be found at these Fifth Avenue Department stores. The prices are even better than those at outlet malls. (So you don't have to anywhere NEAR Woodbury Commons, in JERSEY, like the obnoxious ticket sellers are hawking, to find a great deal!) There are also stores such as Uniqlo, Abercrombie & Fitch, Hollister, and Victoria's Secret, that we mere mortals can actually afford.
Bonus: These Fifth Avenue stores often offer fun interactive experiences. Bergdorf Goodman offered a Miss Maisel experience, complete with champagne and macarons. Saks Fifth Avenue offered an experience for kids to meet Anna and Elsa from Frozen. I've live musicians playing, Magnum ice cream bars being handed out, and even dance parties! These Fifth Avenue stores also house some awesome restaurants and dining experiences, as well as bring top stylists and make-up artists to help you perfect your look.
For more shopping tips, visit my Virtual Shopping Tour.
To take your Fifth Avenue shopping experience to the next level, consider taking a Bowery Boys Mansions of Fifth Avenue walking tour! You will learn all about the scandalous lives of Manhattan's 19th century elite who used to live in the glamorous buildings!
GRAND CENTRAL TERMINAL
I love proving wrong the visitors who feel Grand Central Terminal is "just another train station"!
Grand Central Terminal is an architectural marvel, favored for its beauty by film and television directors as a filming location. It has a rich history, which I touch on during my virtual tour of Grand Central Terminal, but like everything, you will get the most by taking a tour with a licensed New York City Tour guide!
Take my virtual tour of Grand Central Terminal.
While there, make sure you stop by the Campbell Apartment, a hidden upscale bar with a speakeasy feel. As you sip on a delicious cocktail, you will be transported to an era where glamour and opulence reigned supreme. If you're looking for a memorable dinner, stop by the Grand Central Terminal Oyster Bar, which has graced the terminal for over a century, serving up the freshest oysters around.
If you are looking for unique New York souvenir, visit the New York Transit Museum Store located on the West Side of terminal.
If you have kids, make sure the check out the whispering gallery!
Don't forget to bring your camera, as photo opportunities abound at Grand Central Terminal.
FINAL THOUGHTS
Though it may probably be a few years before international tourism fully bounces back, NOW is the BEST time to experience these destinations! Joe's Shanghai in Chinatown, which often has a wait of an hour or more for a seat, will happily welcome you with open arms! The Empire State Building, which can have a claustrophobic feel, will actually have some elbow room! Come and take advantage of this gift while it lasts! Of course, be safe. Check to make sure a site is open, wear a mask, practice proper social distancing, and stay home if you are not feeling well. However, if you can easily walk to the Brooklyn bridge, this is your chance to take the most phenomenal photos without a bazillion people in your way!
When travel restrictions do lift, we will happily welcome crowds from all over the planet! This will also be the perfect time for locals to book a tour of New York City, to discover and rediscover what makes it so magical.
New York City is where the world meets, laughs, dines, drinks, and engages one another in invigorating conversation and activities! We are so looking forward to seeing you, whether you journey from across the Hudson River or across the globe! New York is excited to see you!