Ever since Becca Kufrin went to a smash room on The Bachelor for a destruction therapy date – my friends and I have been curious what the experience would be like.
My friend Emily usually knows the hippest and trendiest places in NYC, and is a hostess with the mostest party planner, so naturally she organized a night for our group of friends to break things.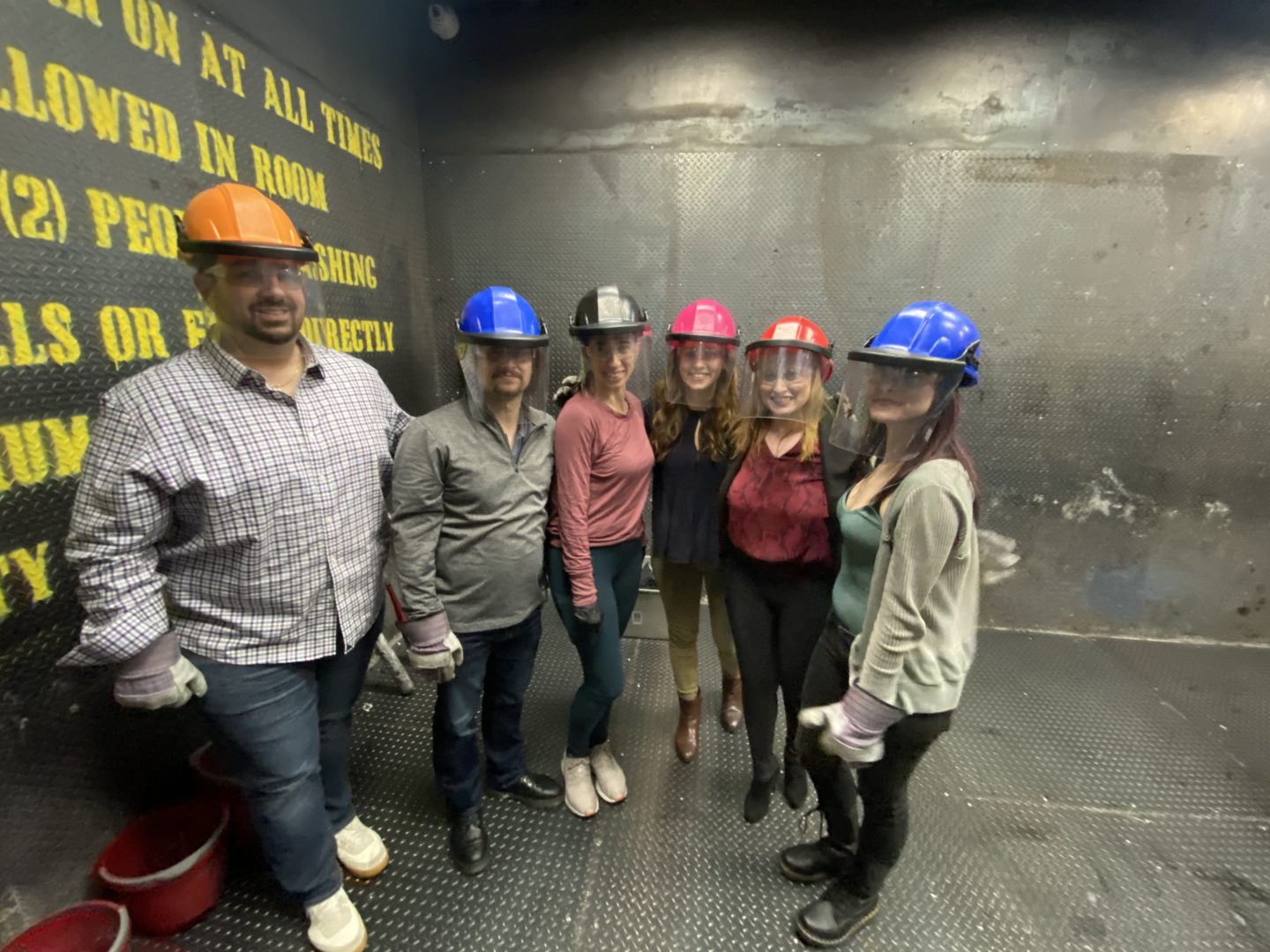 We went to Break Bar/Rage Room in Midtown.
Before entering the bar, you need to sign a "Participant Agreement, Release, and Assumption of Risk" form. Since there will be glass and other objects flying around, it made sense that we signed this form saying we knew what we are getting ourselves into. At first I thought this was the bar being overly cautious, but when I got to the Rage Room, I understood why this was form was absolutely necessary.
If you go, you will want to reserve a Rage Room time at least a few days in advance. We went on a Wednesday night, and the Rage Room was booked every minute with no wiggle room for late-comers. We booked our 7:50 p.m. time about a month in advance because, in New York, it is really difficult to get six people together, so we really wanted to lock in it.
We arrived for our Rage Room appointment about thirty minutes early, which meant we got to enjoy Break Bar. Break Bar has a consummate dive bar feel. It played loud trendy music, was crowded, had minimal décor and not enough seats. I ordered a prosecco because that's how I roll. At first I was surprised that I was given a tiny bottle of prosecco with a mason jar. I have never been given a mason jar to fill with prosecco before, but then I realized this strange pairing was because I got to smash the glass against the wall when I was done!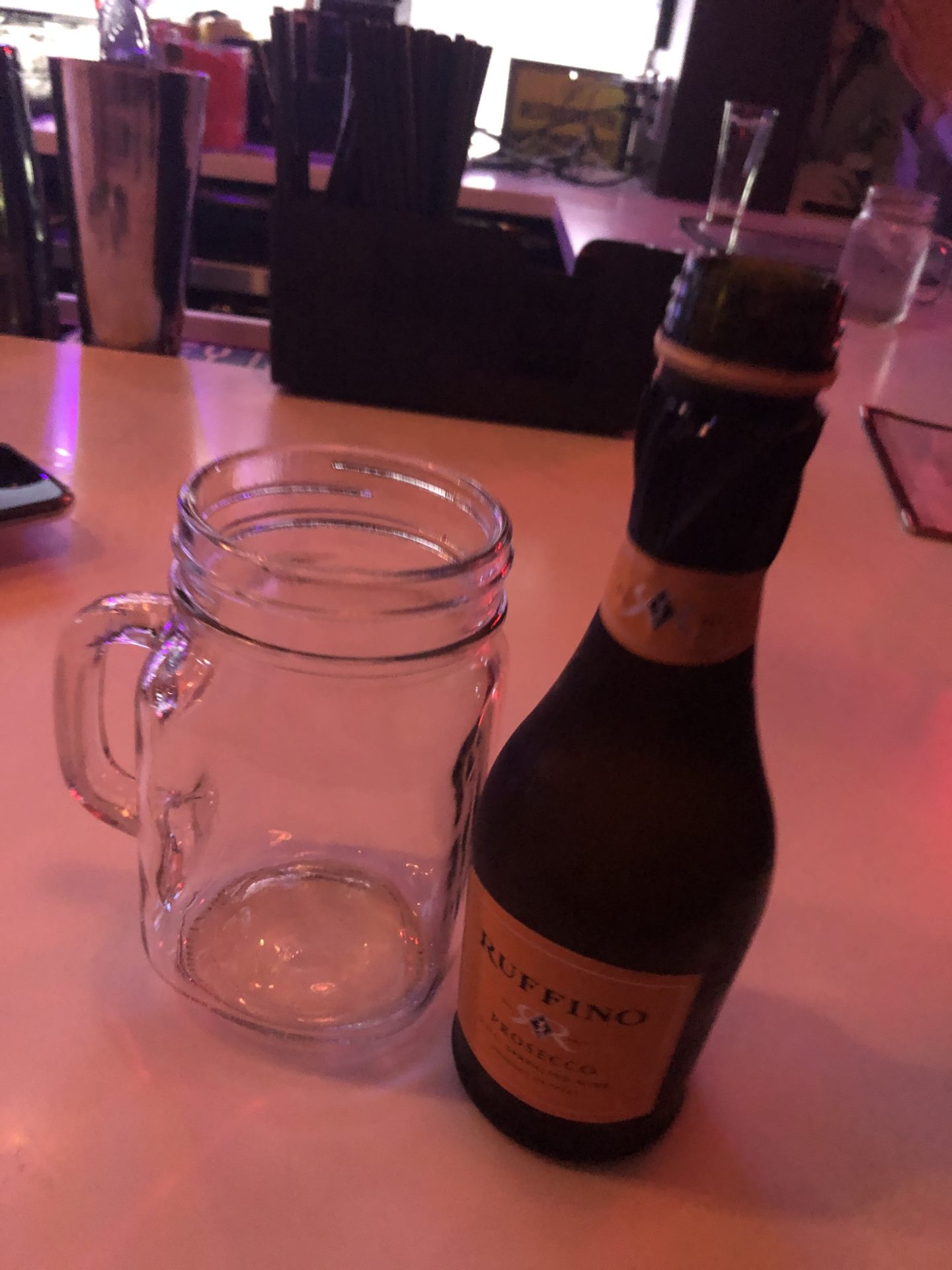 The glass smashing happens in a sealed off back room. You get protective eye-wear (that may or may not get cleaned regularly?) to put on. Then you stare at a dark cement wall which you can hurl your glass at.
The acoustics in the glass-breaking room are spectacular, so every smash has an explosive echo. For a person like me who isn't thrilled about loud noises, it was a bit overwhelming. My boyfriend, on the other hand, found great joy and release from the smashing sounds.
After we broke our glasses against the wall, it was time to go into the Rage Room.
After putting our belonging in lockers, the staff suited us up with helmets and gloves. In theory, these would protect us from flying debris. We were then led into a room full of things to smash which included: telephones, answering machines, a printer, glasses, two human-shaped dummies, and a large television which we purchased last minute for an extra $40.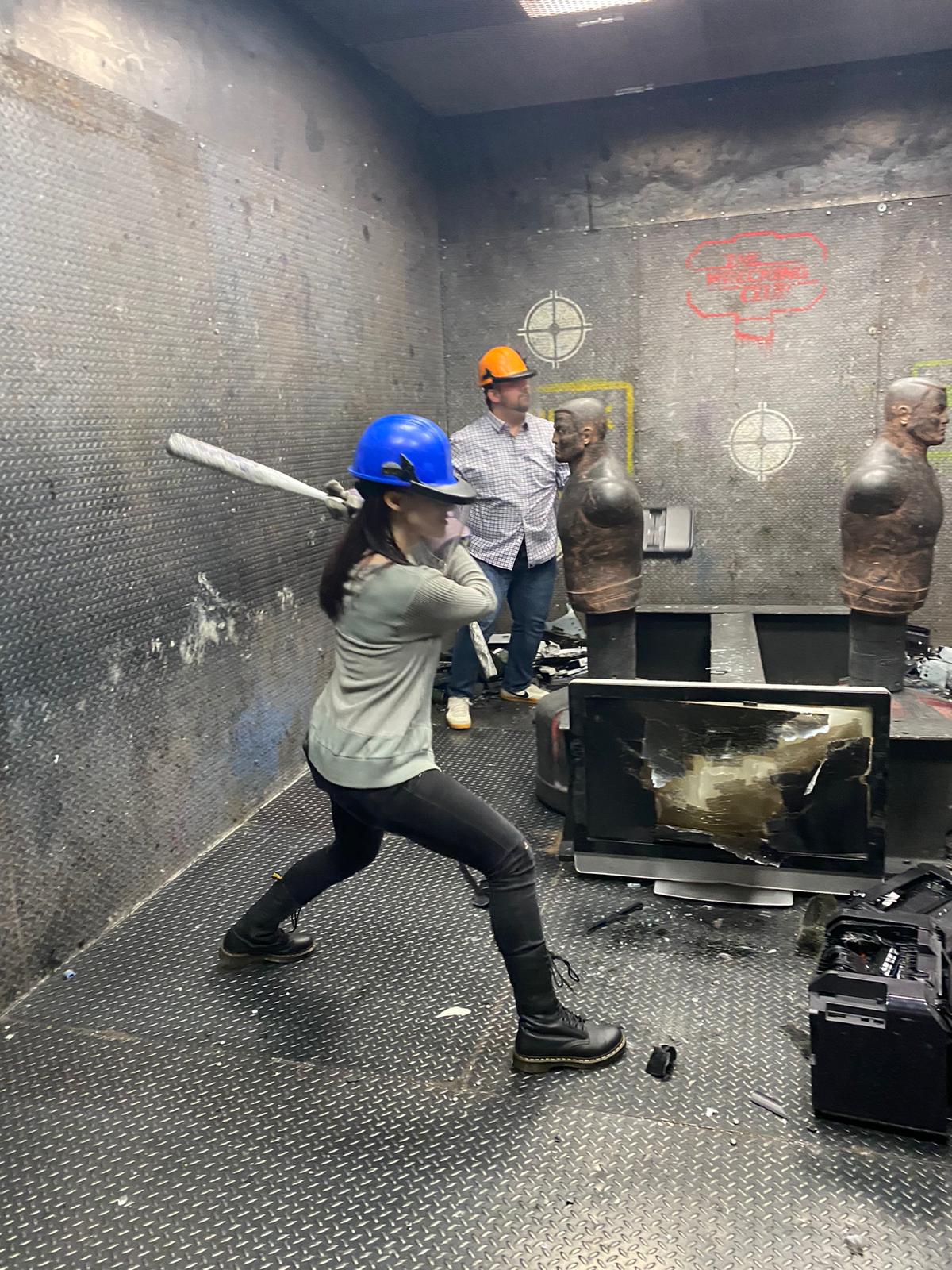 You are allowed to bring your own music to play, and Emily spent hours before out Rage Room date taking music suggestions for our group and putting together a playlist. I highly recommend you follow in her footsteps because an awesome playlist will make or break your smashing experience.
To be honest, I found the whole ordeal to be a bit scary. As I mentioned before, loud noises aren't my thing, and I'm not incredibly aggressive. I watched everyone else grabbing crow bars and baseball ball. They were gleefully getting out their inner rage on these unsuspecting electronics. I feebly attempted to smash a few devices with a crow bar before retreating.
Then, SO WHAT by P!nk came on. This was the song I had suggested. It's my go-to piece of music when I want to bash faces in. I found my way to the remains of the smashed printer and television with my crowbar. I imagined a face I really wanted to bash in. And then, something primitive rose inside of me. I started going crazy and even had tears welling up in my eyes as I made this poor printer beg for mercy. It felt amazing. This was the cathartic Rage Room I was looking for.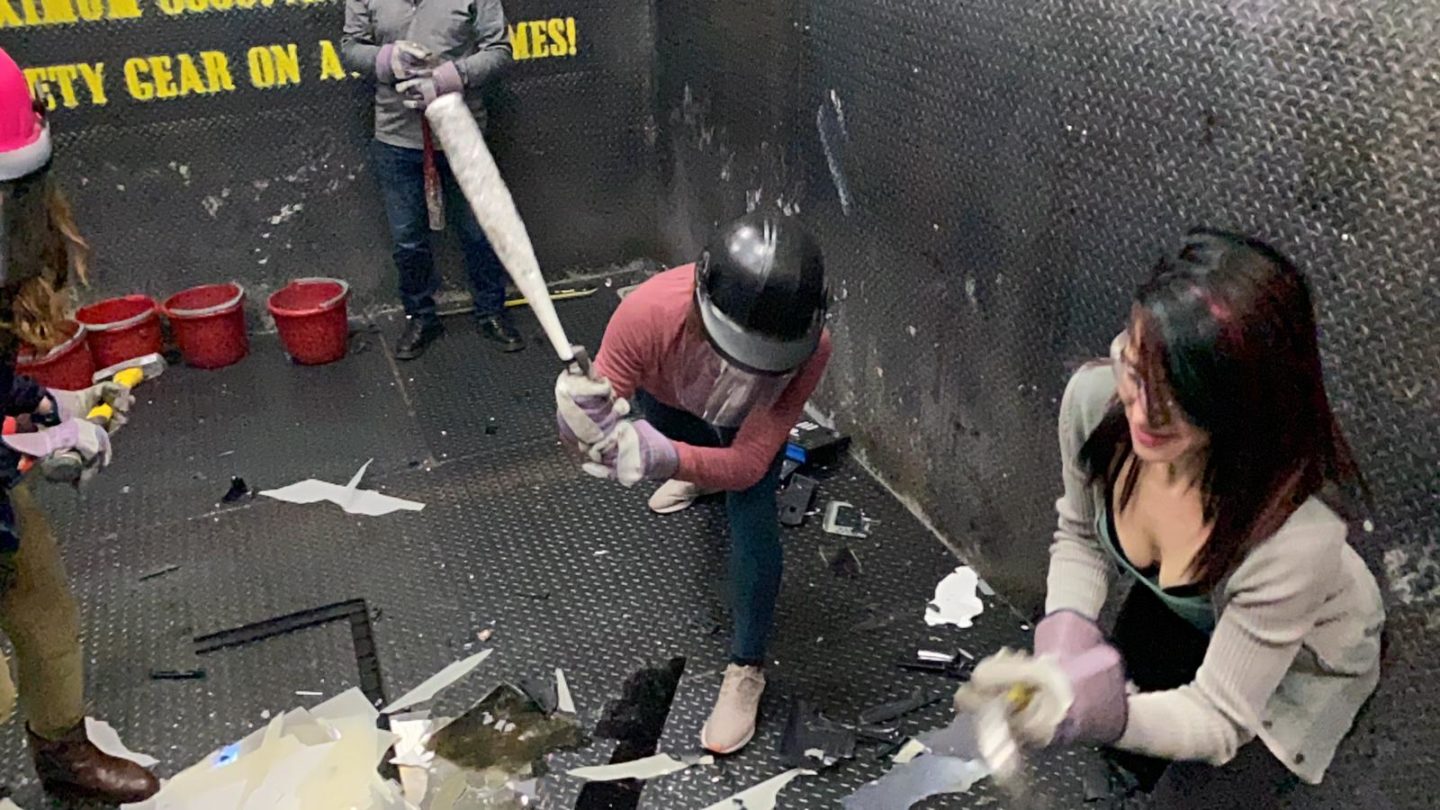 When the song ended, I felt very cleansed of rage and went back to my usual retreated position. Eventually I was urged to come back in for a big "group smash" where all six of us smashed an object simultaneously. It was all fun and giggles until a piece of glass managed to make its way through my leggings and into my knee. My leggings now have a hole in them. I started bleeding. It was kind of gross. The staff was very responsive to my mortal wound which, in reality, was a very, very, very tiny cut that just seemed to want to bleed a lot. I got cleaned and bandaged, but decided my time in the Rage Room had come to an end. The other members of our group smashed until the end, but it was mentioned that they had run out of things to smash around the time I left.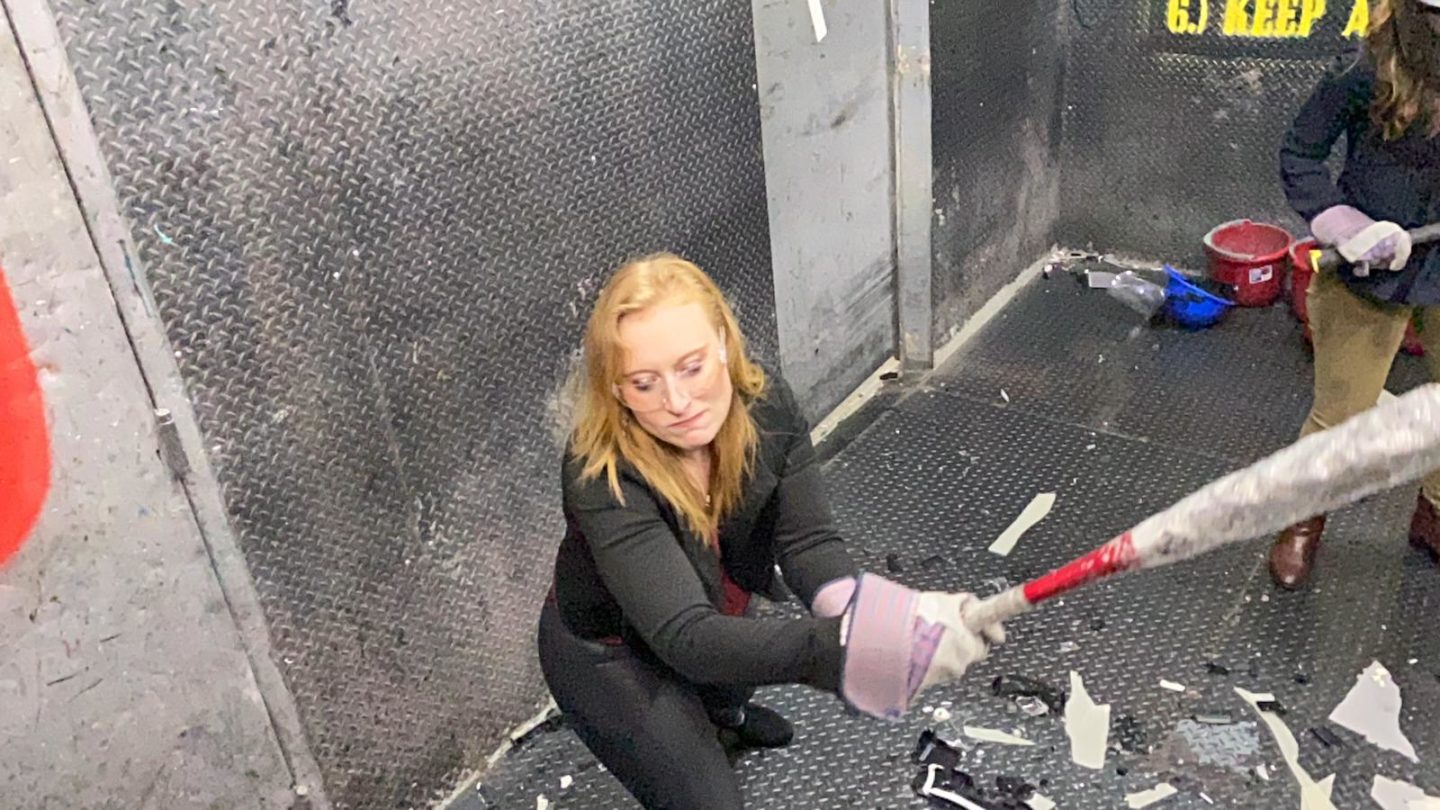 As such, if I were to smash in the Rage Room again, I would definitely wear something more sturdy clothing-wise than Athleta leggings, and I would probably urge my group to spring and pay for more big electronics to smash. Smashing a television feels way more satisfying than smashing an answering machine. (Though my boyfriend said the answering machine, for him, was on of the best objects because it signified an old job he hated.)
If you are feeling inner rage or the need to kick someone in the face, this is definitely that place for you. I'm personally more of a massage and spa girl, but am also certainly glad I had the Break Bar/Rage Room experience.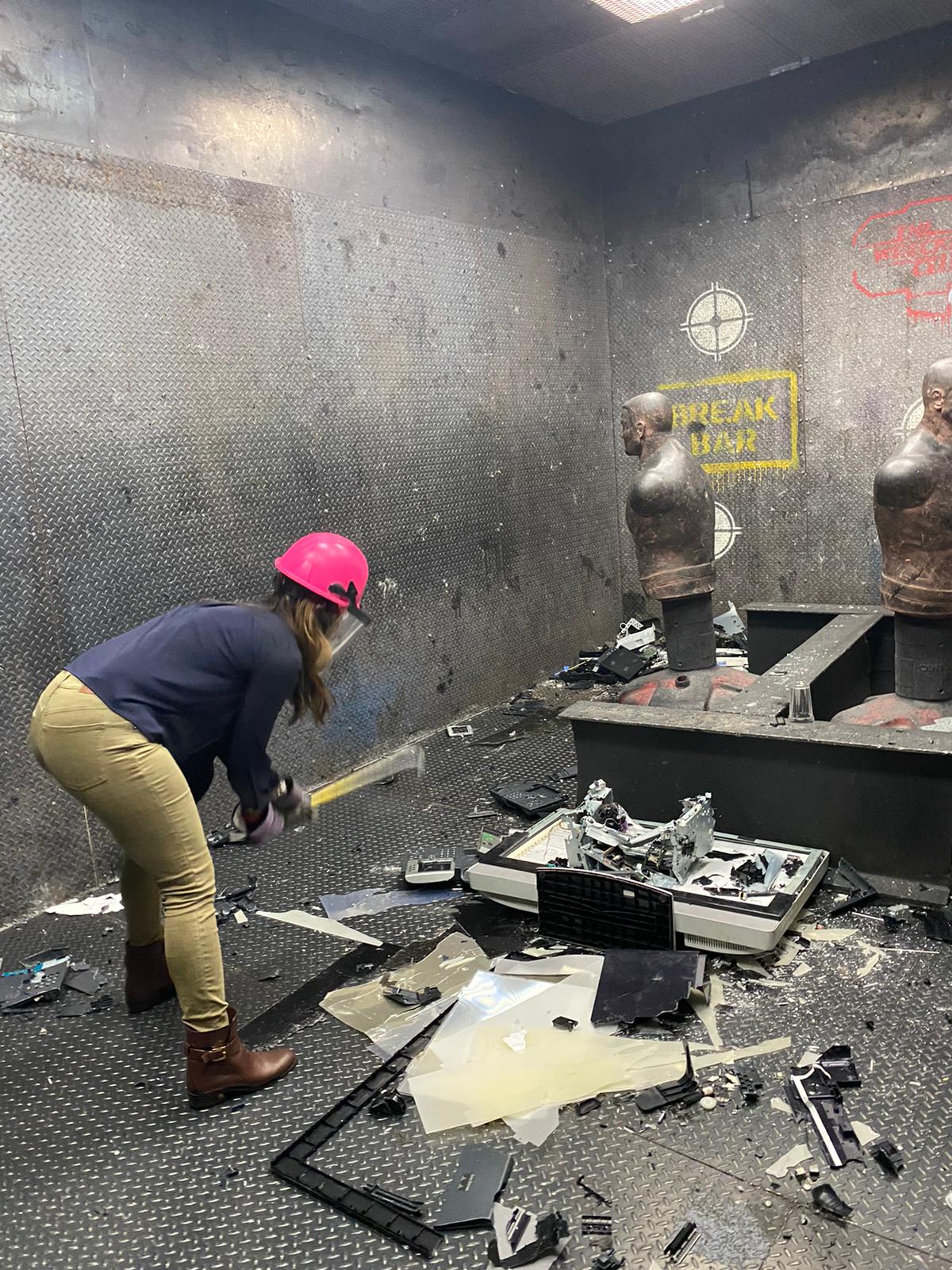 I feel like Rage Room would actually be a really great date experience, strange as that may seem. I feel it could be great to bond with your partner about life's frustrations, and the smaller number of people would make the electronics provided for smashing last longer. I also think it is the perfect post-break up spot. You can go into the Rage Room and bash the heart-breakers face in. There is also a very heated political climate at the moment, so if the news is wigging you out, here is a chance to unleash your fury in a way that won't have half of your family unfriending you due to an impassioned and divisive Facebook post.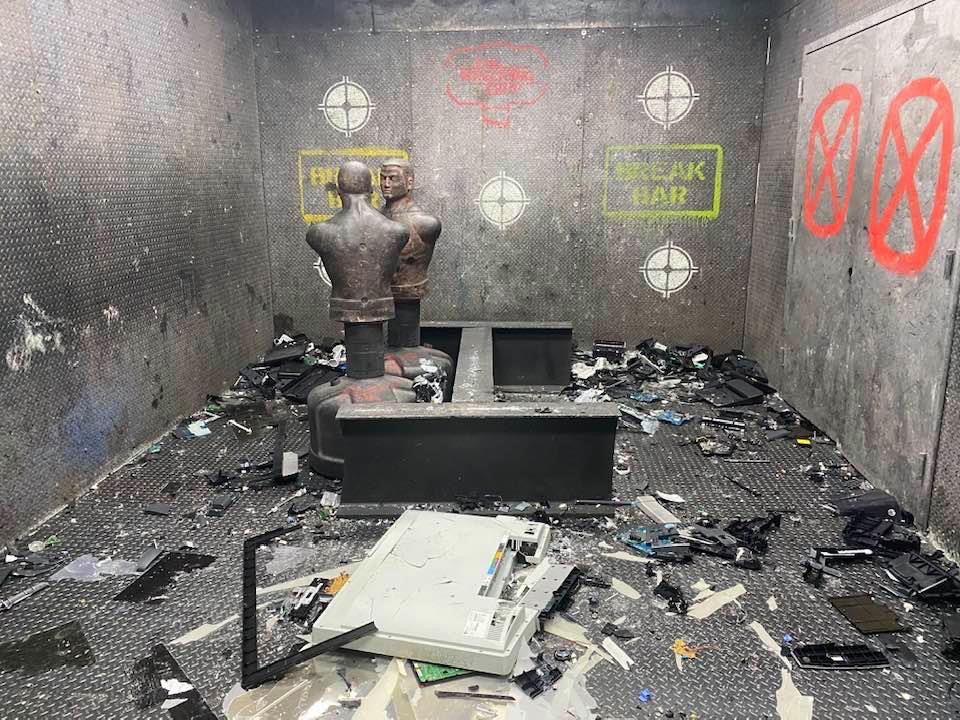 Speaking of Facebook, if you go, make sure you take some slow-motion videos. They will the star of your social media feeds.
I've mentioned in past articles that my friend Emily is obsessed with New Wonjo. It's decently close, and the Korean BBQ makes a great post-Rage Room dinner for a group of friends. Get the "Meat Mania" and a side of noodles and that is plenty for six people.