Skyscrapers, in so many ways, make New York City the city we know and love today. They are the reason we can fit 8.5 million people onto the tiny island of Manhattan. Ascending to the top of these modern wonders and gazing down is a true New York City experience whether you are a local or visiting from afar.
Manhattan has been compelled to expand skyward because of the absence of any other direction in which to grow. This, more than any other thing, is responsible for its physical majesty. It is to the nation what the white church spire is to the village-the visible symbol of aspiration and faith, the white plume saying that the way is up. ~E.B. White

At the time of this writing, there are three major observatories in New York City: Empire State Building, One World Observatory, and Top of the Rock. Each has their own unique charms and best times to visit. My goal is to help you get the most out of your visit to each, and perhaps choose which observatory is best for you.
The Edge at Hudson Yards will be opening soon, and I will give it a full review once I get a chance to visit.

The Empire State Building is by far the most iconic of the observatories. It has been featured in King Kong, An Affair to Remember, Sleepless in Seattle, Gossip Girl, and Elf. At the time of this writing, the Empire State Building is the fourth tallest building in NYC, though there are three building under construction that aim to surpass the Empire State Building's 1250 feet.

Despite being about 526 feet shorter than One World Trade Center, the Empire State Building still captivates New Yorkers. The reason is that the Empire State Building captures the spirit of New York City. It opened its doors May 1, 1931, a year many would consider to be the height of the Great Depression. It was the tallest building in the world and would remain so for the next 41 years, which is longer than any other building has ever held that title. To make these statistics even more impressive, the Empire State Building was built in less than 14 months!!! (That's less time than my bathroom renovations took!). This building embodies the New York spirit. We can get knocked down, go through depressions, and go through hard times, but through it all New Yorkers are constantly building towards that highest point in the sky that they can imagine.
New York is nothing like Paris; it is nothing like London; and it is not Spokane multiplied by sixty, or Detroit multiplied by four. It is by all odds the loftiest of cities. It even managed to reach the highest point in the sky at the lowest moment of the depression. The Empire State Building shot twelve hundred and fifty feet into the air when it was was madness to put out as much as six inches of new growth. ~ E.B. White

The observatory has two levels. The main observatory is the 86th floor, and honestly, this is all you need. This is where all the famous movies scenes took place. This is the outdoor observatory where you will get fabulous views and photographs of the city below. The observatory on the 102nd floor is all enclosed, much smaller, and truthfully the view is basically exactly the same as the 86th floor. For my money, I'd just spring for the 86th floor and forget the 102nd floor.

If you are the type or person who likes to avoid crowds, try to get to the Empire State Building right when it opens at 8a.m. The morning glow is also gorgeous over New York City. In terms of view, the Empire State Building is the best observatory at night. It is situated in the middle of Manhattan so you get 360 degrees of city lights at night. Due to its spacious outdoor decks, it will be your best chance to get some awesome night shots on your camera. The Empire State Building has a final entry time of 1:15 a.m., so if you are a night owl looking for something to do after you see show or eat a fancy five course dinner at a Michelin star restaurant, this is your best bet. Be warned, it can get very crowded at night, so allow extra time for waiting in line to get to the very top.
Quick Summary
Best For: The traveler looking for the most iconic NYC landmarks and the Movie Buff.Best Time of Day: Early Morning to avoid lines, late at night for photos of the twinkling skyline.
Ticket Tips: Spring for the VIP Express Pass to spend less time waiting in line, you can also purchase a special am/pm experience that allows you to see the view in the morning, leave and go about your day, then return after sunset!
Attraction Pairings: Broadway Show, Late night dinner, Macys, Shopping on Fifth Avenue, Movie Tour, Grand Central Terminal, Museum of Math, Korea Town
Food Options: No food options in the observatory, but check out Korea Town on 32nd street just a few blocks south of the Empire State Building. One of my best friends goes absolutely gaga for New Wonjo.
ONE WORLD OBSERVATORY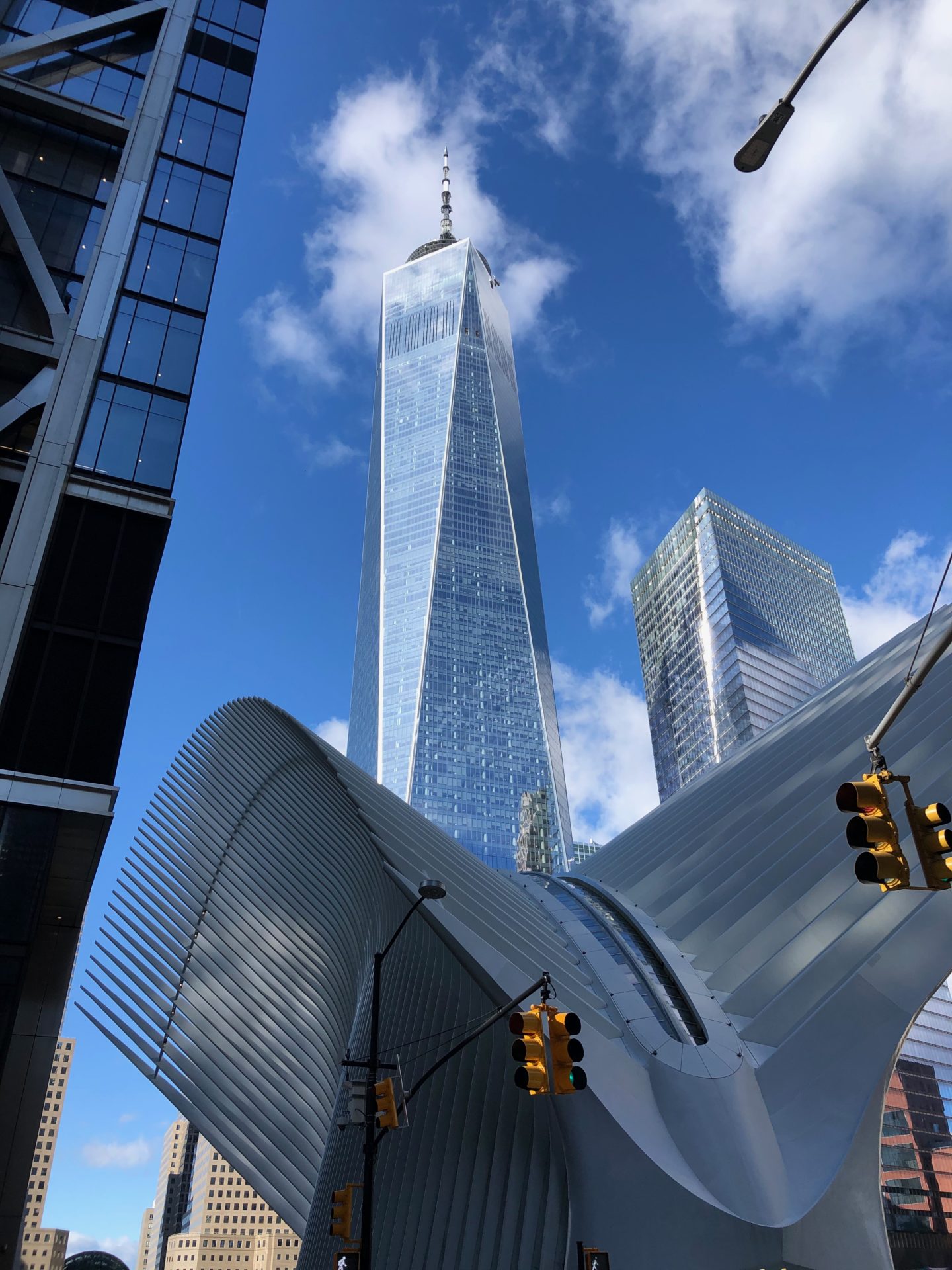 Full disclosure, I currently work at One World Observatory so I am probably biased. That being said, even before I worked here, this was my favorite observatory in New York City.

Being originally from Florida, I constantly find myself drawn to views of the water, and "OWO" has the best harbor view. From the south windows you get a glorious perspective of the Statue of Liberty, Ellis Island, and all the hundreds of boats journeys up and down the East and Hudson Rivers and out under the Verrazano-Narrows Bridge.

I also enjoy that the observatory is completely enclosed. Hear me out, because I know to several people this is considered a disadvantage. Because it is enclosed, it is climate controlled. It is pleasant even on the coldest harshest winter day or the most scorching summer heat. You can enjoy the observatory in rain or a blizzard and your hair won't get totally messed up by the wind.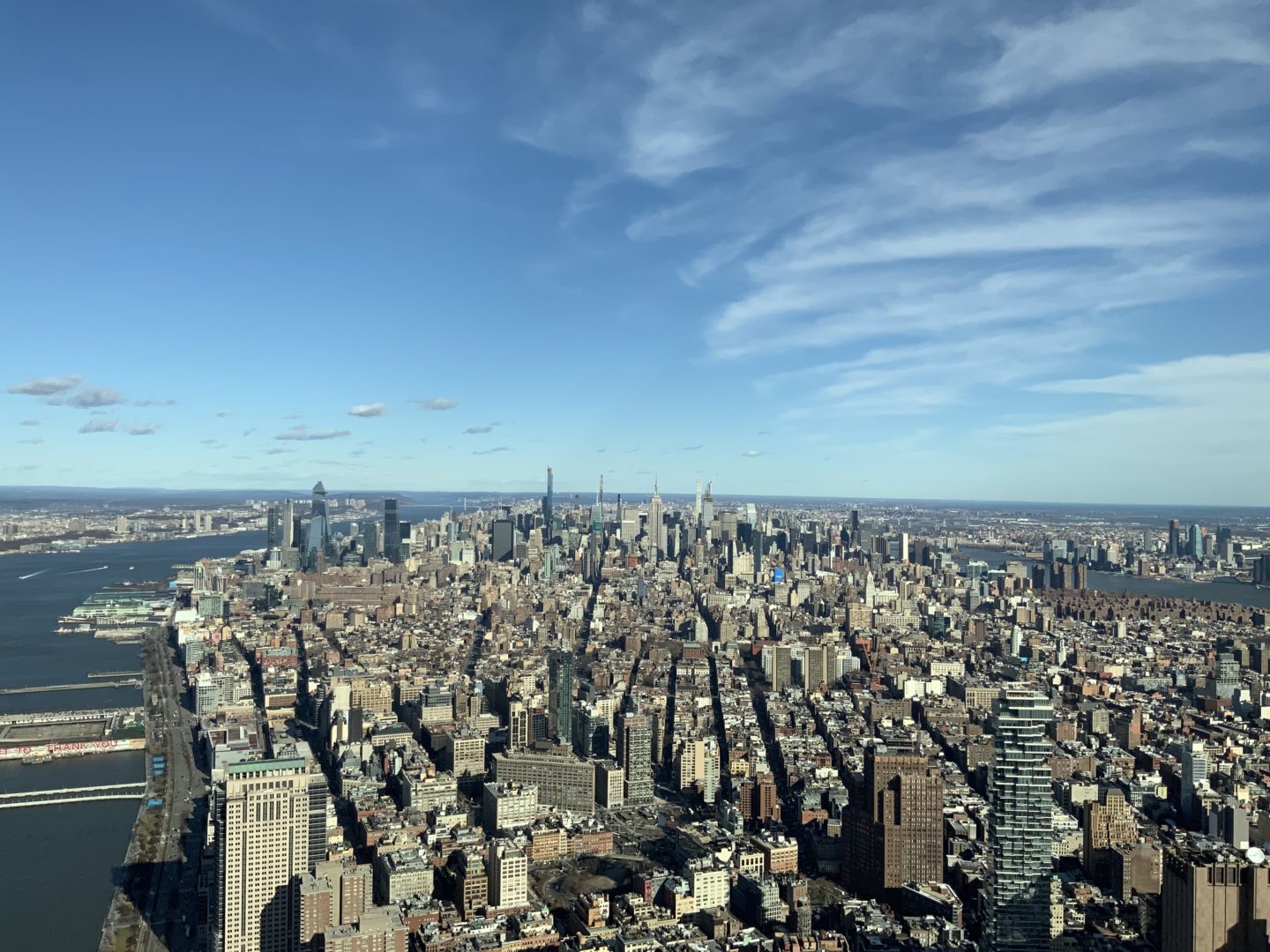 Photos at night can be a bit tricky due to reflections in the glass, but I suggest you just enjoy the view and take a few minutes to get off of social media. Take the time to observe and reflect the twinkling lights below and bustling city below. I also like seeing the lights of helicopters in the far distance. The bar is a bit pricey, but they make great cocktails which pair perfectly with the view.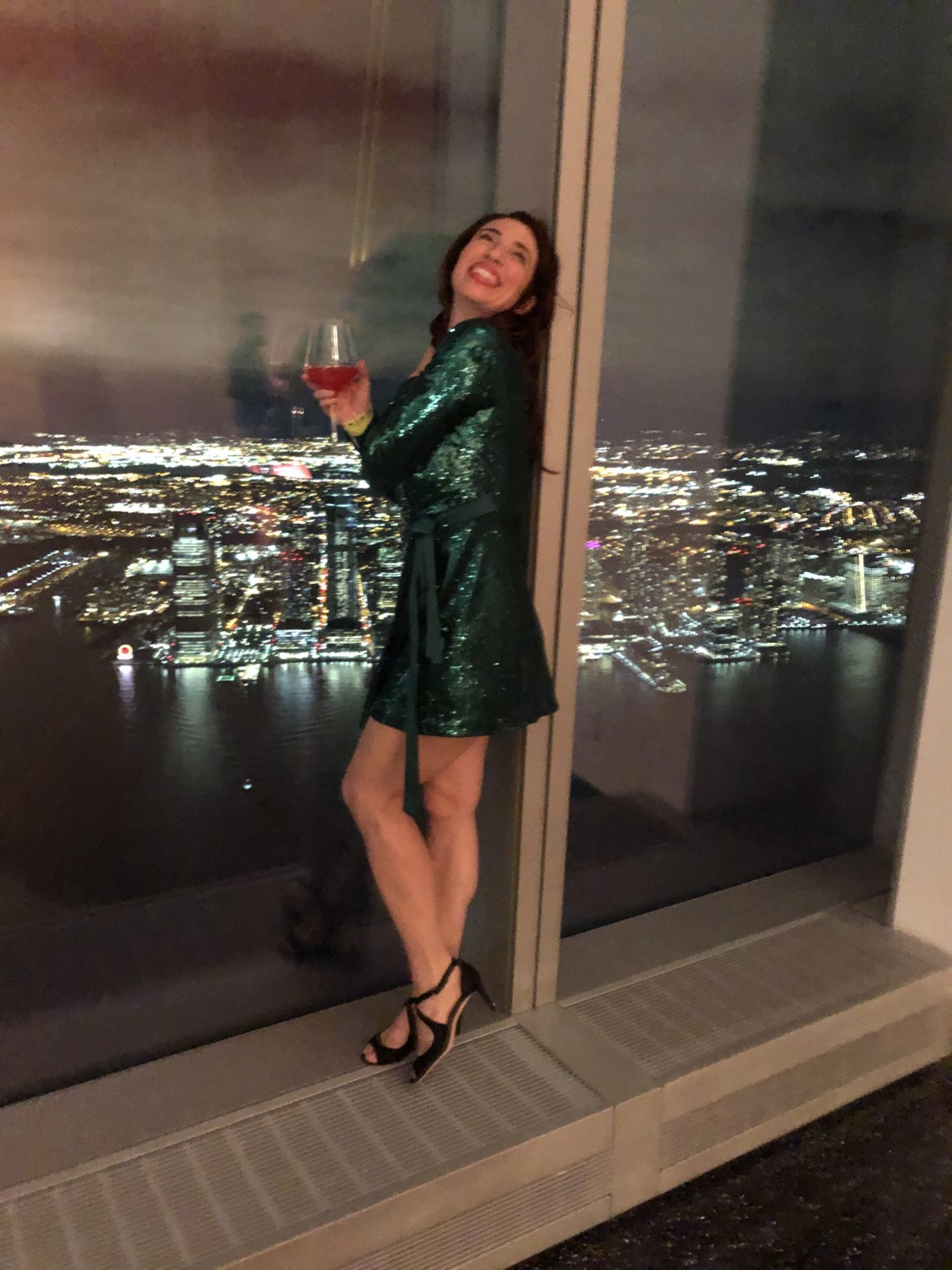 One World Trade Observatory is an important part of the new World Trade Center experience. I suggest visiting the 9/11 museum first. When you are done take a moment to walk around the reflecting pools. You can then grab a bite to eat at O'Hara's (I love their burgers) which has a unique connection to the World Trade Center. If you sit at the bar, ask them to show you their 9/11 Book. After this, come to One World Observatory and experience how Lower Manhattan has risen from the ashes since 9/11.
A unique feature of "OWO" is that they have tour ambassadors walking around. They are guides with a tremendous amount of knowledge about the site and the city. You can ask them for information about the new buildings, the old buildings, the surrounding area, where to get great pizza, and really anything you want to know about NYC. One World Observatory is the only observatory with tour ambassadors. If you have a MasterCard, you can also book a MasterCard guided tour with an ambassador and they will illuminate the secrets of the skyline for you.

I would recommend doing the "OWO" early in your trip. The reason for this is that you can ask the tour ambassadors for information about New York City. They also keep a "buzz" list which is basically "awesome stuff to do in NYC this week." They basically make a career of experiencing New York City to help you get the most out of your trip.
If you schedule OWO early in your trip, you will also have more wiggle room if their is inclement weather and you need to reschedule.

If you want to avoid crowds, visit One World Observatory first thing in the morning or at night after sunset. That being said, sunset is my favorite time to visit. OWO has the best sunset view of any of the three main observatories. Claim a spot at the west windows about an hour before sunset and set up a time lapse video for a truly amazing memory.
Quick Summary

Best For: History Buff, anyone interested in how Manhattan rebuilt after 9/11, the chic traveller
Ticket Tips: During "peak times" (late June-August, the week of Thanksgiving, and December) spring for the priority ticket. OWO does a great job of keeping the entrance line moving, but the priority ticket allows you priority exit which could be really useful just after sunset.
Attraction Pairings: Statue of Liberty/Ellis Island, 9/11 National Memorial Museum, Circle Line Harbor Cruise, Wall Street, Lower Manhattan Walking Tour, Museum of Finance, St. Paul's Chapel, Trinity Church, Staten Island Ferry, Brooklyn Bridge.
Food Options: Cafe, restaurant, and bar in the Observatory. (OneDine is actually a really great deal. You get priority admission to the Observatory and a prix-fixe fabulous meal cooked by the nicest culinary team in town.) . Brookfield Place across the street has a huge assortment of food options from fine dining to chicken tenders, EATALY in 4 World Trade Center will cure your Italian cravings, Fraunces Tavern is good traditional American food and a lot of history, and Stone Street will please the hip traveler looking for fun, food, and booze.
TOP OF THE ROCK

Top of the Rock is in Rockefeller Center, which means that it is right in the heart of midtown. The means it is often the most convenient for guests to visit.
There is a lot to do in the immediate vicinity. You can skate outdoors in the winter, you can take an NBC studios tour, you can take a Radio City Music Hall tour and meet a real live Rockette, there are shops and restaurants in and around the building, across the street is St. Patrick's Cathedral and Saks Fifth Avenue. In the morning you can see a taping of the TODAY SHOW in The Today Show Plaza. It is basically a "city within a city."
If you have kids, this area is great! You can jump from the LEGO store, to FAO Schwartz, to the Nintendo Store. There are also a lot of really great Pokemon to catch for Pokemon Go!

Back to the actual observatory. While you wait to get to the top of Top of the Rock, you are treated to several videos depicting famous moments in Rockefeller Center's history. You also get an opportunity to take a fun souvenir green screen photo recreating the famous image of workers on a steel beam overlooking the city that was taking during the building's construction.
Top of the Rock is the lowest of the observatories, which can actually be an advantage. You can see more detail on the surrounding buildings and you almost feel as though New York is hugging you. This is also the observatory with the best view of Central Park, though with the quickly rising "Billionaire's Row," even Top of the Rock's of Central Park view may disappear. That being said, it will then become the best observatory to stare into the windows of New York's rich and famous.
Top of the Rock is very proud to advertise three levels, but you basically get the same view from each level. There is plexiglass between you and the view and the top level has a giant spherical satellite blocking the West view.

My personal favorite time to visit this observatory is at night because you get to see the top of the Empire State Building lit up pretty. The Empire State Building Tower Lighters will basically be at your eye-level. Other tour guides will argue that this is best in the day, especially if you are interested in seeing Central Park which just looks like this dark abyss amongst New York's sea of lights at night.
Quick Summary

Best for: Families, kids, anyone who wants to explore Rockefeller Center, seeing Central Park.
Ticket Tips: You can get a "rock pass" which includes a tour of Rockefeller Center AND entry to Top of the Rock, both at times you select, for $54.
Attraction Pairings: NBC Studio Tour, Radio City Music Hall Tour, Rockefeller Center Tour, Shopping on Fifth Avenue, Lego Store, Nintendo Store, Ice Skating at Rockefeller Center, St. Patrick's Cathedral, Broadway Show, Times Square.
Food Options: The Observatory itself doesn't have food options, but the area around Rockefeller Center is rich with choices. Bar 65 at the Rainbow Room, Food Concourse under Rockefeller Center, Bill's Bar and Burger (I love their malt chocolate milkshakes), and By Chloe for the Vegan in your life.