I have been a New York City tour guide for over seven years, and lived in the city for the past fifteen years. By all accounts, I consider myself an expert on the Big Apple. Yet, when I attended my first GANYC Apple Awards ceremony, I got an exciting glimpse into how much more there is to discover in the these famed five boroughs.
The GANYC Apple Awards are a self-described Oscar-style black-tie event where "those who know New York best, honor the best of of New York."
The tour guides of the Guides Association of New York City spend all year scouting out institutions, organizations, and people that make this city fabulous; deciding on a handful whose contributions are especially noteworthy; nominating them for the honor of GANYC Apple Awards; and then going through a month-long voting process to decide on the winner. There is then a ceremony held at the SVA Theatre (this year on March 2nd), where everyone dresses up in their most red-carpet-worthy attire, photographers snap photos, and NYC-based institutions serve fantastic food.
I bought my first GANYC Apple Awards tickers in 2018 because I wanted a chance to wear the pink feathery dress that I purchased at the Alice and Olivia sample sale. The red-carpet aspect lived up to expectations. I truly did feel like a celebrity as photographers snapped my photo. Broadway star Brian Stokes Mitchell, who was hosting the evening, even posed for a photograph with me!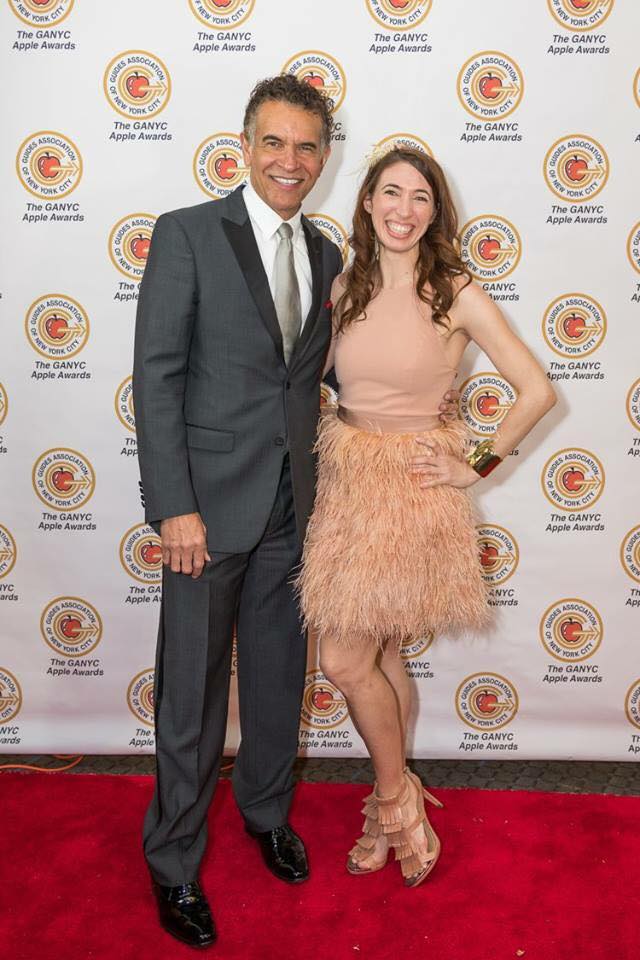 I was excited to learn that the GANYC Apple Awards also creates a space where people can interact with the nominees and learn from them firsthand.
I saw a woman who was dressed to the nines. When I complimented her dress, I discovered she worked at Harlem Late Night Jazz, one of that evening's nominees. I live in Harlem, am a musician, and a make my living as a tour guide, yet I had never heard of this organization! They are a non-profit dedicated to maintaining and growing a vibrant jazz scene in Harlem. Their mission is to "keep the music alive" in its Mecca…Harlem, NY. While sure, I could have simply looked at a list of Apple Award nominees and discovered Harlem Late Night Jazz, there was something uniquely electrifying about talking with the wonderful people who run it and hearing their infectious enthusiasm for their organization.
The GANYC Apple Awards allowed me to make valuable personal connections with nominated organizations and people. I also got to meet fellow tour guides and enthusiastic New Yorkers who love their city. This unique networking experience was priceless to me both personally and professionally.
Speaking of networking, for the second year in a row, The Bowery Boys will be the evening's hosts. They are legendary for anyone interested in New York history thanks to their podcast – The Bowery Boys. Despite their fame, they are also two of the nicest guys you will ever speak to, and they have an endless arsenal of cheesy jokes that will put a smile on your face! If you are huge history geek, this is your chance to meet these NYC podcast celebrities in person!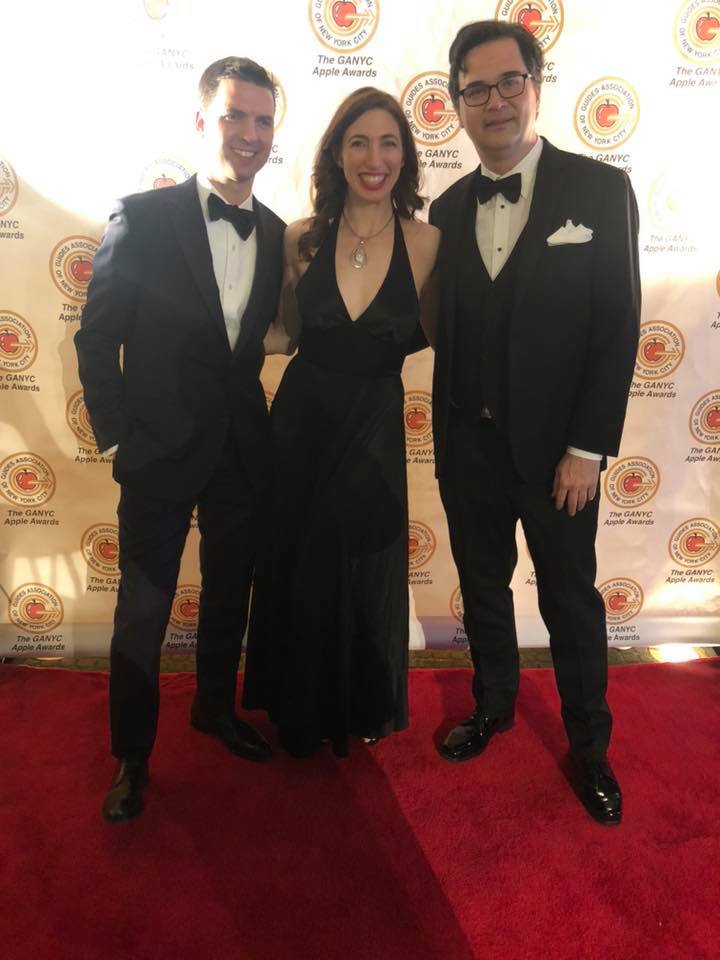 Also, do you like food? I love food. Who doesn't? Why am I even asking this? But I digress. This year, the GANYC Apple Awards have three amazing food sponsors who will be providing delicious bites for the pre-show cocktail hour. The Red Hook Lobster Pound, Tipsy Scoop, and Original Sin Cider will assure a tasty evening. This means with a cocktail hour ticket you get lobster, boozy ice cream, and cider!
So, whether you're going to dress up in a tux and tails, to meet New York City royalty, to taste New York food, or to learn more about the City itself, the GANYC Apple Awards are an evening out you'll always remember! What are you waiting for? Buy your ticket!
The GANYC Apple Awards will take place March 2nd, 8 pm with the pre-show cocktail hour beginning at 6:30 pm. Tickets are available on the GANYC website.