If you've never been to New York before, booking a private tour of the city – through a reputable tour guide agency, of course – can be a great way to get the most out of your trip. As a licensed guide who has led countless tours over my seven years in the business, I've put together a list to help visitors to New York City get the most out of their trip.
Book your tour for the very beginning of your trip.
One of the best parts about a tour, especially a New York City Highlights tour, is that they give you a brilliant overview of the city. You will get a taste of New York's sights and neighborhoods, which will give you ideas about where you might want to revisit and spend more time later on your trip.
Your tour guide will also be full of knowledge about the best restaurants, best places to shop, best nightlife, best shows to see, how to use the public transportation system, pro-tips for visiting famous landmarks, as well as festivals and special events happening during your time in the city. Use the tour time to pick your guide's brain and get ideas that go deeper than, and will be more current and specific, than a guidebook. Take notes so that you can review these suggestions in your hotel room, then plot and plan the rest of your exciting trip.
Have a Few "Must-Dos" in Mind
Of course you want to do "everything." You saved up for the trip, possibly for years, and this may be your only chance to ever visit the Big Apple. The reality is, at least in New York, you can live here your entire life and never come close to doing everything. Even Superman would be out-challenged trying to do everything on the tiny island of Manhattan in one trip.
However, we all have things we know we "must-see" on our tour. Whether it's seeing Madison Square Garden, walking the winding streets of Greenwich Village, shopping in SoHo, haggling prices for handbags in Chinatown, a trip to Stonewall Inn, or going ice skating at Rockefeller Center, let the guide know so they can make sure those sites are woven into their tour.
Also, a few must-see sites may require some advanced planning or reservations. The Empire State Building, One World Observatory, Top of the Rock, 9/11 Museums, Tenement Museum, Intrepid Museum, Gospel church services, the Statue of Liberty, and Ellis Island are examples of sites that are best explored with advanced planning. If the guide knows ahead of time, they can make the necessary arrangements.
Know What Excites You.
Know what subjects excite you, and be proud of that. If you are a sports fanatic, a theatre nerd, an architecture expert, a movie buff, an influencer fashionista, or American Revolution expert, New York City has something for you. Letting your tour guide know what excites you will help them customize their stories.
For example, some people want to see the Empire State Building because they recall all the famous movie scenes that take place on the Observation deck. Other people crave seeing the Empire State Building because they are in awe of its Art Deco design. Other guests remember the tower lights being lit up for their favorite sports team. Others want to take Instagram-worthy pictures in their cute new outfit on the observation deck, to share with their millions of adoring fans. These are all valid reasons to be excited by the Empire State Building – so shared them with your guide! What you want to avoid is the guide talking about the steel beams and the history of construction technology when you were really hoping to see the spot where Chuck Bass is waiting for Blair Waldorf on top of the Empire State Building in the television show Gossip Girl – or vice versa.
Proudly state what excites you. This is your chance to be selfish. Whatever your interests are, the guide will be excited to know and will do their best to incorporate your interests into their tours.
Sharing this information with a tour company can also ensure that you are assigned the guide who is the best match for you. Most tour guides in New York City can give wonderful tours in absolutely every subject, but if you really want a deep dive into the bohemians and beatniks of Greenwich Village, the tour company will know which of their guides truly specializes in that subject, and make sure they are the one assigned to lead you through the city.
Time Management
New York City is vast, and it would take you days and days to just explore Central Park. Please understand that it would be impossible to see "everything" in four hours. In a noble effort to try and do everything in NYC, vistors will often overbook and try to visit an observatory, explore the 9/11 museum, sit down and eat pizza, walk through Central Park, see the Bronx Zoo, and take photos from the pedestal of the Statue of Liberty, all in four hours. Nice try, but that just isn't going to happen. The travel time alone would eat up the allotted hours.
Guides are fabulous, but they have trouble bending time and space. Take a moment to fully figure out what you really want to do with a guide, and make sure you book a tour that is an appropriate length. If you are unsure, ask the tour company you are booking with, and they will be able to advise.
Dress for the Weather
Most tours take place rain or shine, hot or cold, windy or dry. Come prepared. You want to make sure you still get your pictures on the Brooklyn Bridge or are able to pay your respects at the 9/11 Memorial. Check the weather before you travel, check again the night before your tour, and then again the morning of.
Make sure you have a raincoat and umbrella if it's raining, or a warm coat, boots, gloves, a hat if it's cold or snowing. This sounds pretty obvious, but you'd be surprised how often guides meet visitors wearing shorts and sandals in the middle of a snowstorm.
Above all, in any weather, make sure you are wearing very comfortable walking shoes. Yes, New York is a fashionable city, but when it comes to footwear, we prioritize comfort for getting around town. If we have an event we need to dress up for, we will carry our cute Jimmy Choo shoes in our bag, only putting them on once we arrive. Foot comfort in the city is paramount – and even more so on a tour where you will most assuredly be doing a lot of walking.
Be Open to Your Guide's Suggestions
I have lived in New York City for over fifteen years and been a guide for more than seven. Every single time I take a tour, (and yes, even tour guides love to take tours,) I learn something new, even if it's a tour of a site I've seen a thousand times. You may have already visited Central Park on your last trip, but I guarantee your guide will reveal new secrets of the park. If the guide feels very passionately about a site or a subject, be open to letting them share what makes them proud to be a New Yorker. Who knows, they may unlock a door to your new favorite New York City secret!
Have Fun
You're on vacation! Have fun. Eat that extra cannoli. Take fun photos in front of landmarks. Proudly wear a foam Statue of Liberty crown, if that brings you joy. It's your trip – enjoy it! 🙂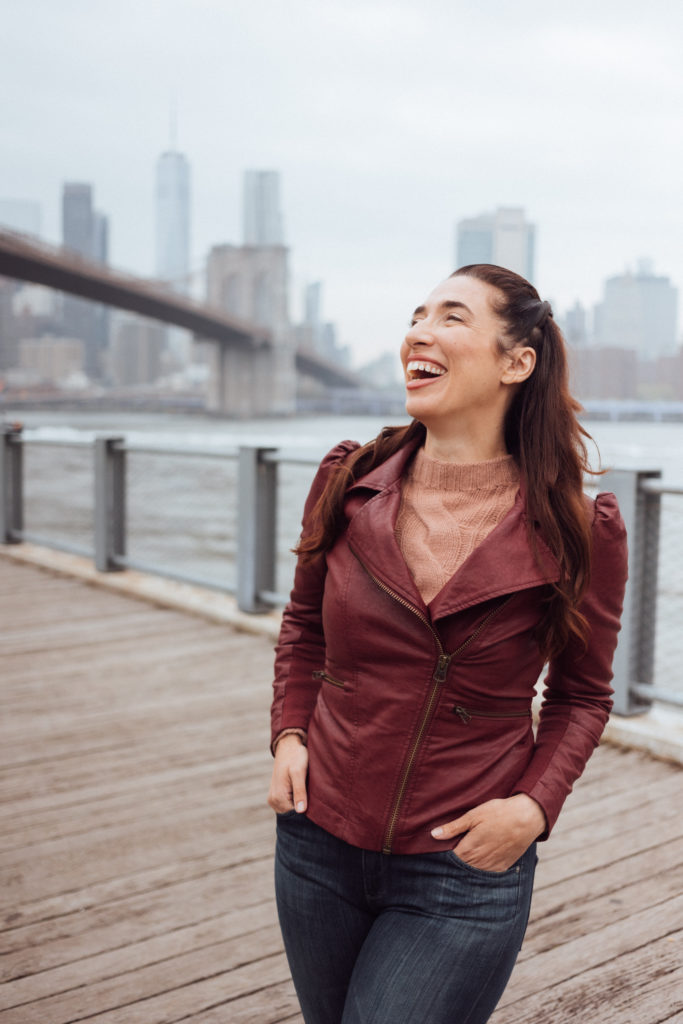 Covid-19 Update
The Guides Association of New York City (GANYC) has worked with the top health experts and government officials to create guidelines that will keep our guests and guides safe. Please read the GANYC safety guidelines and remember to always wear a mask.